June and July have been active months for biotech. High profile PDUFA dates for weight loss drugs from Arena Pharma (NASDAQ:ARNA) and Vivus (NASDAQ:VVUS), cardiovascular drug Amarin (NASDAQ:AMRN) and cancer drug Kyprolis from Onyx (NASDAQ:ONXX) helped drive the broader iShares NASDAQ biotech ETF (NASDAQ:IBB) up 9.41% in June and July through last week.
The excitement surrounding the basket isn't uncommon this time of year. A look back over the history of the IBB

since its inception shows July is typically the best month for the basket in terms of producing relative returns to the benchmark. With typical summer swoons testing investors risk appetite, most seem more comfortable embracing news flow risk associated with trials rather than EPS risk.
A bigger question facing healthcare investors is whether biotech's hot streak is likely to continue in August. If history is our guide, investors are better served moving away from the more volatile IBB and instead embracing larger pharmaceuticals like Pfizer (NYSE:PFE), Abbott (NYSE:ABT), Johnson & Johnson (NYSE:JNJ) and Merck (NYSE:MRK).
In the following chart, I break out IBB's relative returns against the SPX since its inception in 2001. Just as July is the basket's best month for beating the market, August is its weakest. It makes sense - after a big move it's likely we see some consolidation.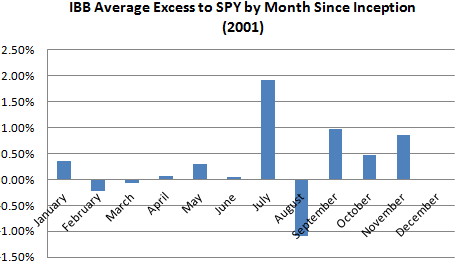 The fact is hammered home further when we consider the bulk of biotech's move is thanks to risk rather than correlation. The basket moved in tandem with the SPX during its recent run, posting a positive correlation of 0.88. At the same time, its standard deviation was 1.46% versus 1.09% for the SPX. This suggests any August profit taking in the market could punish biotech longs as equally as they were rewarded in July.
The next chart overlays IBB's price action on top of the SPX chart, providing more clarity into how tightly the two behaved.
Given the potential risk and historical return, short term investors will likely benefit from turning their attention from biotech to pharmaceuticals, which enter their best two month period of excess market returns. Since the S&P Pharmaceuticals ETF (NYSEARCA:XPH) launch in 2006, it has outperformed the SPX by an average of 182 bps in August and 320 bps in September.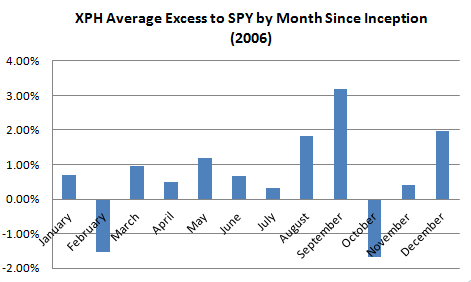 Overall, XPH has traded higher in 5 of the 6 Augusts since its inception, producing a 1.94% average return.
| | | | | | | | | |
| --- | --- | --- | --- | --- | --- | --- | --- | --- |
| ETF | Profit- | August | August | August | August | August | August | August |
| | (of 6) | 2006 | 2007 | 2008 | 2009 | 2010 | 2011 | Average |
| XPH | 5 | 3.15% | 0.76% | 5.72% | 5.25% | 0.72% | -3.98% | 1.94% |
Since July's excess return for biotech is in line with typical expectations, it's conceivable profit takers will step aside and normalize their positions in August. If they do, you should be too - at least in the short term.
However, those investors with a longer view should take comfort in knowing the typical August swoon in biotech is normally followed by a return of excess in September, October and November. For these investors, patience is likely to pay off. Particularly if positions can be added to during August's correction.
Disclosure: I have no positions in any stocks mentioned, but may initiate a long position in PFE, MRK, ABT over the next 72 hours.