Canada's Suncor Energy (SU) announced its second quarter 2012 results on Tuesday, July 24. Overall, I was relatively pleased with these results. The quarter was, however, far from perfect. The investment thesis here remains intact and the company continues to execute its strategy well. Here are the highlights from the second quarter:
Consolidated net earnings for the quarter were $333 million compared to $562 million in the prior year quarter.
Operating earnings for the quarter were $1.258 billion compared to $980 million in the prior year quarter. This represents an increase of 28.4% year over year. This increase in earnings is all the more impressive considering that energy prices were higher in the second quarter of 2011 than in the most recent quarter.
Cash flow from operations was $2.344 billion. This represents an increase of 18.3% over the $1.982 billion in operating cash flow that was achieved in the prior year quarter.
Return on capital employed (ROCE) improved to 14.3% for the twelve month period ended June 30, 2012. The ROCE for the twelve months ended June 30, 2011 was 11.1%.
Net debt decreased to $5.624 billion compared to $6.976 billion at the end of the 2011 fiscal year.
The company reported impairment charges of $694 million against its assets in Syria.
The company purchased $549 million of its own common stock under its share buyback plan during the quarter.
At first glance, it may appear that the reason that net income declined from the prior year quarter is due to the $694 million impairment charge against the company's assets in Syria. Indeed, that charge did have a big impact on the company. There is more to this story, however. In the second quarter of 2011, Suncor took a similar charge against its assets in Libya. This charge amounted to $514 million. If we add both of these impairment charges back into earnings, we get figures of $1.027 billion in the latest quarter versus $1.076 billion in the prior year quarter. This is clearly not enough to account for all of the decline. The remaining reason for the decline in net income is taxes. The Province of Ontario budget was approved on June 20. This budget froze the general corporate tax rate at 11.5% instead of continuing on with the planned rate reduction to 10% that was previously enacted and for which the company had planned for. This resulted in Suncor having to defer an additional $88 million to cover this higher tax. Suncor also suffered an unrealized $143 million loss on its U.S. dollar-denominated debt. This is much worse than the $54 million gain that the company had on the same debt during the prior year quarter. Despite significantly lowering the company's net income for the quarter, this is an unrealized loss and has not actually cost Suncor any cash.
In previous articles (like this one), I have discussed that Suncor's massive resource base in Canada's oil sands gives it a growth potential that most of its large rivals could only hope to achieve. The company has sufficient reserves today to continue to produce crude oil at current production rates for the next 35 years. Suncor, however, also intends to use this massive reserve base to grow its production. Suncor has several projects planned to execute on its growth strategy.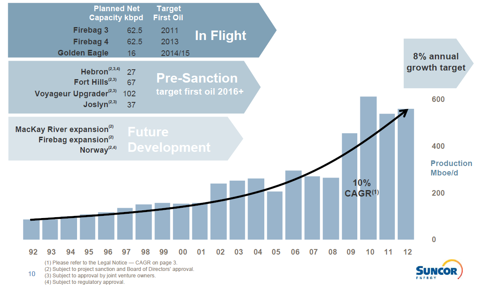 Source: Suncor Q2 2012 Investor Presentation
As the slide above shows, Suncor began to realize its first barrel of oil from the Firebag Phase 3 expansion in 2011. The company has been ramping up production from this source ever since. Bitumen production averaged 95,800 barrels per day in the latest quarter. This is an increase from the average production of 83,600 barrels per day in the first quarter 2012 and 56,400 barrels per day in the prior year quarter. Suncor also remains committed to phase 4 of the Firebag expansion, which the company expects will begin producing oil in 2013. The company is 90% completed on the pre-work needed and so it looks likely that Suncor will achieve the targeted date of first production. Once this expansion begins producing, the company will ramp up its production just like what has been done with Firebag phase 3.
Suncor is also working on growth projects outside of Canada such as Golden Eagle which is located in the U.K. portion of the North Sea. Suncor is not the operator of this project, however it will benefit. Golden Eagle is not expected to produce oil until 2014 or 2015. Therefore, the projects that are likely to generate short-term growth for the company are the two Firebags that are being ramped up. For longer-term growth, the Fort Hills and Voyageur Upgrader projects will be two of several that will provide it. Development plans for the Voyageur Upgrader, Fort Hills, and smaller Joslyn North projects will be presented to Suncor's Board of Directors in 2013 for sanctioning and final approval. These projects should serve to increase Suncor's production and, by extension, Suncor's cash flows and profits.
Suncor also stated shortly after the earnings call that it may alter its growth plans. Steve Williams, president and CEO of Suncor Energy, stated that he is not interested in growth for the sake of growth. Suncor formerly had the ambition to increase production to one million barrels per day by 2020. Thus, as part of the review process that I just described, Suncor may choose to delay these projects. The company will still have its Firebag Phase 4 expansion project and ramp-up along with Golden Eagle to generate growth. In general, I agree with Mr. Williams that a growth at all costs mentality does not always correspond with superior returns for shareholders (in fact, in many cases, it does not). However, I will want to follow this decision closely as growth is one of the primary reasons for my investment in Suncor. If the economics do not work, then slowing the growth will most certainly be a good thing.
There are considerably higher costs from operating in unconventional areas (such as oil sands) compared to more conventional ones (such as the Middle East). As an operator focused primarily on Canada's oil sands, Suncor has to incur these higher costs. The company has, however, done wonders with reducing these costs and the company maintains the stated goal of reducing them further. Suncor had total cash operating costs of $39.00 per barrel, down from $48.40 per barrel in the prior year quarter. While this represents significant cost savings, the figure still remains above Suncor's goal of $35.00 per barrel.

Source: Suncor Q2 2012 Investor Presentation
Suncor stated earlier this year that it expected cash costs to run higher than $35 per barrel for the first three quarters of the year. This prediction has so far proven to be accurate. The primary reason for these increased costs is new capacity coming online. Suncor is incurring costs related to the aforementioned ramp up of the Firebag Phase 3 expansion. Suncor is also working through a lean ore zone in its bitumen mines and that is also pushing up cash costs. Hopefully, we will see these costs come down by the fourth quarter.
Disclosure: I am long SU.