We previously analyzed and reported on Citi's results during the first half of the year and we were pleased to see the company's progress towards stabilizing its results, improving its credit book and competing against its peers. In Q2, we were especially pleased as to how Citi's business units were gaining ground on the once fortress-like financial institution J.P. Morgan Chase (JPM). Citi's Institutional Client's Group even saw profit growth during the quarter whereas Wells Fargo's (WFC) comparable unit (Wholesale Banking) saw a small profit decline. Citi's Institutional Client Group saw an 11% year-over-year increase in Q2 profits excluding CVA/DVA benefits and this was due to prudent expense management as well as steady growth in its Transaction Services Unit.
Citigroup (C) used to be a core blue-chip holding for any investor's portfolio, whether investors were income-centric, growth-oriented, value-oriented or interested in "blue-chip companies. Unfortunately, due to the mismanagement of the Charles Prince era, Citigroup saw shockingly deep credit losses and needed the Federal Reserve to step in with a lifeline of credit and assurance in order to stem the panic with regards to this company. Citigroup was forced to eliminate its dividend and sell off pieces of its business in order to begin paying back the government's TARP investment. It also replaced Prince with Vikram Pandit, who came to Citigroup when Prince bought out Pandit's hedge fund firm Old Lane for $800M in 2007. Citigroup restructured its self into two different reporting segments to enable investors to see the progress the company is making in winding down poor-performing "legacy and non-core assets" and how its remaining businesses are performing. We believe that this analytical reporting by the company should allow investors to have a fair and balanced opinion on an investment in Citigroup.
Evaluation of Citigroup's Deleveraging Achievements: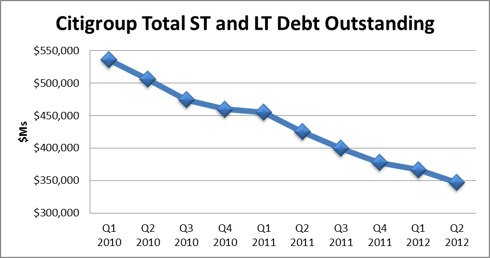 Sources: Citigroup's Q2 Press Release and Morningstar Direct
While Citigroup decided not to ask the Federal Reserve for additional share repurchases or dividend increases, we were pleased that the company reduced its bonded debt and borrowings by nearly $20B in the linked quarter. Citigroup's issued and outstanding debt peaked in Q1 2010 at nearly $536B and has steadily declined by an average of $21B since then. We think Citigroup should also look to borrowing through its subsidiaries rather than through the parent company as the subsidiaries have a sharply lower cost of debt than the parent company.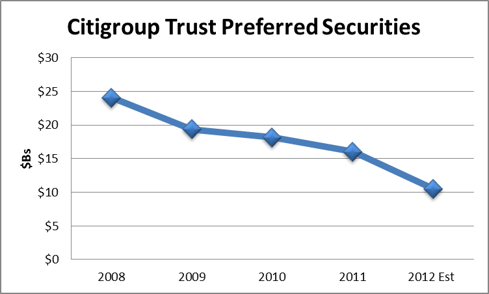 Source: Citigroup 2011 Annual Report and Q2 Transcript
We are also pleased that the company will be redeeming $5.5B of high-cost trust preferred securities this month and next month, now that those securities no longer qualify as Tier One capital. Even before those were no longer qualifying as Tier One capital, we could see that Citigroup had made steady progress in reducing its outstanding Trust Preferred Securities balances in prior years. Although these securities do not begin to mature until 2031, we believe that Citigroup should be making special efforts to redeem these securities without taking a drastic loss on extinguishment. We believe that Citi should be looking at cost effective ways to redeem these securities as the weighted-average coupon on these securities was 7.10%, which drastically exceeded the cost of all of its other sources of debt.

Source: Citigroup 2011 Annual Report
Evaluation of Citigroup's Deposit Generation
While we prefer to see stronger growth in consolidated deposits from Citigroup, we believe that Citigroup's performance in deposit generation is underrated. With the exception of 2008, Citigroup grew its year-end deposits each year since 2002. Citigroup was even able to grow its deposits by 5.56% as of the end of H1 2012 versus FY 2011 levels and as we mentioned last quarter, grew its deposits on a linked quarter basis in Q2 while J.P. Morgan and Wells Fargo saw linked-quarter deposits decline. We believe that as Citigroup keeps growing its deposit base, it will be able to continue to further reduce its need for expensive capital markets debt financing. We also believe that a strong and growing deposit base can serve as a potential form of equity substitute as we find that people are hesitant to move their bank accounts, especially checking accounts. And the last point we want to mention about Citigroup's deposit generation is that once Citi Holdings has been run-off, we expect to see higher deposit growth as Citigroup will only consist of the Citicorp "good bank operations".
Evaluation of Citigroup's Credit Reserves and Equity Base
From 2007-2010, Citigroup incurred $116B in provision for credit loss charges. While this certainly shook the confidence of investors, we would like to point out that the company's loss during this period of time was only $40B, which primarily took place in 2008. Of the $40B in losses incurred by Citi during this time, $32B was due to increasing the allowance for loan losses reserves. Before the crisis hit, Citigroup had near $120B in stockholders equity. Because of the crisis, Citigroup was forced by regulators to make a number of dilutive share issues, which ended up quintupling the company's shares outstanding. Since Citigroup's equity bottomed out in 2007, the company has been able to increase it from $113.6B in 2007 to nearly $184B as of H1 2012. Citigroup has only released $13B of loan loss reserves during this time which to us shows that the company is not relying on reversing loan loss provisions as much as its competitors in order to boost its headline number. Citigroup has also sold off or run off non-core assets, reducing its asset base from $2.19T in 2007 to $1.92T as of H1 2012. This has enabled its equity/assets ratio to increase from a reed-thin 5.19% in 2007 to a healthier 9.6% as of H1 2012.
As Citigroup's common shares are trading at $25.34 as of July 23rd, this represents a nearly 60% discount for its market price per share relative to its book price per share. We believe that the Federal Reserve should at least allow Citigroup to increase its dividend ten-fold. Because Citigroup is expected to generate at least $12B in net income according to consensus estimates, this would only represent a 10% payout ratio and would be an increase from its current payout ratio of 1%. We also believe that the Federal Reserve should allow Citigroup to repurchase at least $1B in common shares and redeem its $312M preferred share issue. Redeeming the preferred share issuance would enable Citigroup to eliminate its highest direct cost source of financing and rationalize and simplify its capital structure. We also modeled out that for every $1B of shares Citigroup repurchases; it would increase its book value per share by .8%, assuming it repurchases those shares at the July 23rd close. Even if the price per share for Citigroup rapidly increased to $40, Citigroup would still see its book value per share increase by 0.3% for every $1B of shares repurchased. In our opinion, we believe that Citigroup can certainly handle this capital action program considering it has nearly $184B in shareholders' equity and $27.6B in loan loss reserves.
Conclusion
In conclusion, we are intending to hold on to our stake in Citigroup, as well as looking to selectively accumulate a larger position. Even with a potential $4B in write-down from its Morgan Stanley Smith Barney Joint Venture with Morgan Stanley (MS), we believe that the company has sufficient capital in order for the Federal Reserve and other regulators to allow Citigroup to increase its dividend. We noted that Citigroup did not pass the stress tests in Q1 2012 and the Fed conceded that if Citi had not include initiatives to return capital to shareholders, it would have passed the stress test. Citi contemplated going through the stress test for 2012 again in order to try to win the right to return capital to shareholders, but ended up modifying its 2012 stress test scenario to exclude shareholder capital actions. We believe that Citigroup passing this test is a foregone conclusion, but we were glad to see it anyway since we believe that it will have a small intangible benefit to the perception of Citigroup's financial strength. Already we have seen Citigroup made significant progress in reducing leverage by returning capital to debt and preferred stock holders and we believe that the Federal Reserve potentially could and in our professional opinion should allow Citigroup to boost its dividend (modestly to $.40/per share annually is sufficient for us) and repurchase shares (a modest $1B program would be prudent for all parties concerned). This modest program would only represent $2.1B in capital returned to shareholders, which we believe Citigroup can certainly withstand based on its expected $12B in annual income and $183.6B in common shareholders equity. We also think that the company should look at redeeming its $312M in preferred stock in the most cost effective manner possible, as we see it to be an immaterial source of capital and its 8.5% is too expensive relative to fixed income alternatives. We believe that a $2.5B capital return program for Citigroup consisting of the increased dividend, share repurchase and preferred stock redemption will send a positive signal to investors and the financial markets.
Disclosure: I am long C.
Additional disclosure: Saibus Research has not received compensation directly or indirectly for expressing the recommendation in this report. Under no circumstances must this report be considered an offer to buy, sell, subscribe for or trade securities or other instruments.