The Dividend Champions spreadsheet and PDF have been updated through 7/31/12 and are available here. Note that all references to Champions mean companies that have paid higher dividends for at least 25 straight years; Contenders have streaks of 10-24 years; Challengers have streaks of 5-9 years. "CCC" refers to the universe of Champions, Contenders, and Challengers.
One Step Back, Two Steps Forward
July might have seemed like a quiet month for dividend increases, but it demonstrated once again how persistent and widespread dividend growth really is these days. For the first time in over a year, a Dividend Champion cut its dividend when Washington REIT (NYSE:WRE) announced a reduction in its payout, ending a 39-year streak of increases. But the very next day, the newest Champion - 1st Source Corp. (NASDAQ:SRCE) - extended its streak of higher dividends to 25 years, removing itself from the list of "overdue" increases in the process. Even so, the list of Contenders continued to grow, when former Challengers International Flavors & Fragrances (NYSE:IFF), Lindsay Corp. (NYSE:LNN), and Republic Services (NYSE:RSG) reached 10 straight years of dividend growth. Meanwhile, about dozen Master Limited Partnerships (MLPs) declared their usual quarterly distribution increases, and a new one, Navios Maritime Partners (NYSE:NMM) declared its fifth straight year of increases, making it the newest Dividend Challenger.
Looking forward, we're liable to see a bit of "shrinkage" in the CCC universe, as companies declare their dividends to be paid in the fourth quarter, since more than a dozen of them face deletion if they fail to increase the amount that they have been paying throughout 2011 and 2012. These "frozen" dividend rates may not be as bad as outright reductions, but they define an interruption in the dividend growth that investors look for. Longer-term, I think we'll see an expansion in the listing of "Near-Challengers" (in Appendix B on the Notes tab) next year. I base this conclusion on the proliferation of companies declaring increases for the third straight year, although I haven't accumulated a list of those companies. However, this seems to make sense, since 2009 was such a poor year for companies trying to maintain their payouts, let alone increase them. The following year marked the start of the economic recovery, as expressed by dividend increases in 2010, 2011, and 2012.
Quick Summary
The Summary tab includes a table comparing the composite numbers from the latest update to those from the previous month and the end of the previous year. Below that is a summary of the latest month's activity, in terms of companies added, deleted, or promoted. That is reflected below:
Quick Summary:

7/31/12

Champs

Contdrs

Challgrs

Total

No. of Companies

105

174

195

474

Ave. No. of Years

38.7

14.4

7.2

16.8

Average Price

53.20

48.03

43.92

47.48

Average Yield

2.95

3.07

3.49

3.22

Ave. MR Increase

7.33

8.73

10.06

8.97

6/29/12

Champs

Contdrs

Challgrs

Total

No. of Companies

105

172

196

473

Ave. No. of Years

38.8

14.6

7.2

16.9

Average Price

53.04

47.89

43.88

47.37

Average Yield

2.97

3.10

3.44

3.21

Ave. MR Increase

7.12

8.62

10.27

8.95

12/30/11

Champs

Contdrs

Challgrs

Total

No. of Companies

102

146

200

448

Ave. No. of Years

38.7

15.1

7.2

17.0

Average Price

49.98

46.20

42.62

45.46

Average Yield

2.94

3.10

3.36

3.18

Ave. MR Increase

7.24

8.47

10.99

9.39

MR = Most Recent

Additions:

Eagle Bancorp Montana Inc. (NASDAQ:EBMT) to Contenders

Navios Maritime Partners LP to Challengers

Talisman Energy Inc. (NYSE:TLM) to Challengers

Deletions:

TransAtlantic Holdings (NYSE:TRH) from Contenders

Washington REIT from Champions

Promotions:

1st Source Corp. from Contender to Champion

International Flavors & Fragrances from Challenger to Contender

Lindsay Corp. from Challenger to Contender

Republic Services Inc. from Challenger to Contender
(Table from author; may include underlying data from FinViz.com)
Let's Go to the Chart
As a bonus, I'm inserting one of Chuck Carnevale's F.A.S.T. Graphs below, highlighting one of the companies listed above. When the stock's price line has moved into the green area, it suggests that the stock may be undervalued in relation to its earnings.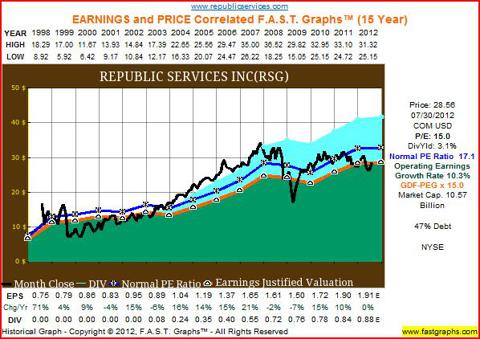 Disclosure: I have no positions in any stocks mentioned, and no plans to initiate any positions within the next 72 hours.