Molson Coors Brewing Company (NYSE:TAP) is one of the largest brewers in the world, with operations in the U.S., U.K., and various other countries. Unlike competitors Anheuser-Busch (NYSE:BUD) or Boston Beer Co (NYSE:SAM), Molson Coors appears to be trading at a significant discount, which could make it worth a second look for value and growth investors.
A Relatively Strong Performer…
It shouldn't come as a surprise that alcoholic beverage stocks tend to do pretty well during recessionary times. For instance, between December 2007 and June of 2008, Molson Coors rose 7.3% at a time when the S&P 500 (NYSEARCA:SPY) fell 5.7%. While this doesn't always mean top and bottom line gains, as during the 2001 recession, the sector still tends to hold its own.
Click to enlarge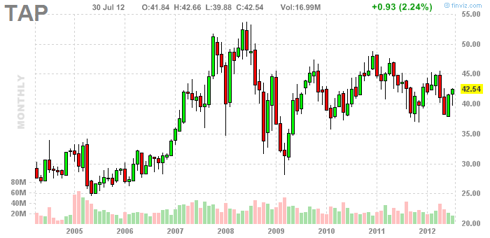 …That's Significantly Undervalued…
Molson Coors appears to be trading at a significant discount right now. With a price-earnings multiple of 11.73x, the stock trades at a 20.7% discount to its historical P/E multiple of 17.14x, implying a potential valuation of around $53.70 per share. Moreover, competitors BUD and SAM trade with 19.77x and 22.14x earnings multiples, respectively.
Growth investors can appreciate its high earnings yield of 8.52% and free cash flow yield of nearly 10%, which surpasses many competitors in its industry. Similarly, dividend investors can appreciate the company's consistent 3.08% dividend yield, which is sought after in today's low rate environment where government securities are paying far less yield.
…With Robust Fundamentals…
Molson Coors has robust fundamentals relative to many companies in its space. With a current ratio of 1.8x and a debt-to-equity ratio of less than 0.6x, the company's balance sheet remains very strong, despite an economic downturn. Meanwhile, the company has been consistently growing its book value per share, which helps improve earnings growth long term.
On the growth side, the company's 8.23% five-year average return on investment and long-term cash flow generation make it a very safe long-term growth bet. While the company did experience a downturn in its revenues, those are showing signs of recovery and its net income remains in a secular trend upwards over the same time frame.
…But A Few Risks To Consider
Before pouring money into Molson Coors, investors should be aware of a few risks:
The beer industry is highly competitive, particularly from new microbreweries that are gaining popularity in the United States. Some are gaining enough clout to have their products served alongside the majors at many establishments.
Despite its discount, Molson Coors has experienced some decline in its shares over the past few years of the downturn where others have succeeded. Sometimes undervalued stocks can take a long time to become properly valued.
A prolonged macroeconomic downturn could continue to hurt revenues, despite the sector's defensive status.
Disclosure: I have no positions in any stocks mentioned, and no plans to initiate any positions within the next 72 hours.