The search for safe dividend yield has caused AT&T (T) and Verizon (VZ) to trade at 52 week highs. There is no denying the strength of their business models; however, we think investors can buy foreign telecom operators offering higher yields, better cash flows, cheaper valuations and potential bottom line growth. Mobile Telesystems (MBT) is one such stock. It's trading at a forward P/E of 9.7x vs T and VZ trading at forward P/E multiples north of 15x. MBT is also operating in high growth telecom markets vs US. MBT has a PEG ratio of 0.7x (T and VZ are trading at a PEG of 1.5x) and earnings are expected to grow by 30% this year. Its long term growth rate of 15% is much higher than T/VZ's expected growth rate of 10%.
We believe that Mobile Telesystems' current depressed valuations are not justified by the company's fundamentals. MBT has tremendous growth potential in Ukraine, where mobile penetration is relatively lower as compared to Russia. Despite high penetration rates in Russia, the company has been able to show a consistent growth in both revenues and earnings over the years. Key drivers like churn rates, average revenues per user, and minutes of use have shown an overall improvement. The company has a reasonable level of debt ($8 billion), but a high interest coverage ratio of over 4%. Moreover, its operating cash flows are sufficient to cover its debt burden, as well as its modest payout ratio of 64%. The stock currently offers a dividend yield of 6%, and even with the impressive YoY growth in dividends, the company has enough cash flows to sustain its dividend payments going forward.
Company Description
MBT provides traditional landline, mobile and data services to its customers in Russia, Ukraine, Uzbekistan and Armenia. It also sells various equipments and accessories. As of the financial year ended December 2011, the company had over 100 million mobile customers in the countries where it operates. MBT has a market capitalization of $17.7 billion and its shares are currently trading on the NYSE at $19.15.
The company has two segments, namely Russia and Ukraine. A majority of the company's revenues comes from Russia, and in FY2011, it generated almost 85% of its revenues through its Russian operations.
Year Ended Dec

Revenues

2009

2010

2011

Russia

$8.07b

$9.41b

$10.63b

Ukraine

$1.04b

$1.07b

$1.14b

Others

$0.79b

$0.86b

$0.64b
As indicated by the table above, the company's revenues have been on a consistent upward trend in recent years, growing by 9% in FY2011 as compared to the previous year. Better performance compared to the previous year came largely due to Russia, where the company's services generated a revenue growth of 13% YoY. MBT has consistently added new mobile subscriptions, and currently has over 70 million subscribers in Russia. These additions are impressive considering the high mobile penetration rate in Russia (157% as of December, 2011). Similar growth trends were seen in Ukraine, where the company improved its mobile subscriber base by net 1.3 million users, compared to FY2010. Churn rates for the company were a mixed bag, with rates in Russia increasing by 1.7% as compared to FY2010. This deterioration in the churn was largely due to price sensitivity of the company's customers in the current economic downturn. Moreover, cheaper mobile packages offered by other telecom companies also led to the deterioration. However, offsetting the churn in Russia, Ukraine saw its churn improve in FY2011, and has been improving on a yearly basis for the last three years. Overall, the churn rate in Ukraine remained high despite the recent improvement, largely due to the intense competition in its telecom market.
Average revenue per user in Russia increased by 12% in the financial year ended 2011, largely driven by an improving customer base. Moreover, the Russian population saw an increase of almost 20% in its annual disposable income in the year 2011, which played a part in the increase in the company's mobile ARPU. Customer minutes of use improved in both Russia and Ukraine, by 15% and 8% respectively, primarily driven by increased voice traffic.
Year ended Dec

2009

2010

2011

Monthly ARPU

Russia

$7.80

$8.30

$9.30

Ukraine

$4.70

$4.80

$4.90

Monthly MOUs per subscriber

Russia

213

234

269

Ukraine

462

535

580
Positive Developments
A recent development for MBT is the announcement that the Federal Service for Supervision has granted an LTE-operating license to the company. Moreover, MBT will also be allocated the 2540-2550MHz and 2660-2670MHz blocks in the 2500-2690MHz range, and the 720-727.5MHz and 761-768.5MHz blocks in the 720-791MHz range. Previously, the company had a license for communication services in the Moscow region only. However, with the grant of the license, MBT can now launch LTE in Russia.
Negative Developments
Recently, operations, as well as the license of the company's subsidiary in Uzbekistan, have been suspended under the orders of the local communications agency. However, the suspension will last only ten days. No formal reason has been given with regards to the reasons for the suspension, and the company believes that it has not violated any local tax laws and licensing requirements. MCT had already terminated its operations in Turkmenistan in 2010. Going forward, these suspensions can adversely affect the company's revenue stream.
Overall, the company seems to be doing well in terms of both top line and bottom line growth. Its revenues have been increasing over the years, indicating its growth potential. The first quarter's revenues showed an improvement over the last quarter of the previous year, as well as the same quarter of the previous year. The company has consistently posted high gross margins (71% in FY2011). However, these have largely remained flat over the years. MBT's earnings growth is equally impressive, with the company reporting an improvement in its profits of almost 60% from the prior year's first quarter. It posted EPS of $0.257 in the first quarter, which is an improvement of over 50% compared to 1Q2011. The company's earnings, like revenues, have been on an upward trend over the last three years, and are expected to grow at over 15% over the next five years. The company is cash rich with almost $2 billion in cash and short term investments.
Dividends
In the year ended 2011, the company paid $1.2 billion in dividends and generated operating cash flows of $3.8 billion. Its operating cash flows have been on an incline since 2009, indicating the company's cash generating ability. MBT's consistent profitability and healthy cash flows have allowed it to continuously make dividend payments, which have grown by an impressive 9% over the last five years. The stock's current dividend yield is 6%, which is very attractive from an income perspective, and well supported by its operating cash flow yield of 22%.
Stock Performance
The stock has performed well recently, and on a YTD basis, it has increased in value by over 30%, outperforming its peer VimpelCom Ltd (VIP).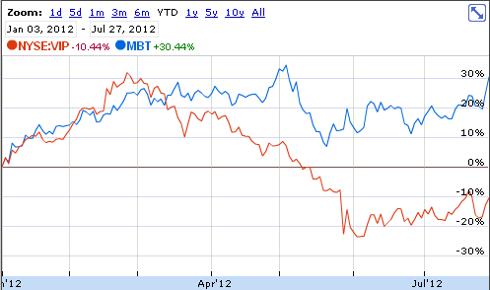 Source: Google Finance
Valuation
The company's P/E of 11x IS currently depressed, and at a 40% discount to its industry average of 18x, reflects that the stock is undervalued. Such valuations are not justified by the company's recent growth in revenues and earnings, as well as the future earnings growth expectations. Price-to-sales of 1.54x are more in line with the industry average.
| | | | |
| --- | --- | --- | --- |
| | MBT | VIP | Industry |
| P/E (TTM) | 11x | 50.33x | 18x |
| P/S | 1.54x | 0.6x | 1.4x |
| P/B | 4.63x | 1.2x | 1.6x |
Disclosure: I have no positions in any stocks mentioned, and no plans to initiate any positions within the next 72 hours.