The Cano Petroleum (NYSEMKT:CFW) story is conceptually simple. Cano controls substantial acreage in the Permian Basin and nearby areas with very large enhanced oil recovery [EOR] potential. The company is producing at an increasing, if not yet profitable, level. For the past couple of years, Cano has repeatedly missed deadlines and production goals due to problems with weather, permits, equipment, piping, water injection, etc.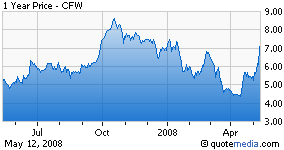 Disappointed investors have driven Cano's enterprise value [EV] to less than 1/3 of its pre-tax PV10 (pre-tax value of proved reserves discounted at 10%). Moreover, this is a largely oil-based PV10, with pricing based on $70 oil and $6.50 gas for the fiscal year ended June 2007.
Assuming current oil and gas prices and everything else equal, fiscal 2008 PV10 will be much higher and the discount to PV10 much larger. Since the discount is already extreme, the question is why investors should expect things to change now. Part of the answer is that Cano's initial waterflood project (Cockrell Ranch) at its largest field (Panhandle) is finally delivering increased downhole pressure, fluid and gas recovery, and oil cuts.
Last week Cano released a graph showing the waterflood response at the field. If the waterflood response continues on its current track, the long-awaited inflection point in oil production from this project would be literally now through mid-summer. Realization of the projected waterflood response would have three very significant implications.
First, it would validate the waterflood model and techniques Cano is using in the Panhandle field. Panhandle represents more than half of Cano's proved reserves and three-quarters of its PV10 so validation of the waterflood model is a very important event.
Second, it would begin the shift of Cano's very large 2P/3P reserves into PUDs and PDPs.
Third, it would reduce Cano's lease operating expense, as the largely fixed and upfront costs of injection infrastructure are amortized over increasing units of production.
All of these actions would enhance Cano's valuation. At Cano's second largest field (Cato), the company is simultaneously establishing a waterflood program, returning oil stripper wells to higher production through recompletions, new laterals, and other means, developing two previously undrilled primary zones below the produced zones, and conducting an infill drilling program. The net effect has already been a meaningful increase in PDP reserves, little or none of which is in the current PV10. Cano has also produced a new graphic showing the rapid increase in production from the Cato field.
Assuming only average success at Panhandle and Cato, plus average results over time at the many other planned or ongoing projects at other fields, Cano's PV10 would increase rapidly, production would grow at least 35% per year, operating costs would fall sharply, and Cano's market cap would rise substantially. Cano's PV10 implies an NAV in excess of $20 per share right now.
The big and long-delayed question is whether Cano is finally on track to monetize that value. The initial favorable results at Cato and Panhandle are behind the recent interest in the stock. Much more will be known about these projects in only 3-4 months. If current trends continue, and continue to validate the company's approach, Cano's exceptionally deep discount to PV10 should start to close at the same time its understated PV10 should start to increase.
This potentially explosive combination makes Cano a very intriguing speculation right now.
Disclosure: Author has a long position in CFW