In the first article in this series, we investigated a trade gone wrong and used the current state of the term structure and upcoming events to determine a trading plan. This week, we will look at another reader submission and go through the potential scenarios for the failing trade:
In a bid to shore up my IRA and personal investments from huge losses in 2009, I unfortunately invested all of it in VIX. I have:
=> 7281 shares of VXX in my IRA at 14.67
=> 1000 shares of VXX at 22 in my personal fund

I was lucky the first few times on VXX (beginner's luck) and then started going long and ignoring contango...Anyways, I was wondering if you could reply with your thoughts on a strategy to get out of this mess and so some intelligent trading to reduce my losses please.
So we have a position in VXX with a cost basis of 15.56 with 8281 total shares. At the current price of 13.62, the trader is looking at a loss of 12.5% on the principle. Since we are talking about retirement funds from an IRA, this is a situation that we need to get a firm handle on, as there may be trading restrictions on the account that would limit the trader's ability to move with the market.
As always, the first step is to take a look at the term structure of the VIX futures from yesterday's close.
Spot VIX: 18.93
Aug Futures: 19.90
Sep Futures: 21.65
At this point, we are sitting on a 5.1% gap between spot and front month, and an 8.8% gap between front and next month futures. The spot/front gap is on the small side (for where we are between expiration dates) and the 0.43% daily roll cost is about the same as we have seen lately. The term structure has flattened, but we are still far away from reaching potential backwardation.
We just had a two-day, 3%+ rally based on two headlines, followed by two relatively flat days that has brought us to the cusp of a bunch of critical central bank announcements. Sadly, I have no clue what the outcome will be from the FOMC today and ECB tomorrow. What I can say is that we've already priced in that they will fire up the printing presses, so any disappointment is going to have air leaving the balloon toute de suite.
When looking at the possible outcomes of a trade, I just go over potential scenarios. Here are some possible ones:
VIX goes to 15: The FOMC and ECB have massive positive surprises, and we head back down to the bottom on VIX. I don't see this as very likely, as we have already priced in a bunch of euphoria.
That's a 20.8% decline in spot VIX, so if we assume we see the same down move in the futures, we would have a move in VXX from the current 13.62 to around 10.79. That would be a 31% loss from our cost basis of 15.56, but that should be the worst case scenario. That is ignoring Contango, of course, but if it hits 15 and stays there, Contango will continue to eat away at the position.
VIX goes to 17.50: If Bernanke and Draghi mildly disappoint the markets but still provide support, the VIX could move back to the middle of the range at 17.50. This would be 7.55% lower from here, and would take VXX from 13.62 to 12.59. I see this as a fairly likely scenario that has the market avoiding crisis mode and just relying on regular market movements.
VIX goes to 20: This scenario would play out if the moves from last week were made out of hot air. If Bernanke does nothing and Draghi does very little, we are definitely headed back to the top end of the range on VIX. That would be 5.65% higher on spot VIX, and would take VXX from 13.62 to 14.39, which is closer to the trader's costs basis.
I actually see this scenario as a definite possibility, as a move to 20 does not require a full blown panic to materialize.
VIX goes to 20+: Dogs and cats living together, sky raining frogs, you know the drill. A big disappointment could have us performing the cliff dive that would be repeat of last year's swoon. I don't see the same set ups as last year, but a complete disappointment from the Fed and the ECB could be enough to cause such a panic.
If this happens, the trader should be made whole and then some. This is the only way that the shares purchased at 22 are going to be anything but a losing anchor holding down the position.
One note of caution/observation is a quick look at the daily chart for spot VIX.
(click image to enlarge)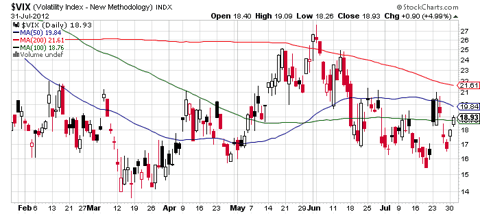 You will see that in the past few weeks the 50DMA has been significant resistance for volatility. While using technical analysis to forecast VIX movements is definitely a soft science (some would say closer to witchcraft), we have to respect the movements on the charts. Since VIX itself is just a reflection of market emotions, the average of those emotions, represented by the simple moving averages, has proven in the past to provide some level of forecasting ability.
With the 50DMA at 19.84 and the 200DMA at 21.61, we have some ceilings in volatility to take into consideration for the near term. Unless we get into a true panic ala summer 2011, I would expect these levels to provide resistance and turning points that could be successfully traded by the observant.
So, we've gone through the scenarios and found that the trades are not a completely lost cause. We definitely need to follow the market reaction today and tomorrow closely. If Bernanke and Draghi can pull this off, we are going to want to exit the position and eat the losses as a lesson. They are trying pull an army of rabbits out of their hats. While I don't think they are likely to succeed, betting against central banksters can be a losing bet in the near term.
Disclosure: I have no positions in any stocks mentioned, and no plans to initiate any positions within the next 72 hours.