As a great deal of uncertainty surrounds the broader markets, individual stock picking is becoming increasingly important. The biotech sector provides the active investor with opportunities to achieve substantial returns in this period of slow growth. Two under-the-radar biotech stocks, Dyax Corp (NASDAQ:DYAX) and Celsion Corp (NASDAQ:CLSN), appear poised to break out in the second part of 2012.
Dyax
Dyax is a fully integrated biopharmaceutical company focused on discovering, developing and commercializing novel biotherapeutics for unmet medical needs, with an emphasis on hereditary angioedema, HAE. Dyax's drug, KALBITOR, is the first subcutaneous treatment available in the U.S. for treating acute HAE attacks. KALBITOR generated $9.2 million in revenue from the sale of KALBITOR in second quarter 2012, a 14% increase over first quarter 2012. Dyax has seen continuous growth from KALBITOR, giving it adequate cash flow to avoid any debt or equity financing that burdens so many early-stage biotech companies. Dyax finished second quarter 2012 with $38.6 million in cash and cash equivalents.
The majority of Dyax's value and upside, however, is derived from its Licensing and Funded Research Program (LFRP) for its Phage display technology. This Phage display technology enables Dyax to produce and search through large collections, known as libraries, of antibodies, peptides and small proteins. Our libraries enable for the rapid identification of drug candidates that bind with high specificity and affinity to targets of therapeutic interest.
Dyax's LFRP generates about $20 million in revenue annually from certain milestone payments and licensing fees, a number that stands to increase as the clinical candidates using Dyax's Phage display technology conclude their trials. Dyax has 2-3% royalties on 18 clinical candidates discovered using Dyax's phage display technology, four of which are in Phase III. The first of these candidates is expected to finish Phase III development during 2013, generating substantial income beginning in 2013 as royalties begin to come into force. Dyax continues to expect to be cash flow breakeven in 2013.
Dyax recently hit a new 52 week high of $2.88. If it can break through this level on high volume, it shouldn't see more resistance until the $3.50-$4 range, yielding a sizable return from its current trading price of $2.73.
Celsion
Celsion is a late-stage biopharmaceutical company dedicated to the development of innovative, targeted therapies that address unmet medical needs in oncology. Celsion's lead indication is in Primary Liver Cancer, or hepatocellular carcinoma. HCC is one of the most common and deadly forms of cancer. The incidence of primary liver cancer today is rapidly growing worldwide at approximately 750,000 cases per year, due to the high prevalence of Hepatitis B and C in developing countries.
Celsion is currently conducting a pivotal Phase III trial of ThermoDox in primary liver cancer, known as the HEAT Study. The HEAT Study is a pivotal, 700-patient, double-blind, placebo-controlled, international Phase III study designed to evaluate the safety and efficacy of ThermoDox in combination with radiofrequency ablation in patients with non-resectable HCC. A total of 380 events of progression are required to reach the planned final analysis of the study, which is expected to occur in late 2012 or early 2013. Celsion has an entire pipeline using its ThermoDox technology (see image).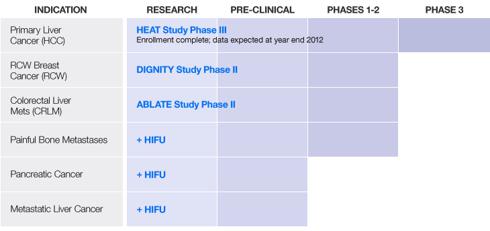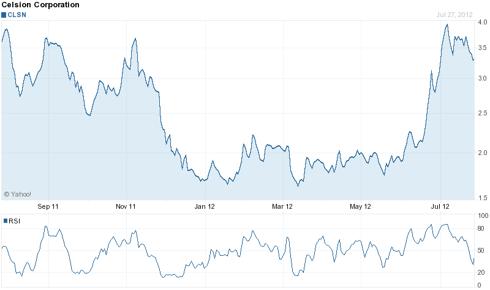 Celsion's stock is up 93% since the beginning of the year, but after its recent pullback, is now entering oversold territory (RSI around 30). As we approach the end of the HEAT study, CLSN looks to gain more momentum as investors begin to recognize the potential value in the company. With a market cap of $110 million, and an average analyst target price of $9 per share, CLSN remains incredibly undervalued. Look for Celsion shares to begin to appreciate much like the shares of Arena Pharmaceuticals (NASDAQ:ARNA) as we approach the crucial announcement for the HEAT study at the end of 2012.
Celsion has cash reserves of $24.59 million, endowing it with sufficient cash reserves to make it to the end of this pivotal HEAT study. If CLSN can break through its 52 week high of $4.08 on high volume, it should make its way to $6 or $7 before the announcement, and on positive results, perhaps make its way into double digits in the beginning of 2013.