World demand for biofuels will expand at a nearly 20 percent annual pace to 92 million metric tons in 2011, despite recent concerns about the impact of biofuels on the environment and food supplies, according to Freedonia Research.
Market expansion will come from a more than doubling of the world market for bioethanol, and even faster increases in global biodiesel demand, Freedonia says in an Industry Study on World Biofuels through 2011. Other biofuels will also experience strong growth, though much slower than either biodiesel or bioethanol.
On a regional basis, growth will be driven by a rapid expansion of the biofuel market in North America, particularly for bioethanol. The Asia/Pacific region and Western Europe will experience even faster advances, although absolute gains will trail the larger North American market. Similarly, increases in the small Africa/Mideast and Eastern Europe markets will be well above average. Growth in Latin America will be modest, a consequence of Brazil's already sizable market for bioethanol.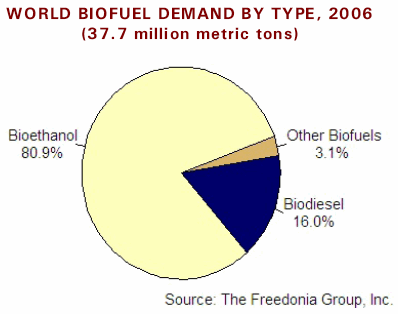 Despite the growing size of the world's largest producers, the proliferation of new companies and rapid expansion of the biofuel industry overall combined to limit the top nine producers to just a 30 percent share of the market in 2006.
Archer-Daniels-Midland (NYSE:ADM)[U.S.] was the market leader, followed by POET [U.S.], Cosan (NYSE:CZZ)[Brazil], Sofiproteol [Diester Industrie –France], VeraSun Energy (VSE)[U.S.], Santelisa Vale Bioenergia [Brazil], Abengoa [Spain], VERBIO Vereinigte BioEnergie [Germany] and Cargill [U.S.].