On May 6, PolyOne Corp. (NYSE:POL), the leader in North America and Europe for polymer compounds and polymer coating systems, reported 2008 1st quarter earnings (see conference call transcript). EPS came in at 7 cents per share vs. 8 cents per share for the same quarter last year. This caused a 43-cent drop (6%) in the stock.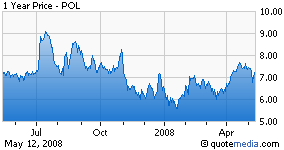 The hit, if you want to call it that, came from the company's GEON Performance Polymers segment, which is the company's vinyl business. The company has been warning of the drop in the vinyl business due to housing and automotive slowdown since last year. It should be no surprise to the Street that PolyOne would experience a drop in revenue and operating income in this segment.
Here is the breakdown: GEON revenue down 4.3% while operating income fell 65.2% from the year ago period. The hit comes with the fact the GEON is PolyOne's largest reportable segment, accounting for 31.25% of total 1st quarter 2008 sales, and 33.6% of total sales in 2007. Another factor besides the housing slowdown was an increase in raw material prices, specifically ethylene, so the continued rise in energy prices is not helping this situation. The bad news is the housing sector. There seems to be no end to the downturn. As much as you hear in the news about the end drawing near, it is yet to be seen. Although GEON took a hit, let us look at the other reportable segments, which I believe the Street has overlooked.
International Color and Engineered Materials: revenue up 14.7% and operating income up 30%.
PolyOne Distribution: revenue up 9.1% and operating income up 19.6%.
Specialty Engineered Materials: revenue up 102% and operating income up 400%.
All Other segment: revenue down 5.2% but operating income up 167%.
These are all in comparison to 2007 1st quarter.
So why am I interested in PolyOne? Let me show you.
As stated earlier, PolyOne is the leader in North America and Europe for polymer compounds and polymer coating systems. The company has set forth four strategic goals that they are looking to reach by 2010. The first, consistent, double-digit income in their core business, second, gross margins of 25-35% for specialty businesses, third, 30% of revenue from outside North America, and fourth, a vitality index of 25%, the percentage of total sales attributable to new products, services or markets developed in the last five years.
I believe that PolyOne will accomplish these goals due to a strong management team whose focus is on the customer. By becoming a truly customer centric company, Polyone will become a "one stop" shop that can provide vinyl compounds, color technology, engineering materials, and polymer coatings along with distribution services that will serve the entire needs of its customers. Currently, no competitor can offer this solution.
2006 saw PolyOne generate over $100 million in cash from operations for the first time since its inception. This milestone was achieved by generating strong earnings, as well as a disciplined management of working capital. However, in 2007 cash from operations was $67.2 million, down $44.5 million from 2006. This decrease was caused by lower operating earnings, as well as lower earnings and distributions from affiliates. 1st quarter 2008 cash from operations was $57.1 million vs.1st quarter 2007 cash from operations of $3.8 million, an increase of a staggering 1400%. This was due to a sale of the Accounts Receivable, which freed up some working capital.
From 2003 to 2007, PolyOne has increased its working capital by 35%. This cash was used to pay down a significant portion of the company's high cost debt. Consequently, the current ratio of PolyOne has increased from .97 in 2001 to 1.83 in 2007, which was higher than its two closest competitors, Ferro Corporation (NYSE:FOE) and Georgia Gulf (GGC), and after 1st quarter of 2008, the ratio stands at 1.359.
PolyOne's return on invested capital [ROIC] for 1st quarter 2008 was 1.1% vs. 1st quarter 2007 ROIC of 2.1%. PolyOne achieved a 2007 ROIC of 3.9% and in 2006 an ROIC of 15.4%, which was 4.3 % higher than its cost of capital.
The 2007 ROIC decrease can be accounted for by the decrease in long-term debt, which the company paid down during 2007. PolyOne has also managed to increase its free cash flow to sales ratio over the past 5 years, while both Ferro Corp. and Georgia Gulf have seen a decrease in free cash flow to sales ratio over the same period. As of 2007, PolyOne's free cash flow to sales ratio was 2% versus 6% for Ferro Corp. and 3% for Georgia Gulf.
However, investors must be made aware that this industry is treated as a commodity business and, therefore, fiercely competitive. Raw material prices play a significant role in the profitability of the company and thus far they have been able to pass along input price increases to the customer. This can be seen in the sales volume decrease in 2006 although revenues were higher in that year. If PolyOne can no longer pass through these higher costs to the customer, I see harm to their long-term profitability.
Company Overview
Polyone Corporation is a leading global provider of specialized polymer materials, services and solutions that serve industrial, commercial and consumer markets. PolyOne operates in five reportable segments: GEON Performance Polymers (Vinyl Business), International Color and Engineered Materials, PolyOne Distribution, Specialty Engineered Materials, and All Other, which includes North American Color and Additives, Producer Services and Specialty Inks, and Polymer Systems. End use markets include automotive, building materials, consumer durables, electrical/electronic, industrial, medical, nondurable goods, and wire and cable.
In the automotive space, Polyone manufactures color additives for interior and exterior automotive trim, polymer coating systems for armrests and headrests, and engineered materials for interior and exterior structural applications. The building materials business manufactures vinyl compounds for windows, pipe fittings, decking and fencing. In the nondurable goods business, Polyone manufactures vinyl compounds and color additives for packaging applications such as cosmetic, beverage and food bottles and caps.
The next question to answer is, how will management achieve the goals that it has set for the company? The answer is in the strategy of the company.
I believe that PolyOne can build a sustainable competitive advantage by working together as one corporate entity to capture value through innovative business solutions. This involves integrating all businesses in the company; working together as one instead of many. By doing so, PolyOne will take advantage of its entire product line to serve all the needs of each individual customer. A strong management team has committed itself to being customer centric. By building a Key Account team consisting of Strategic Account Managers [SAM] and Business Development Managers [BDM], I believe that PolyOne will be able to strategically align itself with its customer's goals.
The SAMs will be responsible for driving revenue growth through PolyOne's largest strategic customers. The BDM's will work with OEM's to develop new market penetration through application engineering and cross-selling market development.
Financial Overview
For the 1st quarter of 2008, revenue was $713.7 million vs. 1st quarter 2007 revenue of $657.8 million, an increase of 8.5%. For the year ending 2007, total sales were $2.642 billion compared to $2.622 billion for the year ending 2006, a .76% increase. The nearly unchanged growth was due to weaker automotive and construction demand in North America. However, prior sales growth has been strong averaging 8.0% from 2004-2007. 2007 sales in the United States declined 4% over the year, caused by a decline in housing and automotive.
However, international growth rates continue to be strong. Sales in Asia were 12.4% higher over 2006 and sales in Canada were 1.4% higher over 2006. European sales also showed improvement with sales in that geographic area increasing by 16.1% over 2006. In December 2007, PolyOne completed the acquisition of the assets of a Chinese plastics company. This is PolyOne's fourth China-based manufacturing site and will provide PolyOne with a vinyl compounding facility in China. In 2007, the company also added its third specialized color design center in China. PolyOne's dedication to its global customers, and international growth markets should help the company fuel continued growth.
Profitability
PolyOne has been able to increase its return on net operating assets [RNOA] from 7.5% in 2004, 9.4% in 2005 to 15.5% in 2006. However, PolyOne's RNOA in 2007 stood at 3.9%. De-leveraging caused this decrease, as PolyOne paid down its long-term debt. PolyOne's 2007 RNOA is higher than its two closest competitors RNOA. RNOA for 1st quarter 2008 was 1.1% vs. 1st quarter 2007 RNOA of 2.1% return on equity [ROE] has also increased historically, but fell off dramatically in 2007.
However, between it and its two competitors, PolyOne is the only company whose ROE was positive in 2007, standing at 1.9%. PolyOne's 1st quarter 2008 profit margin was 1.7% vs. 1st quarter 2007 profit margin of 3.4%. Profit margin in 2007 was 1.6%, which was higher than its two closest competitors, whose profit margins were negative in 2007.
Risks
Execution of long-term strategy is key. It is my belief that they must be able to sell its customers on the concept of the Key Account team, and by doing so, add value if the team can create new market penetration and work with its strategic customer accounts to sell everything from the design to the finished product, as well as the final distribution. However, it is my opinion that if PolyOne cannot achieve the goals set out by the Key Account team, then each customer will ultimately deal with the company that can offer it the best price, thus turning PolyOne into a commodity supplier.
Raw materials such as ethylene and benzene are primary chemicals used in the manufacture of vinyl and engineered resins. Therefore, rising energy prices have an adverse effect on the company's bottom line.
Due to the makeup of GEON (vinyl business), I believe that any prolonged slowdown in the housing sector will have an adverse effect on sales, as was the case in the second half of 2006, all of 2007, and the 1st quarter of 2008. Slowing building and reconstruction proved to be difficult on this business as 1st quarter 2008 GEON sales were down 4.3% and 2007 vinyl business sales fell 9% year over year. So far, PolyOne has been able to increase its prices to offset costs and lower sales volume. It is my opinion that if PolyOne cannot continue to sell to its customers at higher prices to negate the increase in raw material prices, revenue figures will be adversely affected going forward.
Valuation
I have calculated a fair value price of PolyOne of $13.46 per share using a DCF model. Using historical growth rates, management's estimates going forward, and continued strong international sales, I have modeled sales growth at a conservative 6.0% from 2008 through 2012 while the company sets in motion its strategic plan. I have calculated PolyOne's weighted average cost of capital [WACC] to be 9.79%. However I have used the Adjusted Present Value DCF method to value this firm, and therefore, I will use the company's unlevered cost of equity (Rue), which I have calculated to be 10.6%, to discount the future free cash flows.

After looking through the 1st quarter 2008 press release and reviewing the numbers, I was very impressed with the way the 4 other reportable segments (not including GEON) turned out this quarter. The company is sticking to its strategy and turning itself away from a commodity business into a specialty business. I think the biggest plus here is the fact that they were only down 1 cent from 2007 1st quarter when there was a $13.3 million drop in operating income in the vinyl business from 1st quarter 2007. This, to me, is a real coup for the company.
At the end of fiscal 2007, management believed that going forward, revenue would grow at a rate between 8% and 12%. In the 1st quarter press release they brought that figure a little lower to a range of 7% to 10%, only 1% lower on the down side. Not bad considering the continued housing slowdown.
Eventually, the Street will wake up and see how this company's management has differentiated this company from its competitors and decide to unlock the true value of the stock.
Disclosure: Author holds a long position in POL