The polls are in. The WNA Nuclear Energy Index is a clear winner over the S&P 500. Well, let's quantify that; the S&P 500's 5-year annualized return is 11%, the "back-tested" WNA Nuclear Energy Index returned 33% annualized over the past 5-years. It's fair to say the nuclear index holds a decisive edge. Of course, past performance notwithstanding, the nuclear industry appears poised for stronger momentum in the years to come as nuclear build-out starts to gain traction. Using the last nuclear build-out cycle as an example, a safe assumption would indicate an expansion cycle that may last as long as 15 years. This type of data makes PowerShares' Global Nuclear Energy Portfolio ETF (NYSEARCA:PKN), which tracks the WNA index, quite attractive as a long-tern investment.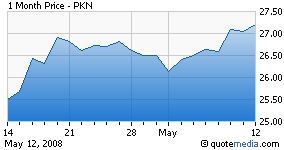 Owning the ETF is a good idea, but if you drill down into the 64 individual components, one can arrive at some interesting conclusions. To keep this very simple, I'm highlighting two companies within the index that hold considerable individual merit. The two companies may not be the best companies in the index, as measured by profits and return. But, the two are standouts based on the aggregate of fundamentals and future prospects. Furthermore, the two are U.S. companies that are NYSE listed, liquid and easy to keep track of. In essence, the two companies have been "cherry-picked" from the rest of the group, and in my opinion, warrant extra attention from U.S.-based investors seeking exposure in the nuclear industry.
The two companies are Landauer, Inc. (NYSE:LDR), a provider of various radiation detection monitors and services and McDermott International, Inc. (NYSE:MDR), a diversified engineering and construction company that operates a Power Generation Systems segment that provides fossil fuel-fired steam generating systems, large commercial nuclear steam generators and components.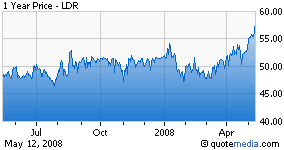 Landauer boasts one of the more attractive balance sheets and income statements in the industry. Profit margins at 23%, no debt, $27 million in cash, quarterly revenue growth (year-over-year) of 9.8% and a dividend yield of 3.5%. The forward PE of 21 is no discount, but paying up for quality should not be an issue.
Landauer's most recent earning release didn't reflect "dot com" blowout numbers, but nonetheless they were record revenues and earnings. Keeping in mind a 15 year build-out cycle, Landauer's strong and stable business looks like "low-hanging" fruit.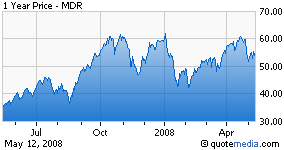 McDermott International is better known for its oil and fossil fuel operations. Its Power Generation unit uniquely positions the company for the upswing in nuclear power plant build-outs (this includes upgrading and refurbishing existing plants). Fundamentally, its profit margins are at 10%, they have close to no debt, an outsized $1.5 billion in cash, and delivers quarterly revenue growth (year-over-year) of 17%. The forward PE of 16 appears reasonable.
McDermott reported Q1 2008 numbers on May 12th.
Operating income was $157.1 million in the 2008 first quarter compared to $192.5 million in the 2007 first quarter. Year-over-year increases in the Power Generation Systems and Government Operations segments, totaling a combined $36 million, were more than offset by a $68.3 million decline segment income from the Offshore Oil & Gas Construction segment, primarily due to weather-related downtime in the 2008 first quarter and a lower amount of project close-outs, change orders and settlements compared to the first quarter of 2007.
While year-over-year income was lower, the decrease in income was due to Offshore Oil & Gas operations, which is understandably volatile. The key is the general momentum in the Power Generation Systems segment where the nuclear operation resides. The nuclear business alone is good, but it will take additional quarters before real traction sets in. In the meantime, the oil & gas business will more than hold its own.
Strategically, own the Global Nuclear Energy Portfolio (PKN) in your balance portfolio. To add alpha, consider Landauer, Inc. (LDR) and McDermott International, Inc. (MDR) as possible individual issues for the portfolio. Future inscriptions of Going Nuclear will look at attractive foreign issue components of the WNA index. I'm certain we'll find a gem or two.