Recently I published an article discussing Equal Energy's (EQU) Cardium Lochend light oil asset. In this follow up article I plan to explore Equal's largest asset: the Hunton Formation in Oklahoma.
The Hunton formation is one of the most misunderstood assets in Equal's portfolio. Yet this asset is the most productive and most valuable in the company's portfolio. The fact that Equal is the sole public company with significant exposure to the Hunton has contributed to the relative obscurity of this play.
So what is the Hunton formation?
The Hunton formation is a large limestone formation stretching for over 2.7 million acres mainly in Oklahoma, but also stretching to neighbouring states Texas, New Mexico and Arkansas. The formation has over 1300 HZ wells drilled and an average of 100 wells drilled per year over the last 7 years .
The Hunton formation is sometimes called a de-watering play due to the specific development approach used to produce oil and gas from the reservoir. Unlike other reservoirs, the Hunton production has the unique profile of decreasing water cut and increasing oil and gas ratio overtime.
The formation behaves somewhat like a coal bed methane reservoir. The dewatering process lowers reservoir pressure and allows the oil and gas stored in the tighter portion of the reservoir to head into the wellbore.
According to David Chernicky, CEO of New Dominion LLC (the largest Hunton operator):
"Dewatering is more like mining than traditional oil production. Dewatering is all about infrastructure and economies of scale ... You need scale-abundant power, substantial gas gathering and processing facilities and high-volume water disposal infrastructure ... And you need to drill enough wells. It's a very large-scale endeavor."
The extensive water handling and separation infrastructure required and the need to drill several wells to lower reservoir pressure sufficiently before production is optimized, have generally limited the appeal of this play. However, the Hunton economics are very attractive due to the high BTU content in the produced natural gas and the associated high quality oil production.
According to Scotia Bank, the Hunton has one of the lowest breakeven costs in unconventional plays in North America:
Source: Soctia Bank (slightly modified to highlight the Hunton)
Production Profile
The Hunton production is very unique: once a well is drilled, it produces a massive amount of water (several thousand barrels at times). However, gradually water production decreases and hydrocarbons production start to increase and often stabilizes for 12 to 18 months, before declining at a rate of 18% to 20% in the initial phase and 5% in the terminal phase.
Source: Equal Energy
New Source Energy (NSE) (a Hunton operator affiliated with New Dominion) stated the following on their S1 filing when discussing decline rates and well life in the Hunton:
The average productive life of our wells producing from the Hunton formation (on 640-acre spacing) is 18.5 years. The initial average Btu content of natural gas produced from this formation is approximately 1100 Btu, increases at an average of 5% per year and, based on past experience, can ultimately reach approximately 2100 Btu.
And adding further:
According to estimates included in our December 31, 2011 proved reserve report, if on January 1, 2012 drilling and development on our properties had ceased, including recompletions and workovers, then our proved developed producing reserves base would decline at an annual effective rate of 13.1% over 10 years.
New Source S1 information is very consistent with Equal's own numbers; working with Equal Energy's reserve report, fellow shareholder Adam Goldstein has calculated an effective decline rate for Equal reserves at 13.2%.
High NGL content
The Hunton natural gas production is very high in NGLs. The composition of the natural gas liquids is as follows:
Ethane 35%
Propane 35%
Butane 15%
Pentane 15%
As highlighted by New Source, the Hunton wells' NGL content increases overtime at an average rate of 5% per year. Equal's production demonstrates similar trends:
Source: Equal Energy
Equal's NGLs are based on pricing at the Conway hub. Pricing in this area has been depressed over the last few months, especially for ethane and to a lesser extent propane. However, this is a temporary problem, largely caused by the warm winter of last year which depressed propane prices and the lack of take away capacity at Conway to accommodate the surging NGL production in the area. The takeaway bottleneck will be addressed in the next 12 to 18 months by the following projects (from CIBC):
DCP Midstream (DPM) is proceeding with the 150,000 Bbls/d common carrier Southern Hills Pipeline between Conway, Kansas and Mont Belvieu, Texas. DCP will convert the Seaway Products Pipeline (which it bought from ConocoPhilips (NYSE:COP) on November 1 2011) from a refined products pipeline into a NGL pipeline. Southern Hills Pipeline is targeting a mid-2013 in-service date.
Oneok Partners (OKS) is planning a 193,000 bpd NGL pipeline called Sterling III Pipeline between Medford, Oklahoma (just south of Conway, Kansas) and Mont Belvieu, Texas. Commercial operation is expected by late 2013 assuming construction starts in early 2013. As currently designed, the 16-inch Sterling III pipeline capacity can be expanded to 250,000 bpd with additional pumping stations.
On January 3, 2012, Enterprise Products Partners L.P. (NYSE:EPD) announced it had received sufficient commitment to develop its 1,230-mile Appalachia to Texas NGL pipeline, ATEX Express. ATEX Express originating in Washington County, Pennsylvania will have 190,000 bpd capacity and terminate in Mont Belvieu, Texas. ATEX Express is expected to begin commercial operations in the Q1/14.
In addition, late June Kinder Morgan (KMI) began providing transportation services for up to 30,000 barrels per day of E-P mix from Conway to Sarnia, Canada via the Cochin pipeline.
Single well Reserves & Economics
A single Hunton well has an average of 421000 barrels of hydrocarbons; with an average of 52% natural gas, 4% oil and 44% NGLs. According to the Equal June 2012 presentation, the Hunton economics are as follows: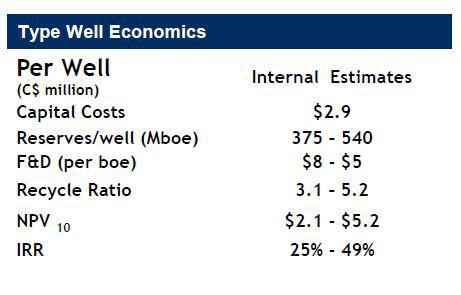 Production costs have varied, but generally they have trended between $5 and $7 a barrel. Production costs tend to rise during the initial production phase due to the flush water production, but costs diminish as water production is reduced and the submersible electric pumps are replaced with standard beam pumps.
One reason the economics are attractive other than the high reserves and high BTU content is the low development costs per well, as Enercom states in their November 2011 report :
The Hunton Formation is a carbonate reservoir with extensive natural fracturing, which means Equal does not have to fracture stimulate its Hunton wells. This holds down well costs and provides Equal with a competitive advantage in Oklahoma in that the company does not have to join the long queue for frac crews. Another unique characteristic of the Hunton is that the horizontal laterals do not require any tubular pipe because the bores stand up on their own; thus Equal does not incur the typical expenses associated with casing its wells in the Hunton.
The above factors offset to a large extent the added cost of water handling and disposal, which is usually done at disposal wells in the Arbuckle formation.
Deals & Transactions in the Hunton
Since 2010, there have been 3 key deals involving Hunton related assets:
PetroHawk - Lime Rock Resources
In March 1st 2010, PetroHawk (now owned by BHP Billiton (BHP) ) sold its interest in The West Edmond Hunton Lime Unit (WEHLU) for $155 million:
As of December 31, 2009, Petrohawk had estimated proved reserves of 23 billion cubic feet of natural gas equivalent (Bcfe) associated with its interests in WEHLU. Current production is approximately 12 million cubic feet of natural gas equivalent per day (Mmcfe/d). Closing of the transaction is expected to be on or before April 30, 2010, with an effective date of April 1, 2010. The transaction is subject to customary closing conditions and adjustments.
The transaction involved two buyers one remained private and the other was the private equity firm Lime Rock Resources [parent of LR Energy MLP (LRE)].
The deal metrics based on the press release are:
$77500 per flowing barrel
$40.46 per BOE in proved reserves
Equal Energy - Petroflow
In April 2011 Equal energy announced that it had acquired its ex-farmout bankrupt partner (Petroflow) interest in its Hunton operations for a total consideration of $93.5 million.
The deal metrics were as follows:
$28,290 per flowing barrel
$10.08 per BOE in proven reserves
4.3x annualized cash flow
New Source Energy (withdrawn IPO)
In May 2012, New Source Energy, an affiliate of New Dominion, filed for an initial public offering on the NYSE. New Source aimed to $100m dollar at the mid range, however due to difficult market conditions in May, the IPO was withdrawn. New Source would have provided an excellent comparison to Equal, since it would have been the only pure Hunton operator to trade publicly. However, despite the fact that the IPO was withdrawn, it is still helpful to examine the valuations proposed by the underwriters (BMO Capital Markets/ KeyBanc Capital). At the low end of the range New Source was valued as follows:
$62000 per flowing barrel
$13 per BOE in proven reserves
8.4x annualized Ebitda
Equal Hunton Production and Reserves today
Hunton Reserves
Proven Producing - 22.6m barrels
Proven Undeveloped - 8m barrels
Probable - 1.5m barrels
Total - 32.2m barrels (44% liquids)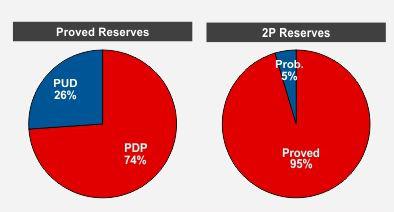 Source: Scotia Watrous
Production
As of Q1/2012 Equal's Hunton assets produced:
257 barrels of light oil per day
3890 barrels of NGLs per day
4892 barrels of NG per day
For a total of 9039 barrels per day, the company estimates an average production of 8800 barrels from the Hunton in 2012 and to that end 7 new wells were drilled in the formation so far this year.
Current Hunton trading metrics
Assuming a value of $85m for the company Canadian portfolio of light oil assets and $20m for the company's Mississippian acreage in joint venture with Atlas Resource Partners (ARP), and deducting the $147m in net debt, the Hunton is currently trading at a value of $150m or:
$17000 per flowing barrel
$4.9 per proven BOE
3.06 annualized Ebitda*
*Based on $3.75 mcf, $34 NGL, $85 WTI
Conclusion
It is clear that the Hunton play is a sufficiently developed play with a long production history and well established economics. The play certainly lacks the "sex appeal" of newer shale plays in Oklahoma, such as the Mississippian Lime, yet the Hunton development has continued at a brisk pace over the last few years despite weak and volatile natural gas prices in a testimony to the play's attractive economics.
It is also abundantly clear that the company's Hunton asset is extremely undervalued at current levels and this is exactly why the company is undertaking a strategic review to unlock shareholder value. It is expected that the strategic review would either lead to a full sale of the company or the divesture of its Canadian assets and the conversion of the Hunton and Mississippian asset in a dividend trust. Under both scenarios Equal Energy's stock should experience a significant upward re-rating.
Disclosure: I am long EQU.