Alibaba is known for its international business to business (B2B) website and perhaps, among US investors, as the only thing Yahoo! (YHOO) currently has going for it.
The heart of Alibaba is the ability to connect suppliers scattered throughout Asia, and specifically China, with retailers throughout the world and within China. Alibaba is not even 10 years old, as it was founded at the end of 1999, and has grown into a leading website in China and the world with over 27 million registered users. As you can imagine, in an industry (B2B) that is growing rapidly as China expands domestically and internationally, there is room for more than one Alibaba; think of Yahoo! and MSN (NASDAQ:MSFT) in 2000 and then today, with Google (NASDAQ:GOOG) now the leader in internet search.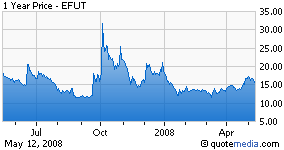 e-Future (NASDAQ:EFUT) is a player in the B2B industry that is growing at an exponential pace. This has been described at Seeking Alpha quite a bit.
In less than one month, e-Future has launched two new websites to go along with its already popular www.99114.com.cn. The focus of e-Future is on China's domestic market of small to middle sized retailers and connecting them with small to large scaled domestic retailers. EFUT's success in this has been evident by a number of variables. The first is their growth as a company that focuses on the B2B and service-as-a-software industries. e-Future's exponential growth as been nothing short of impressive, perhaps best described here.
The second and most direct variable is the success of their newly launched website. e-Future has long had strong ties with Beijing Wangfujing Department Store (Group) Co. Ltd. ("Wangfujing Group"), which is a leading department store headquartered in Beijing China. The Wangfujing Group has purchased a number of services from e-Future including software, hardware and service/maintenance fees. Wangfujing Group has nearly 20,000 suppliers and all of them have come on as www.bfuture.com.cn users. e-Future charges a monthly subscription fee and one its initial launch automatically had 20,000 paying subscribers. The innovation of bfuture is the realization that many suppliers and retailers are too small to afford the initial upfront costs of software and hardware required to efficiently communicate with their retailers and enhance the supply chain management.
To combat this problem, www.bfuture.com.cn requires a small monthly fee, while at the same time providing name recognition for when the individual suppliers are prepared for the software investment that e-Future can provide for them. See here for more information on the deployment of this new site.
I don't know that e-Future is the next Google of the B2B industry, but they certainly are making strong inroads into the industry and growing as a company quite nicely. I am therefore a long term shareholder.
Disclosure: Author holds a long position in EFUT