Myriad Genetics (NASDAQ:MYGN) has a diversified portfolio, which includes genetic testing as well as therapeutics. While the genetic testing part of the business continues to grow well, the run up in the stock over the past two years reflects hopes that the company's r-flurbiprofen (Flurizan) for Alzheimers Disease [AD] could be a huge blockbuster.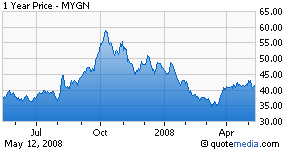 Here is the science, for what it's worth. R-flurbiprofen (like other anti-inflammatory compounds) lowers toxic Aβ42 production by selectively modulating γ-secretase activity to shift cleavage of amyloid precursor protein [APP] away from Aβ42 production toward shorter, less toxic peptide fragments. This would inhibit the cascade of amyloid accumulation, plaque formation, and neurodegeneration that are the hallmarks of dementia.
Myriad's Phase II trials showed that treatment with R-flurbiprofen (Flurizan) did not help individuals with mild or moderate AD when results for all 207 participants were considered as a whole. However Myriad saw some encouraging signs when data for just the 128 participants with mild Alzheimer's were analyzed separately. Based on these preliminary results, Myriad conducted a Phase III trial on patients with mild AD, the results of which should be announced shortly.
But, some data released yesterday (May 12, 2008) with other drugs gives us a hint of what may lie ahead for Flurizan. In a nearly four-year study, published in the Archives of Neurology, with anti-inflammatory agents Aleve or Celebrex, it was found that the drugs did nothing to ward off the mental decline associated with the onset of AD. The study divided 2,117 people aged 70 or older with a family history of Alzheimer's into three groups. One group received naproxen twice daily in the form of Bayer's Aleve, another Pfizer Inc.'s (NYSE:PFE) Celebrex, and a third group took a placebo. Not only did the results not show any benefit, but Aleve, known generically as naproxen, may have had a slightly negative impact. Patients who took two daily doses of Aleve scored slightly lower on tests of mental functioning compared to the groups taking a placebo or celecoxib.
While this study does not mirror the Myriad study, it still gives valuable hints on the possible outcome. There were some hopes that anti-inflammatory compounds may have a role to play on the treatment of AD. It seems that is premature.
Disclosure: I have been short MYGN since it was $55/share. I will go long when it hits $25 a share. It was $41.68/share at close of trading Monday.