Priceline (PCLN) reports earnings on August 7th.
The Street expects:
Revenue: $1.35 billion
EPS: $7.36
Q3 revenue guide: $1.82 billion
In Q1 Priceline reported solid results with robust international revenue growth of 58%, excluding FX impact. Hotel room nights sold was up 47% y/y and Bookings.com increased its number of properties by 55% over the quarter to 210K.
Management guided 26-31% y/y increase in gross travel booking, in which international gross travel booking is projected to achieve 32-37% y/y increase and domestic gross booking to increase 5-10% y/y. Revenue is projected to increase 18-23% y/y and non-GAAP EPS of $7.2-7.4 per share.
In my view, management's guidance was a bit conservative, which leaves room for upside surprise as international growth continues to be resilient. Heading into the earnings, investors can expect another quarter of strong execution amid Europe's soft macro environment.
According to data from comScore, Bookings.com, owned by Priceline, continued to show strength in unique visitors growth in 2Q12.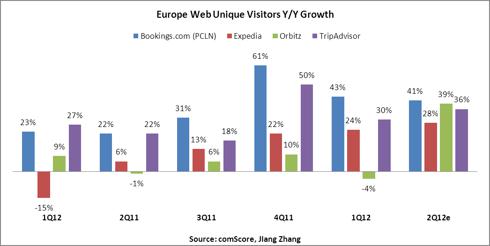 The number of monthly unique visitors is significant to Priceline's international booking revenue because they are highly correlated.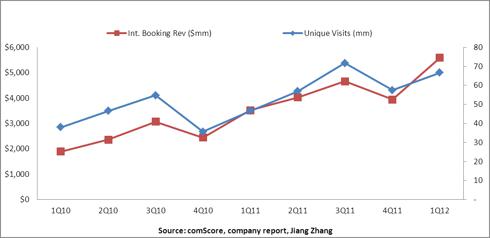 After running a regression analysis between the two factors, I found that the number of unique monthly users explains 79% of the variation in Priceline's international booking revenue, over the past two years, as indicated by the R-square.

With a robust topline growth and a strong balance sheet (Cash and short-term investment: $3.6 billion, and $1.2 billion in debt), Priceline remains my top pick in the online travel space.
Disclosure: I have no positions in any stocks mentioned, and no plans to initiate any positions within the next 72 hours.