On June 21st I appeared on TV on the Business News Network (BNN) to present my three favorite stock picks and Chart Prophet Capital's top plays.
I presented the case for Silicon Image (NASDAQ:SIMG) as our "favorite speculative play" in technology.
Why do we like such an unknown name so much? Because it was recently announced that SIMG's MHL chips would be included in the Samsung (OTC:SSNLF) Galaxy phones. Such a huge opportunity to provide a chip for what could be the "iPhone Killer" makes Silicon Image THE best way to invest in the Apple (NASDAQ:AAPL) vs. Samsung battle.
We were proven right. Silicon Image reported earnings on July 31st, beating estimates for both EPS and revenue. The earnings beat (and increase in Q3 guidance) was so great that SIMG soared over 22% in after-hours trading! Even better - this is just the beginning. In our opinion, Silicon Image could double, triple, or even more from here.
Here is how I recommended SIMG on June 19th:
Our favorite speculative play in technology is Silicon Image . I have been following the stock since 2007, as it has been stuck in a range of $2 to $10. Now at $4, it is a great low-risk bet. The company is relatively small at a $344M market cap, but may be set for a rapid gain over the next year or two. The catalyst? It was recently announced that SIMG's new chips will be included in Samsung's Galaxy phones. Not only do we expect Samsung to challenge Apple's iPhone, but Silicon Image's role in phones and tablets could send its stock soaring as SIMG returns to profitability in a big way. With no debt, $151M in cash, and a very low-risk support level at $4/share, SIMG is currently our favorite speculative technology play.

See: Managing Your Portfolio At This Major Turning Point: Top Stocks To Watch
Then I recommended SIMG on BNN Television on June 21, 2012 (skip to 7:44).
Forget the fact that Samsung is already posing a major threat to Apple and the iPhone with its Galaxy smartphone. The simple fact that Silicon Image's chip is included in the Galaxy is in and of itself tremendous news for a tiny company with a $400M market cap. Even if the Galaxy didn't do as well, Silicon Image's revenues would still have improved in a big way.
But Samsung and Silicon Image are doing way better than nearly everyone expected. Not only did Apple miss earnings estimates recently, but the Samsung Galaxy has soared! Samsung is Asia's #1 brand (a big hurdle for Apple's attempt to infiltrate or dominate the region) and the Galaxy S III phone has shown tremendous success already - it has sold out in 2-4 days, was the top-selling model at both AT&T (NYSE:T) and Verizon (NYSE:VZ) [Seeking Alpha Market Currents], and led Samsung to a record profit.
The most obvious proof? Samsung shipped twice as many smartphones as Apple sold in this past quarter, a whopping 50 million phones while Apple sold only 26 million iPhones. Even more promising for Samsung's future - it nearly doubled its smartphone vendor market share year-over-year, now at 34.6% compared to Apple's 17.8%.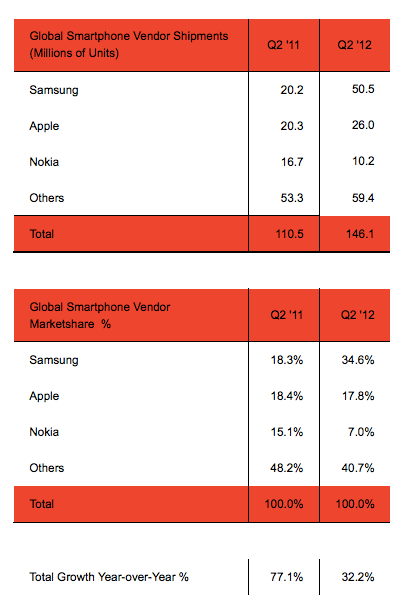 Source: Business Insider.
Even if you still believe in the Apple story, you can still look to profit from Samsung's bigtime success as well. And Silicon Image is the best way to do so. Silicon Image is not only a small company with huge upside potential, but it also has zero debt, lots of cash (about a third of its market cap), and a major opportunity here as it benefits and even soars due to its inclusion in what may, in fact, be the "iPhone Killer". The simple fact that SIMG's chip is included in such a top-selling phone gives it a big chance to rapidly grow revenues. And once investors start to really look into the Samsung Galaxy's parts (as they did with Apple), Silicon Image will almost certainly benefit in a big way.
See the SIMG chip?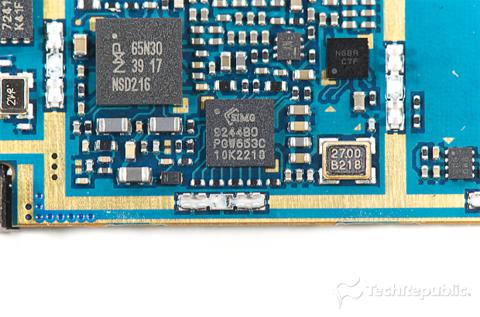 Source: TechRepublic - "Cracking Open the Samsung Galaxy."
Disclosure: I am long SIMG.