After having done a series on Portuguese stocks, it's now the time to do the same on Spanish stocks (EWP). The logic is, again, the same, because as Baron Rothschild once said, "The time to buy is when there's blood in the streets". The blood is certainly flowing in the European periphery.
In looking at the stocks, I'll try to gauge the sensitivity to internal demand, some factors important to their industries, the multiples they trade at and how the local stocks compare to U.S. listed alternatives in the same sectors. Obviously to trade some of these stocks, investors would need an account with a full-service broker.
I will cover the stocks that are members of the Spanish Ibex 35 Index. This index has the following 35 constituents and in this article I'll cover those bolded:
Abertis (OTCPK:ABRTY)
Abengoa (OTCPK:ABGOY)
ACS
Acerinox (OTCPK:ANIOY)
Amadeus (OTCPK:AMADY)
Acciona
BBVA
Bankia
Bankinter
Bolsas Y Mercados
Caixabank
DIA
Endesa
Enagas
Fomento Construcciones
Ferrovial
Gamesa
Gas Natural
Grifolsa
INTL. CONS. AIR GRP
Iberdrola
Indra
Inditex
Mapfre
ArcellorMittal
OHL
Banco Popular
Red Electrica
Repsol
Banco Sabadell
Banco Santander
Sacyr Avllehermoso
Telefonica
Mediaset Espana
Tecnicas Reunidas
Abertis
Abertis operates mostly toll motorways (79% of revenues), while also having some presence in the telecommunications sector (13% of revenues) and running airport concessions (7% of revenues). Abertis is diversified geographically, with 48% of revenues coming from Spain, 38% from France, 5% from the United Kingdom, 4% from Chile and 5% from the rest of the world.
This combination of an intrinsically stable activity with geographic diversification means that Abertis should be rather immune to most pressures coming from austerity measures undertaken in Spain.
Taking into account its earnings report for 2011, these are the multiples that Abertis trades at today (all values are in Euros):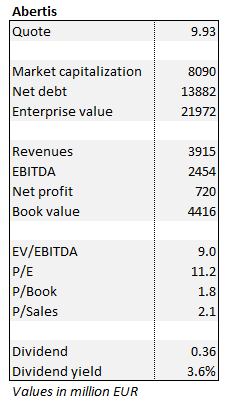 Unfortunately, the stable nature of Abertis also means it doesn't get punished as much by the market. It can be said that the kind of multiples Abertis trades at are reasonable to cheap for the kind of activity it is it - which is entirely utility-like, but not incredibly cheap or punished.
Still, Abertis is trading cheaper than Portugal's Brisa - which is trading under an acquisition proposal. Regarding comparable U.S. listed stocks, I am not aware of a pure toll road stock in the U.S., so there's nothing I can really compare it to.
Abengoa
Abengoa is a diversified conglomerate, having activities in construction and engineering, concessions (solar plants) and industrial production (biodiesel, recycling). It's also diversified geographically, with 27.3% of revenues coming from Spain, 20.7% from Brazil, 19% from the U.S., 15.3% from the rest of Europe, 10.9% from the rest of Latin America (excluding Brazil), 5.7% from Asia and 1.1% from Africa.
Abengoa has been growing strongly into 2011, and hopes to continue growing during 2012.something which it was still achieving as of Q1 2012 (revenues +17.8%; EBITDA +23.8%; net profit +58%).
Taking into account its earnings report for 2011, these are the multiples that Abengoa trades at today (all values are in Euros):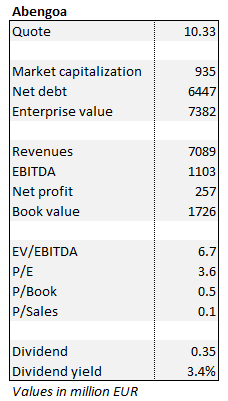 These numbers show Abengoa as being quite cheap on a P/E basis, a bit less so on an EV/EBITDA basis due to the indebtedness. It should be said that most of the debt is non-recourse, so if any one project goes badly, it wouldn't hit the equity much. The Portuguese company Mota Engil (OTC:MTELF) is cheaper on an EV/EBITDA basis for about the same kind of sector as Abengoa. Still, Abengoa is quite reasonable as well, given the growth it's still showing.
In terms of U.S. comparisons, it's again hard to find equivalent companies. In the construction sector, perhaps Sterling Construction (STRL) or the Shaw Group (SHAW) fit, with Sterling trading at a forward 2013 P/E of 14.8 times (it's presently producing losses), an EV/EBITDA of 3.7, and a price/book of 0.80. Shaw trades at a forward 2012 P/E of 11.4 (presently also producing losses), an EV/EBITDA of 12.6 times and a price/book of 2 times. Abengoa compares favorably.
ACS
ACS is a engineering and construction company (69% of revenues). ACS's construction activity is quite diversified geographically, with 15% of revenues coming from Spain, 12% from the rest of Europe, 27% from America (North and South America) and 46% from Asia. The geographic diversification might mean that any large punishment of ACS on the grounds of it being a construction company might be reversible.
ACS also provides environmental services (6%) and Industrial services (25%).
ACS has gotten its geographical diversification buy buying a 50.16% share in German construction company Hochtief AG during 2011.
ACS holds 14.85% of Iberdrola (14.9%). ACS is selling some of its non-core shareholdings to lower debt.
Taking into account its earnings report for 2011, these are the multiples that ACS trades at today (all values are in Euros):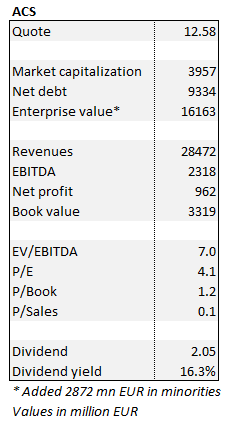 What stands out the most is the leverage, which keeps the EV/EBITDA from turning real cheap even while the P/E drops as low as 4.1 times. The huge dividend yield over 16% seems quite attractive but is somewhat dangerous, though it still represents a sustainable 63% payout ratio. Since the company is so diversified geographically, it seems possible that it might withstand well any austerity measures in Spain. The huge leverage has the disadvantage that when the shares fall the company gets cheaper slowly (in terms of EV/EBITDA), but it will have the opposite effect if ACS turns up, with the equity valuation going up slowly as the share races upwards.
Acerinox
Acerinox makes stainless steel and stainless steel products. It suffers from China's huge steel production that's now spilling over the world. Acerinox is diversified geographically, with less than 10% of its revenues coming from Spain. 39% of Acerinox's sales are from the U.S. market, which is the largest market. Spain is second largest.
Taking into account its earnings report for 2011, these are the multiples that Acerinox trades at today (all values are in Euros):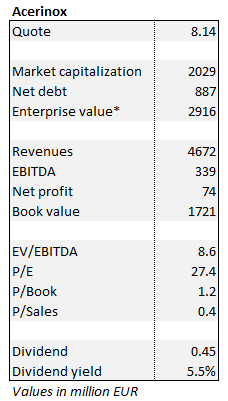 Although Acerinox isn't really exposed to the Spanish economy, its stock doesn't trade as if it were, either. Acerinox has nontheless taken a beating, but that has more to do with the market it services, than the Spanish situation. Right now and as we can see above, Acerinox can't be called cheap.
AK Steel (AKS) is a comparable U.S. corporation also selling stainless steel, though with more of a focus on carbon steel. AKS trades slightly cheaper on an EV/EBITDA basis (7.3) but is now producing losses while Acerinox is still profitable. Although Acerinox seems a better prospect than AKS, that is still not enough to say it seems like any kind of obvious opportunity, especially in light of China's excess capacity on steel, which will probably take years to drain away.
Amadeus
The core of Amadeus is its worldwide Amadeus GDS reservations system, it "connects travel providers, such as full service and low cost airlines, hotels, rail operators, cruise and ferry operators, car rental companies, tour operators and insurance companies, with online and offline travel agencies, facilitating the distribution of travel products and services through a digital marketplace.". This system competes with 3 other worldwide systems, Sabre, Galileo and Worldspan (these last two are by privately owned Travelport).
These systems constitute an oligopoly at a world scale, and as indispensable for travel agents both online and offline.
Given the nature of the business, Amadeus is not affected by the internal demand dynamics of the Spanish economy.
Taking into account its earnings report for 2011, these are the multiples that Amadeus trades at today (all values are in Euros):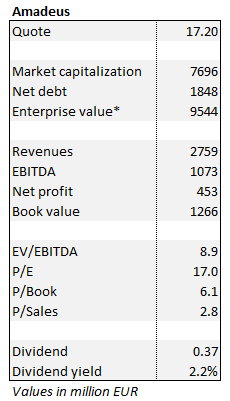 As we can see by the multiples, Amadeus hasn't been hurt by the Spanish situation. Amadeus isn't overly expensive given the market position it occupies, which is quite attractive globally.
As for comparisons, unfortunately Sabre holdings was taken private back during 2007 and Travelport is also private, so I can't really say there are direct comparables. Using an online travel agency, such as Expedia (EXPE) shows Sabre to be slightly cheaper on a P/E basis (19 times for EXPE) as well as on EV/EBITDA (9.1 times for EXPE). Still, it would seem more attractive to own one of the leading GDSs, than the online agencies that use them. This is because it's quite easy to start an online agency, but quite hard to set up an worldwide GDS.
Amadeus might be interesting for a long term growth portfolio, but hasn't really been punished by the Spanish situation.
Conclusion at this point
This first batch of Spanish companies includes 2 construction and engineering companies, Abengoa and ACS, which given their geographical diversification might already be cheap enough to warrant inspection. Still, construction isn't usually the kind of sector that attracts great attention.
Amadeus might also be interesting because of its long term prospects.
What stands out the most at this point is the rather low exposure to Spain that these stocks have.
(to be continued)
Disclosure: I have no positions in any stocks mentioned, and no plans to initiate any positions within the next 72 hours.