By Andrew McDonald, Ph.D. and Ning Yang, Ph.D.
SciClone Pharmaceutcials (NASDAQ:SCLN) is a US-based, China-focused, pharmaceutical company uniquely positioned to take advantage of the growing Chinese pharmaceutical market. The company has a product portfolio of therapies for oncology, infectious diseases, cardiovascular, urological, respiratory, and central nervous system (NYSE:CNS) disorders.
Its lead product, ZADAXIN, an immunomodulatory agent, has been marketed for a variety of indications, including Hepatitis B (HBV) and liver cancer as a chemotherapeutic and vaccine enhancer. ZADAXIN has experienced amazing growth in China in the past seven years, and has just surpassed $100MM annual sales in China in 2011, which is considered a blockbuster by Chinese standards.
SciClone acquired local Chinese company NovaMed Pharmaceuticals, Inc. ("NovaMed") on April 18, 2011. As a result, SciClone currently has a portfolio of approximately 15 licensed drug products, including six oncology products from Pfizer (NYSE:PFE), five products from Sanofi Aventis (NYSE:SNY), three products from Baxter (NYSE:BAX), and one product from Iroko Cardio, spanning four major therapeutic areas, including oncology, cardiovascular disease, central nervous system disorders and urology/infection.
For 1Q2012, the company reported net sales of $39.2MM, an EBITDA of $10.1MM, and a net income of $8.7MM. This translates to a diluted EPS of $0.15 per share. With a stock price of $6.04 and an enterprise value (NYSE:EV) of $292MM, we currently have a positive view on the stock, as we are bullish on the company's long-term growth potential and expect a resolution of the ongoing Securities & Exchange Commission (SEC) and Department of Justice (DOJ) investigations.
ZADAXIN
ZADAXIN, or thymalfasin, often referred to as thymosin alpha 1 or Tα1, is a thymic peptide circulating in the blood naturally and is instrumental in the immune response to certain cancers and viral infections. Previous studies suggest that thymalfasin enhances the body's immune response to eradicate infectious diseases, such as HBV and HCV, acquired immunodeficiency syndrome (AIDS), primary immunodeficiency diseases, depressed response to vaccination, as well as certain cancers.[1],[2],[3],[4] The effectiveness of ZADAXIN in these conditions is based upon a dual mechanism of action to increase T-cell differentiation and maturation.
SciClone launched ZADAXIN in China in 1996, and by 2011, its annual world sales of this product reached more than $100MM, 97% of which was sales to China. Measured by revenue, ZADAXIN is one of the largest imported pharmaceutical products in China. ZADAXIN is approved in China for the treatment of HBV as a vaccine adjuvant, and is also included in the treatment guidelines issued by the Chinese Ministry of Health (NYSE:MOH) for liver cancer. ZADAXIN currently has roughly 850 sales professionals behind it, and it has strong brand recognition. ZADAXIN is positioned as a high-quality, imported product in China. Orders of ZADAXIN are filled largely by distributors and sub-distributors, who purchase ZADAXIN from selected, established, government-licensed importing agents.
There are a few generic Chinese companies that sell thymalfasin in China at only approximately one-fifth of the price. SciClone currently focuses on China's largest hospitals (class 3 with over 500 beds) as well as med-size hospitals (class 2). Most of these hospitals are located at tier 1 and 2 cities on the eastern coast, in China's wealthiest region.
Mainlanders and locals are increasingly willing to pay for premium Western drug products due to the rising safety concern regarding domestic drug products. ZADAXIN is approved in over 30 countries, including those in the Pacific Rim, Latin America, Eastern Europe, and the Middle East. The primary indication is for the treatment of HBV and as a vaccine adjuvant, with additional approvals in certain countries for the treatment of HCV, or as a chemotherapy adjuvant for cancer patients with weakened immune systems. Sales of ZADAXIN in these countries accounts for only 3% of the total sales.
Acquisition of NovaMed
SciClone acquired NovaMed in April 2011. NovaMed shareholders received $24.7MM in cash and $37.1MM worth of SciClone's common stock, valued at $4.47 per share, and a contingent right to receive additional cash consideration of up to $43.0MM based upon achievement of revenue and earnings targets for FY2011 and FY2012. Through the acquisition, SciClone obtained exclusive promotion rights of several commercial-stage products, including Depakine®, the most widely prescribed broad-spectrum anti-convulsant in China; Tritace®, an ACE inhibitor for the treatment of hypertension; Stilnox®, a fast-acting hypnotic for the short-term treatment of insomnia (marketed as Ambien® in the US); and Aggrastat®, a recently-launched interventional cardiology product.
NovaMed's pipeline also includes pharmaceutical assets (DC beads, Rapid Film, etc.) that are in the regulatory approval process from partners such as Bio Alliance, Orexo, Meda, and EUSA (see Figure 1). In building this broad pharmaceutical portfolio, NovaMed has established exclusive licensing and promotion agreements with a number of the world's leading pharmaceutical companies, including Sanofi-Aventis, Pfizer Inc., and Baxter International. SciClone and NovaMed operate as separate entities in the Chinese markets.
Figure 1: Sciclone's Major Marketed Product and Drug Candidates in Development
| | | | | | |
| --- | --- | --- | --- | --- | --- |
| Product | Description | Development Phase | Indications | Licensor | Market Share in China |
| ZADAXIN | Immunomodulator acting through TLR9 pathway | On market since 1996 | HBV, HCV, and certain cancers | Proprietary | 40% |
| DEPAKINE | Broad-spectrum anti-convulsant | On market since 2008 | Epilepsy, bipolar disorder | Sanofi-Aventis | 40%+ |
| STILNOX | Non-benzodiazepine hypnotic | On market since 2008 | Insomnia | Sanofi-Aventis | 35% |
| Methotrexate | Antimetabolite, antineoplastic agent | On market since 1996 | Solid and liquid tumors, acute leukemia, osteosarcoma, breast cancer | Pfizer | 62%/unit; 76%/RMB |
| Tritace | ACE inhibitor for the treatment of hypertension | Marketed | Hypertension, mild to moderate heart failure following acute myocardial infarction and non-diabetic nephropathy | Sanofi-Aventis | n.a. |
| Aggrastat | Anti-coagulant platelet aggregation inhibitor | On market since 2009 | Acute coronary syndrome | Iroko Cardio | Recently launched and growing |
| Tramadol | Sustained release capsule formulation of tramadol | Approved 1Q 2012 by the SFDA | Moderate to severe pain | MEDA | n.a. |
| DC Bead | Embolic drug-eluting bead for targeted delivery | Approval in China Anticipated in 2012 | Cancer | BTG/Biocompatibles | n.a. |
| Loramyc | Mucoadhesive tablet formulation of miconazole lauriad | n.a. | Oropharyngeal candidiasis | BioAlliance | n.a. |
| Rapinyl | Sublingual tablet formulation of fentanyl | n.a. | Cancer pain | Orexo | n.a. |
| RapidFilm | Oral film formulation of ondansetron | Launch in China Anticipated in 2013 | Nausea induced by chemotherapy | Applied Pharma Research | n.a. |
Source: SciClone Report, LifeSci Advisors
Growth Potential
SciClone has experienced revenue growth of approximately 32% annually over the past 4 years (see Figure 2), due to sales of its highest-margin product, ZADAXIN (see Figure 3). SciClone reported ZADAXIN revenue of $29.7MM in 1Q FY2012, which is a 37% increase over revenue reported for the same period in FY2011.
ZADAXIN sales growth was primarily due to further market penetration in China. ZADAXIN was approved in China for the treatment of chronic HBV in 2010 and was included in the treatment guidelines issued by the Chinese MOH for liver cancer in 2011. HBV is endemic in China. It is estimated that about 120 million people in China are carriers of HBV, which is approximately 1/3 of the people infected with HBV worldwide.[5],[6] Of the HBV carriers in China, 30 million people are chronically infected.
Assuming a price of $181 for two shots (based upon a retail price of 1450 Chinese yuan and 20% discount for wholesale), and 52 shots administered per patient over a 6-month course of therapy, we estimate that the annual revenue generated per patient is $4,706. Given the $104.8MM of sales in 2011, we estimate that slightly over 22,000 patients in China received ZADAXIN. This accounts for less than 0.1% of the chronic HBV population in China.
Liver cancer is another epidemic disease in China. Currently resulting in 360,000 incident cases, and 350,000 deaths per year in China.[7] The approval of ZADAXIN for liver cancer may further boost its sales. The rising middle class in China represents an enormous opportunity for ZADAXIN sales expansion.
Other in-licensed products recently approved by the MOH include Aggrastat, Tramadol, STLINOX, and DEPAKINE (see Figure 1). These products should help increase revenues and profitability of SciClone's business over the coming years.
Figure 2: SciClone Revenue Growth from FY2008 to FY2012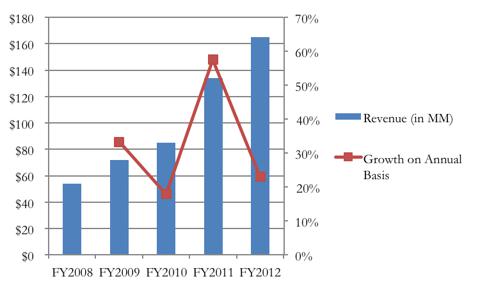 Source: LifeSci Advisors
Figure 3: SciClone ZADAXIN Revenue Growth from FY2009 to FY2011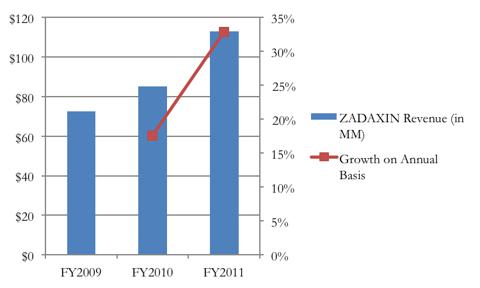 Source: LifeSci Advisors
Investor Focus
Investors are focused on a few issues, including an upcoming price reduction for ZADAXIN and an ongoing investigation of possible violations of Foreign Corrupt Practices Act (OTCPK:FCPA) led by SEC and DOJ. Other issues include the company's reliance on a China-focused strategy and the integration of NovaMed.
Price Reduction China's pharmaceutical market is currently undergoing a painful transition paced by the government-led public health reform to expand public access to low-cost "essential" medicines. As a result, ZADAXIN's list price in China is currently under review by Chinese regulatory authorities and SciClone anticipates a price reduction of 5-15% to occur in 2H2012. According to the company, the manufacturer, importer, distributor, and hospital/pharmacy will share the expected reduction. Consequently, a 15% price reduction may translate to approximately a 7.5% sales reduction for SciClone. The company has already factored in a 7.5% reduction in its 2012 revenue guideline ($165-170MM). Over the long term, further price reductions could occur. However, due to its current low market penetration, we think that ZADAXIN growth will offset the modest price reductions.
Ongoing SEC and DOJ Investigation The U.S. SEC and DOJ are each conducting formal investigations of SciClone regarding potential violation of the FCPA in China. According to the company's 10-Q report in May 10, 2012, SciClone continues to cooperate with the SEC and DOJ in the investigation. It is hard to predict the outcome. We looked at a full list of the SEC's FCPA Enforcement Actions in the healthcare industry since 2009, including Biomet, Smith & Nephew (NYSE:SNN), Johnson & Johnson (JNJ), and Novo Nordisk (NYSE:NVO). All the cases were settled with fine penalties. The median fine amount is $20MM. We postulate that SciClone will be fined between $5MM-$30MM, and likely closer to $5MM, if any wrongdoings are found.
Figure 4: Summary of a List of the SEC's FCPA Enforcement Actions in Healthcare Industry since 2009.
Year

Company

Charge

Penalties

2012

Biomet

Its subsidiaries and agents bribed public doctors in Argentina, Brazil, and China for nearly a decade to win business.

More than $22 MM fine to settle the SEC/DOJ charges.
Ordered to retain an independent compliance consultant for 18 months to review its FCPA compliance system.

2012

Smith & Nephew

Its US and German subsidiaries bribed public doctors in Greece for more than a decade to win business.

More than $22 MM fine to settle the SEC/DOJ charges.
Ordered to retain an independent compliance consultant for 18 months to review its FCPA compliance system.

2011

Johnson & Johnson

Bribed public doctors in several European countries and paying kickbacks to Iraq to illegally obtain business.

$70 MM fine to settle the SEC/DOJ charges.

2009

Novo Nordisk

The company paid $1,437,946 in kickbacks and agreed to pay an additional $1,315,454 in kickbacks in connection with its sale of humanitarian goods to Iraq under the United Nations Oil for Food Program.

$18 MM fine to settle the SEC/DOJ charges.
Source: LifeSci Advisors
China-focused Strategy Investors are concerned with the company's China-focused strategy, given the recent slowdown of China's economy. Although China's Q2 GDP growth slowed to 7.6% from a year earlier, a majority of economists believe that the Chinese economy has bottomed and will bounce back in 2H2012, according to a Bloomberg News survey. Moreover, amid the slowdown, consumption has risen steadily. In fact, the Chinese pharmaceutical market has experienced amazing growth, and it could reach over $100B by 2015. Overall, we believe that the current economic slowdown will have a minimally negative impact on SciClone's top-line growth in the near term.
Acquisition of NovaMed The acquisition of NovaMed gives SciClone access to a diverse portfolio of marketed products, including Depakine, Tritace, Stilnox, and Aggrastat. Among these drugs, Aggrastat has the highest margin and is the first and only imported, China-approved IIb/IIIa inhibitor. The drug faces competition from approximately five local generic drugs. Of note, Depakine and Stilnox experienced price reduction ranging from 8% to 15% in China in 2011. The Chinese authority reduced prices of oncology drugs and central nervous system drugs on the Reimbursement Drug List (RDL). Aggrastat is currently under review by the Chinese government regarding a price reduction. Whether SciClone can realize the synergy of the acquisition will largely depend on its superior sales execution and its capability to bring more drug products to the Chinese market.
Stock Buyback
During FY2011, SciClone increased its share count by 8,298,110 due to the acquisition of NovaMed and by ~2,288,000 due to stock option exercises. During 1Q FY2012, options to purchase 199,649 shares of common stock were exercised. Since October of 2011, however, SciClone has bought back $21MM worth of shares of an authorized $30.5MM. The buyback helped offset employee stock options, and indicated that the management was confident in SciClone's prospects.
Stock Valuation
With a stock price of $6.04, a fully diluted share count of 56.8MM, cash of $74.5MM, debt of $2.5MM, SciClone has a market cap of $364MM and an EV of $292MM. Based on the last quarter EPS of $0.15, shares are trading at forward P/E of 10.1 (4×1Q2012 diluted EPS of $0.15) and a forward EV/Revenue of 1.86 (4×1Q2012 net sales of 39.2MM).
The company's forward P/E is relatively low compared to its China and BTK peers, and its forward EV/Revenue is low compared to its BTK peers. This discount is mainly due to overhanging concerns regarding ZADAXIN price reduction and the ongoing SEC/DOJ investigation. We think these issues will be resolved in the company's favor, and that ZADAXIN growth and the well-diversified product portfolio should continue to drive top- and bottom-line growth for SciClone.
1 Slogren M. J Gastroenterol Hepatol. 2004; 19(6): 69-72.
2 Liaw Y. J Gastroenterol Hepatol. 2004; 19(6): 73-75.
3 Gish R.G. et al. Hepatol Int. 2009; 3(3): 480-489.
4 J. Li et al. Peptides 2010; 31:2151-2158.
5 Custer B. et al. J. Clin. Gastroenterol. 2004;38:158-168.
6 Liu J. and Fan D. The Lancet 2007; 369:1582-1583.
7 Chen J.G. and Zhang S.W. Semin Cancer Biol. 2011; 21(1):59-69.
Disclosure: I have no positions in any stocks mentioned, and no plans to initiate any positions within the next 72 hours.