Ford Motor Company (NYSE:F) released its sales results for the month of July this morning, and the figured showed a 3.8% decline from July of 2011. There was some good news and some bad news. Let's take a look at the good first:
Ford Fusion sales rose 21% and set a monthly record.
Ford Explorer sales increased 14%.
Fleet sales declined 16% (I view this as a positive, as fleet sales have a much lower profit margin) but accounted for only 27% of sales, down from 31% last year.
Ford F-Series sales improved 0.4% year over year, and have seen 12 consecutive months of sales gains.
Pricing and incentives stayed relatively constant, showing that Ford is not willing to sacrifice pricing (and profits) to generate sales.
Unfortunately, the list of negatives is a bit longer, but there are some mitigating circumstances:
Market share is expected to decline to approximately 15.1%, down approximately 2% year over year as Toyota (NYSE:TM) and Honda (NYSE:HMC) regain market share lost following the earthquake, tsunami, and production shutdowns in 2011.
Ford Fiesta subcompact was down 23%, as the Focus cannibalized Fiesta sales, and General Motors' (NYSE:GM) Chevrolet Sonic took the lead in the subcompact market.
One of the biggest negatives was the 11% drop in Lincoln sales, as only the MKZ and MKT saw gains compared to July of 2011.
Total truck sales were down 9.0%, as sales of the Ford Ranger declined 93.6%.
Ford Escape sales were down 11.6%, as Ford was forced to recall the remodeled 2013 version due to safety issues.
Auto sales in general for most companies are coming in weaker than expected this month. After an extremely strong first six months of the year, auto sales appear to be faltering during July as the economy continues to struggle.
GM saw a 6.4% sales decline, while Chrysler saw a 12.6% increase. While Chrysler's results were strong, they are far below the 31.6% sales gain the company averaged through the first six months of 2012.
The following chart shows Ford's total sales and percent change (year over year) through the first seven months of 2012:
(click image to enlarge)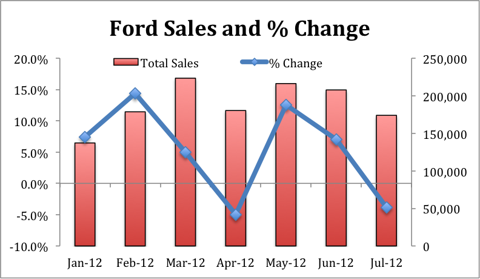 I still like Ford as an investment. It is down 15% year to date, but part of that is due to the troubles for the industry as a whole. Sales in the largest market in the world, China, are slowing, while sales in Europe continue to slump.
In North America, it appears that Ford is running into a problem of inventory. Soon, the company will be forced to make a difficult decision -- it will either have to invest heavily in a plant to expand production or accept lost sales due to low inventory. In the current environment, I would lean towards the second option; however, the current malaise will not last forever. Investments made during a downturn normally see exaggerated returns.
The stock price has been under pressure primarily due to Europe. Through the first six months of the year, Ford has lost $553 million in the segment, compared to a gain of $469 million through the first six months of 2011. That being said, income in North America has increased 10% through the first six months of the year. Valuations are still relatively cheap for Ford, and it has a strong lineup of vehicles. This is a time to start accumulating a position; Ford will be a big winner in the industry, but it will likely take some time.
Disclosure: I am long F.