By now, people are already tired of my ranting (for instance, here and here) regarding Amazon.com (AMZN). I am pretty sure that by now, logical arguments won't cut through. Words are no longer enough. So I decided that illustrating what's happening is, perhaps, better. After all, a picture is worth a thousand words.
Here's what has been happening in the last 10 years to the earnings per share of 5 distinct companies: Amazon.com, Cisco (CSCO), Dell (DELL), Microsoft (MSFT) and Intel (INTC).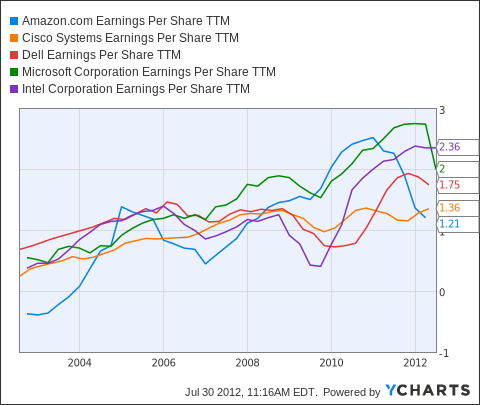 AMZN Earnings Per Share TTM data by YCharts
As we can see, none of the companies separated much from the group. Amazon.com ended up with the lowest TTM EPS, but still "in the cloud" -- though these numbers don't include the last horrid quarter.
Now here's what happened during those 10 years, to the same stocks: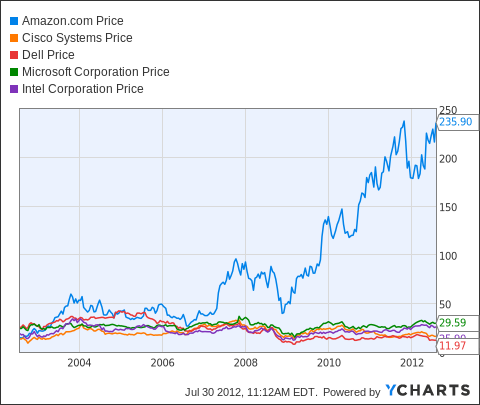 Whoa. Now someone separated from the group alright! Although AMZN did nothing earnings-wise, it still took off like a rocket in the last 5 years! How? Purely on multiple expansion, for the earnings couldn't help: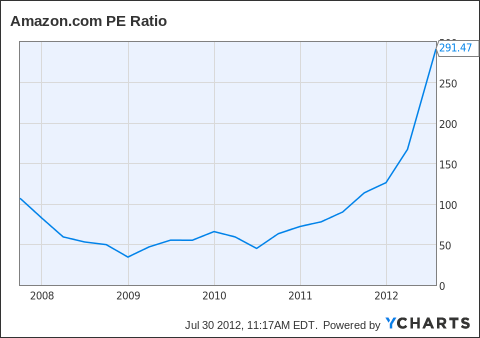 AMZN PE Ratio data by YCharts
So, how would that first chart look, if we included a true growth stock, such as Apple (AAPL), for comparison purposes? It would look like this: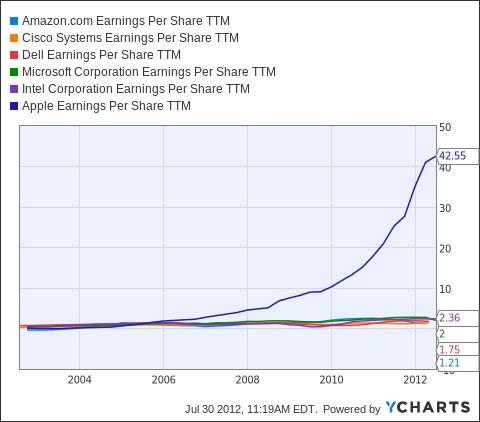 AMZN Earnings Per Share TTM data by YCharts
See the difference? See how Amazon, when compared to a group of tech laggards, differs not at all from them in terms of earnings growth over a full decade, yet its stock managed to almost keep up with a tremendous earnings growth story like Apple? This makes no sense, so Amazon.com will go down sooner or later, and it will go down heavily.
Disclosure: I am short AMZN.