After a fairly uneventful July for gold, what does August hold? We took a look at the movements of gold and gold companies in August to see if there is any seasonal strength/weakness for the commodity. A move from the ECB would be very strong for gold, while lack of decisions can cause more dollar strength and hurt gold. We see the Fed decision as fairly expected and won't influence gold, but there still remains more mystery surrounding the Fed.
For our investigation, we looked at the average gain, the max gain vs. max loss, and the percentage of times different stocks with gold and silver exposure have increased or decreased. The companies/ETFs covered for gold were AngloGold Ashanti (AU), Barrick Gold (ABX), Goldcorp (GG), Yamana Gold (AUY), Newmont Mining (NEM), SPDR Gold Shares (GLD), and Market Vectors Gold Miners ETF (GDX). The companies/ETFs covered for silver were Silver Wheaton (SLW), Coeur d'Alene Mines Corporation (CDE), First Majestic Silver (AG), Hecla Mining (HL), and SPDR S&P 600 Small Cap ETF (SLV).

Below you can find the average gains for the past 16 years provided the company/ETF has been around for 16.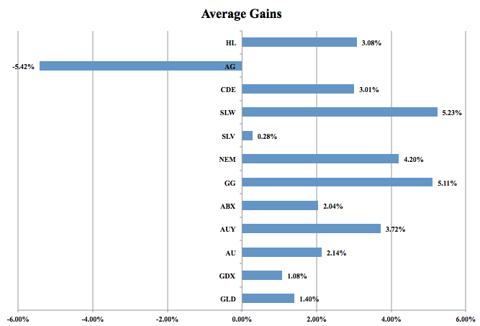 As we can see from above, August has been very good to gold companies and gold. Some of the best performers have been Yumana Gold, Goldcorp, Silver Wheaton and Hecla . Here are max gains vs. max losses to help us know a bit better how to trade this information: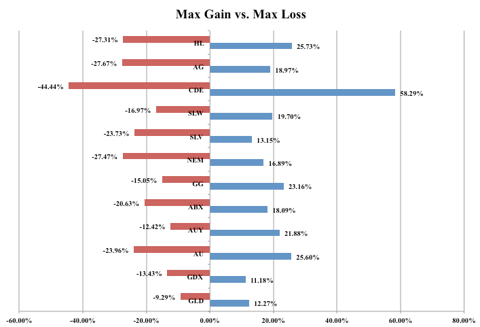 Looking at this chart with the average gains, we see that gold has never dropped more than 10% in August as well as AUY has never dropped more than 12%. Yet, we also see a lot of very large moves that make it more challenging. Potentially, it will help us to see the amount of times up versus down to really determine which positions are safer.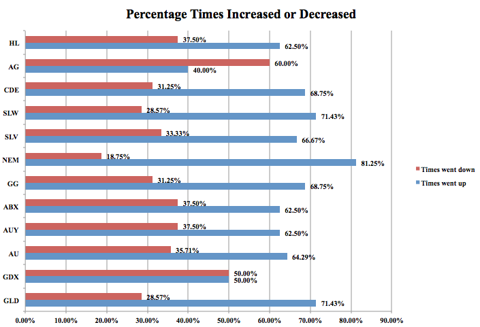 Based on this information, we see that Newmont has increased over 80% of the time in August. The company also averages over a 4% gain in August, so we like that aspect of it well. On the other hand, AG has increased only 40% of the time. AUY was only up 60% of the time, but we feel good about seeing GLD up over 70% of the time.
Trade Idea #1: 145/144 Bull Put Spread, GLD
Trade Idea #2: Pair Trade, NEM Long; AG Short
Good Investing!
Disclosure: I have no positions in any stocks mentioned, and no plans to initiate any positions within the next 72 hours.