LinkedIn (LNKD) is an impressive corporation. The site is a very useful tool for those in the business world, and it's been rewarded by quick adoption. LinkedIn experienced 60% subscriber growth and 139% corporate client growth in 2011, then followed that up with even better numbers in Q1 2012. LinkedIn ad revenue, at $154M in 2011, was actually slightly higher than Twitter's -- and LinkedIn's ad revenue is projected to grow to over $400M by 2016. Unlike other social networking sites, LinkedIn has a unique advantage: advertising is only part of LinkedIn's revenue model, with recruitment and hiring solutions accounting for the majority of revenue. By all accounts, then, LinkedIn is a success story, and tomorrow's earnings should continue the trend.
(click images to enlarge)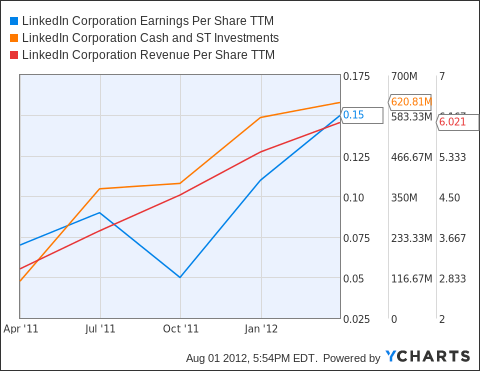 LNKD Earnings Per Share TTM data by YCharts
Despite LinkedIn's solid performance, investors shouldn't be rushing to buy shares. Based on LinkedIn's 2011 earnings, the stock is trading at an obscene P/E.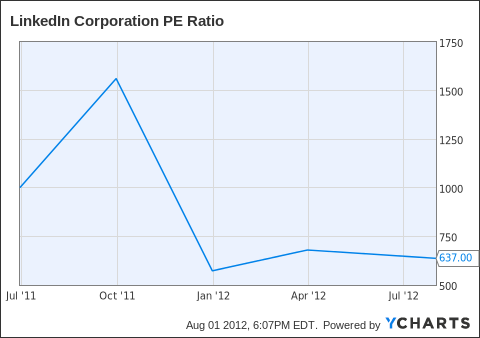 LNKD PE Ratio data by YCharts
While the company's growth prospects are exciting, the company is dramatically overvalued, which is why many commentators are predicting LinkedIn will be the next social stock to fall. LinkedIn's earnings will likely continue to be impressive, but we've already seen Groupon (NASDAQ:GRPN), Facebook (NASDAQ:FB), and Zynga (NASDAQ:ZNGA) fall as their earnings failed to satisfy the sky-high expectations conferred by the premium valuations. It's worth noting that LinkedIn's P/E is far higher than Facebook's ever was.
This is why Trefis has a $44 price target on the stock, despite the strong growth trends. (For the fully customizable Trefis model of LNKD, click here.)
LinkedIn co-founder Reid Hoffman has proved that he's an innovative businessman who understands the changing business landscape, and I have nothing but respect for what he's done with LinkedIn. However, "great company" and "great investment" are entirely different concepts. Thus, I would recommend investors stay away from LinkedIn until it approaches a more reasonable valuation.
However, due to LinkedIn's history of earnings strength and the bullishness surrounding the stock, I would also caution investors looking to short LinkedIn before earnings -- it may experience a pop post-earnings, especially since it sold off today. While LinkedIn's valuation makes it a great short candidate, make sure you're willing to endure continuing market irrationality.
Disclosure: I have no positions in any stocks mentioned, and no plans to initiate any positions within the next 72 hours.