So far in 2008, gaming stocks have been negative across the board. The stock prices of many top quality U.S. hotel & casino operators have dropped significantly. In hindsight, we can understand the reasons for this year's declines and I believe, can spot great opportunities to buy. Gaming is a heavily regulated and very transparent business. The detailed gaming revenue numbers released each month provide great information.
The Nevada Gaming Control Board just released official March numbers showing a statewide decrease of 1.5% in gaming revenues. Any decrease makes for powerful negative headlines. But looking a little deeper, we see that the calendar was unfavorable in March with 9 weekend days in 2008 versus 10 in 2007. While the numbers certainly aren't rosy, with a year-over-year decline of only 1.5% and an unfavorable calendar, I wouldn't exactly say the sky is falling. Many in the mainstream press would lead you to believe that it is.

While first quarter gaming revenues have dropped, many top gaming stocks have been absolutely hammered, to be very blunt. The 12 largest US-traded gaming companies by market cap: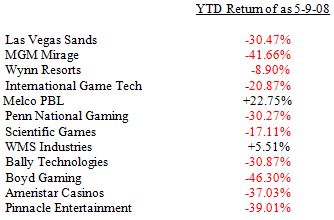 As you can see, there are very few bright spots. Melco PBL (MPEL), a pure play on Macau, has done very well after a poor 2007 and slot manufacturer WMS Industries (NYSE:WMS-OLD) has a positive return in 2008 by gaining market share from competitors. Wynn Resorts (NASDAQ:WYNN) is down "only" 8.9% year-to-date.
In a previous commentary, I explained some of the reasons why casino stocks have behaved negatively compared to their past "recession-resistance".
In past years, casino revenues were much more concentrated than they are now. Most of a casino operator's revenue came from gaming operations - not hotel, restaurant & bar, retail, and other non-gaming functions. Today, an ever-increasing amount of casino revenue comes from non-gaming activities. In general, I compliment the casino operators for this additional revenue growth. Increasing room rates, expensive restaurants and nightclubs, and high-end retail have added to bottom lines. All these things have also helped to transform casinos into luxury escapist vacation destinations in many cases. On the other hand, all this non-gaming revenue has caused casino stocks to act much more like other consumer discretionary stocks. They are susceptible to economic downturn as room rates have fallen and other non-gaming revenues have suffered.
The constant growth of regional casino operations has also changed the gaming landscape. In years past, almost all revenue came from Las Vegas and to a lesser extent, Atlantic City. Regional casinos were minor. Once again, state by state growth has generally been good for everyone's bottom line over the years. Casino operators and manufacturers have both benefitted. Las Vegas certainly hasn't suffered because of regional competition. But, these regional operations have been hit the hardest by economic slowdown. In contrast, the revenues at high-end casinos, Las Vegas operators, and those doing business overseas may be a little more insulated.
Comparables and Reduced Expectations
Very simply stated, I feel that the rather modest declines in gaming revenue do not warrant the steep declines in stock prices we've witnessed. In time, gaming stocks should "revert to the mean", as gaming stocks have been strong performers for many years and recent poor performance is certainly out of the norm.
I believe that I have a number of strong reasons to believe that gaming stocks should bounce back soon – year-over year-comparables, moderated investor & analyst expectations and lowered corporate guidance.
As we move through the summer months and then into fall and winter, year-over-year revenue comparables will become much more favorable. While we admit that gaming revenues have dropped and room rates have been reduced, we must always realize that gaming revenues are constantly compared one year over the other. We recently compared March of 2008 in a weak economy to March of 2007 in a stronger economy. Very soon, the periods they have to "beat" will be the weaker time periods we've just suffered through. There's no compelling reason to think that gaming revenues will continue to decline from already reduced levels. In fact, even the smaller regional and locals market operators that have been hit the hardest may look great in 6 to 12 months when they have the opportunity to beat a very weak 4th quarter of 2007 or 1st quarter of 2008. The highest quality locals market and regional operators like Pinnacle and Boyd may look seriously undervalued when they get their chance for revenue growth against these favorable comparables.
Gaming revenues and gaming stock prices have dropped, but more importantly, revenue expectations have been reduced. Corporate earnings guidance and analyst estimates have all turned more conservative. Now that gaming revenues have dropped; I believe that a certain amount of gaming revenue really is "recession-proof". Serious gamblers will continue to gamble. Foreign tourists will continue to gamble. VIP gamblers will continue to gamble. Convention business will continue to bring in new customers.
Mid and small market regional casinos may continue to suffer the most in the short term. Higher-end casinos, new casinos in new markets, and those with competitive advantages may remain healthier. During weak economies, the top properties can pull market share from weaker properties by attracting VIP gamblers and foreign gamblers. The weak U.S. dollar has caused much higher than usual visitation from foreign tourists. Spending money and gambling in the U.S. is very attractive at current exchange rates. While the Las Vegas strip is feeling some effects of a slowing economy, it's widely known that properties like Wynn and MGM's Bellagio are at least holding up better than lower-end competitors because of foreign visitation. The U.S. operators doing business internationally will also continue to see that business segment grow. I feel that companies such as MGM Mirage (NYSE:MGM), Las Vegas Sands 9LVS) and Wynn Resorts, with international focus and high-end, top properties in their U.S. locations are due for strong rebounds. Even so, Macau operator Melco PBL (MPEL) may be my current favorite among hotel / casino stocks.
I believe that coming out of a market bottom, whenever exactly that is, certain quality consumer discretionary stocks that have been oversold on fears and momentum will lead the way in a market rebound. Gaming certainly fits that description. It is still a growing industry in the U.S with casinos under construction and thousands of new machines entering some states through new legislation. Overseas, gaming growth is still skyrocketing with many U.S. companies leading the way. With today's reduced stock prices and moderated earnings expectations, I feel there's a great buying opportunity in gaming stocks.
All information provided is believed to be from reliable sources and opinions expressed are subject to change without notice. This commentary has been prepared solely for informational purposes and is not an offer to buy or sell or a solicitation of an offer to buy or sell securities, mutual funds or to participate in any particular trading strategy.