Compass Diversified Holdings (NYSE:CODI) reported earnings on May 12 for the first quarter of fiscal 2008 (ending 3/31/2008).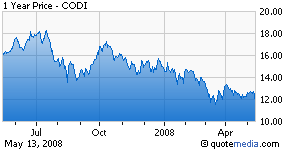 Compass Diversified Holdings is a publicly traded entity that acquires middle market businesses that meet the following criteria:
Significant market share in a defensible industry niche.
Proven management team.
Low technological and/or product obsolescence risk.
Diverse customer and supplier base.
CODI currently owns stakes in 8 operating businesses. It is frequently confused with being a business development company [BDC], but investors in CODI own a share of the businesses rather than the management company. The current yield is 11%.
Q1- 2008 Earnings Review
Revenue - $373 million.
Net loss - $0.8 million.
EPS - ($0.03) per share.
Non-cash expense - $2.3 million due to supplemental put obligations.
Cash - $14 million.
Cash flow available for distribution and reinvestment [CAD] - $9.9 million.
Trailing coverage ratio of CAD to dividend of 1.3 times.
$200 million net available to borrow under various lines for acquisitions.
Segment Review (Revenues/Operating Income)
Advanced Circuits - $14.3 million/$4.8 million.
Aeroglide - $16.2 million/$2.0 million.
American Furniture Manufacturing - $37.2 million/$3.7 million.
Anodyne Medical Device - $11.5 million/ $0.5 million.
CBS Personnel - $236 million/ $1.4 million.
Halo Branded Solutions - $28.8 million/??
Silvue Technologies Group - $5.5 million/$1.3 million
Fox Factory - $23.4 million/ $0.2 million.
American Furniture was down due to fire. Insurance reimbursement was run through the balance sheet, not the income statement.
CBS was down 4% after removing revenues from Staffmark acquisition. This was due to a softening economy. Management said that industry was down 6-10%.
CODI is selling Silvue to Mitsui Chemicals for a total enterprise value of $95 million. This will generate a capital gain of $37.5-$40.0 million. CODI purchased Silvue two years ago for $44 million.

Two of our companies, CBS and American Furniture, are likely to be impacted negatively in the short term by the economy. In both cases, however, we have good reason at this point to believe that this cycle will produce a natural shakeout in smaller and less well-capitalized competitors, which will ultimately make those businesses substantially stronger and more profitable.

[CODI is] now trading at approximate 7x-8x cash flow and a even lower multiple of EBITDA and high income, yielding over 10% to our shareholders and cash distributions, while covering that yield by over 30%.

It's a very strange market out there. And I've heard those calls, too, where they say the multiples are coming down. I think overall the multiples are coming down a little, but I do think it's a fair comment that you're still able to get, if you can find the right buyer for the right opportunity, then I think the multiples are also firm, because there's this funny cap out there. But it's a strange market.
My Commentary
I bought this stock in part because of statements from Joe Massoud, CEO of CODI, that I heard at a conference last year. Here are some excerpts:
We think the entire private equity model right now is broken. The whole notion that you would raise half a billion dollars or a billion dollars with a promise that I will invest this money in three years is absurd because you have no idea what yields you're gonna see or whether they will be attractive or not.

We liken it to if you said to my 8 year old son – here is a $100 – go buy good things with it and he came back and said dad I could only find $60 worth of stuff the last thing I would do is send him to his room, but that is specifically where the Private Equity market is now which is LP's don't reward GP's for discipline. LP's say if you can't invest it I will find someone who can. It's a broken model.

The only thing more broken than that is the notion that once you buy a company you have to turn around and sell it in three to four years so you can post IRR's so you can raise your next larger fund, even more problematic.
Massoud made these comments back in June 2007, before it became fashionable to do so.
Disclosure: I am long this stock.