Baird is lowering its rating on Zimmer Holdings (ZMH) to Neutral from Outperform as it believes near-term financial impact from the Durom hip cup issue could prove meaningful and, even if cup design is eventually vindicated, hip market share loss could continue/potentially accelerate over the next 12-24+ months. As such, the Firm believes a potential turnaround at ZMH has been pushed to 2010 or beyond and that risk to '08/'09 EPS consensus now exists.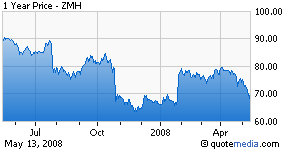 If the use of Durom falls off as Baird suspects it might, the Firm's checks suggest as much as 5-10% of ZMH's worldwide hip business could be lost. And because large diameter metal heads are paired with the Durom cup, Baird believes ZMH would also lose one of the most rapidly growing constructs in its hip portfolio near-term.
All in all, Baird believes this issue could cause ZMH's hip business to trend relatively flat over the next 12-18 months and believes lost hip revenues and lack of overhead absorption if production is shut down could conservatively reduce '08 and '09 EPS projections to $4.08 and $4.60, respectively, from $4.15 and $4.76 previously (investigation costs, costs if recall occurs, etc. could impact even more).
Target is lowered to $74 from $85.
Notablecalls: This is a pretty nasty downgrade from Baird. I suspect the stock will go below the $65 level today, thus offering a short-selling opportunity early on. Several firms have been defending ZMH lately but Baird's comments should give the buyers some reason to rethink their thesis.