Jamba, Inc. (NASDAQ:JMBA) has been working on a turnaround for the last several years. The company has posted several positive quarters and is trying to transform itself into a healthy, active lifestyle brand. After four quarters of beating EPS and revenue estimates, Jamba stumbled in Q2 2012. The company missed on earnings and revenue for the first time in five quarters.
Jamba stated it "raised" guidance in its press release; however, the guidance was released previously on May 21, 2012, potentially confusing retail investors. Investors have bid up shares 96% YTD on the potential of a turnaround; it appears the stock has gotten ahead of itself in the short term.
In Jamba's earnings yesterday, the company posted a $.05 profit on $66M in revenue vs. Factset estimate of $.07 profit on $67.3M in revenue. Both numbers were a miss, and analyst estimates are likely to be taken down for JMBA's full year expected EPS. Retail investors looking at the guidance in the earnings release may be confused based on the company's 2012 guidance:
"…we have raised our guidance for the year for company-owned comparable store sales growth from 3-4% to 4-6% and adjusted operating profit margin from 19-22% to 20-23%," concluded Mr. White."
However, on May 21st, 2012, the company released a press release giving the exact same guidance as yesterday:
"for fiscal year 2012 will be in the range of 4-6%, compared to the previously guided range of 3-4%. The Company is also increasing its guidance for adjusted operating profit margin(2) for fiscal year 2012 to between 20-23% from the previously guided range of 19- 22%.
It appears to me the company is trying to spin the guidance as "new" and positive to investors, which isn't the case.
The turnaround for Jamba is in progress, but it appears investors might be paying too much for that potential future growth. Currently, on a fully diluted basis, Jamba has 85.7M shares outstanding (including Series B Conv. Preferred), giving it a $220M market cap. The current valuation is pretty nose-bleed for this juice company. The company has just $28M in cash, and I believe that low cash balance will hold the company back from expanding at the pace that investors would like. Jamba would likely have to raise capital to further accelerate growth into the future to sustain today's stock price.
Other concerns I have include Starbucks (NASDAQ:SBUX) getting involved in the juice market, and McDonald's (NYSE:MCD) smoothies appearing to be a success. SBUX earlier this year launched Evolution Fresh in Bellevue, Washington. With two giant competitors entering and pushing for sales in the smoothie and juice market, Jamba has to execute and grower quicker than it has been.
I believe investors are currently overpaying for future growth in Jamba and likely to be disappointed with the share price over the next year. The current valuation is very rich, and the company has to execute on all cylinders. I would rather see investors look at SBUX which is trading at 20x 2013 earnings, or SodaStream (NASDAQ:SODA) which is trading at 20x 2012 earnings.
SBUX looks interesting after shares have fallen nearly 30% off their 2012 high. SODA is likely in a sweet spot, introducing a new product this fall for the holiday shopping season and recently launching its products in Wal-Mart (NYSE:WMT). SODA has a very interesting "razor-razorblades" business model that should excite investors over the next year.
Click to enlarge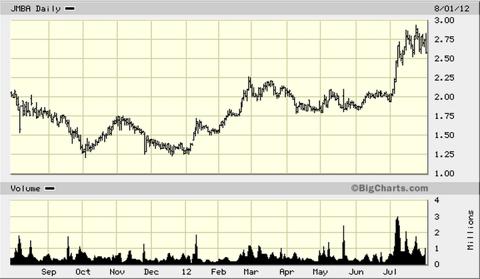 Disclosure: I am short JMBA.
Disclaimer: This article is intended for informational and entertainment use only and should not be construed as professional investment advice, but rather my opinions as a writer only. Trading stocks are risky - always be sure to know and understand your risk tolerance as in any given trade/investment you can incur substantial financial loss. By reading this article, you agree and understand that I am not giving recommendations on stocks to trade. Any trade you make - wins, losses, or break even - are entirely your decision and responsibility. You also agree and understand that I have no material insider information - just opinions. Always do you own complete due diligence before buying and selling any stock, and/or consult with a licensed qualified broker dealer and/or certified financial adviser.