We have been long Visa (V) since last year. While we believe that the easy money has been made with this company, we have to take serious issue with UBS slapping a sell recommendation on Visa and MasterCard (MA) on July 9. We were especially shocked that UBS not only reduced its ratings from Neutral to Sell, but that it cut its price targets on Visa and MasterCard from $127 to $113 for Visa and from $457 to $403. We think that a Neutral Rating and keeping the price target would have been more prudent. We know that although the macroeconomic environment is challenging, the business operating model for Visa and MasterCard is recession resistant and benefits from the continual trend towards the digitization of payments. Maybe UBS was overreacting in anticipation of the legal settlement announced one week later by Visa, MasterCard and other financial institution defendants in which those companies would pay $6B to settle a class action lawsuit regarding Merchant Discount Interchange Fees. Visa's share was $4.1B and resulted in Visa increased its accrued litigation liability account from $286M to $4.384B. Such an unfortunate event was something that the company had taken great care to plan for, especially considering that it had $4.282B in restricted cash in a litigation escrow account as of the quarter end and it also ended up depositing $150M in the account after the quarter ended. We believe that the settlement of this lawsuit will go to eliminating yet another overhang on the shares of the credit card issuers and allowing the management to focus on its operations.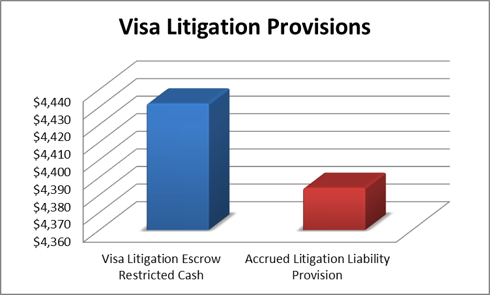 Source: Visa Q3 Earnings Press Release
We find Visa to be a consistent cash generator and that's why we have it and like it. The company beat consensus EPS estimates by $0.03 per quarter from Q2 2011 to Q1 2012 and it smashed through Q2 expectations with $1.60 in adjusted EPS, $.10 ahead of the $1.50 consensus and Q3 expectations with $1.56 in adjusted EPS, $.11 ahead of the $1.45 consensus. This was nearly 24% above the $1.26 earned in Q3 2011 and benefited from the following growth drivers:
Organic revenue growth (10.4% Total Revenue Growth Net of a $174M increase in client incentives)
Bolt-on acquisitions
$56M in foreign tax credits
A reduced outstanding share count aided by 4M shares repurchased in the quarter and
Positive operating leverage due to reductions in marketing, general and admin expenses
We were pleased that Visa raised its 2012 EPS estimate percentage growth rate to the low 20s and we adjusted our proprietary model's estimates. During the quarter Visa's credit payment volumes worldwide grew by 9.2%. Visa's Debit payment volumes slumped by 9.4% to $266M in the US and grew by 17.1% worldwide to $88M. This helped Visa's worldwide debit programs limit the decline in payment volumes to 4%. Cross-border volume also posted healthy gains, increasing 14% globally on a constant currency basis. We were disappointed that transactions processed over Visa's worldwide network only grew by 1%, but we noted that a 3% in US transaction volume due to the Durbin impact mostly offset the 18% increase in worldwide transactions. In the U.S., payment volumes increased 6% for all products and total worldwide volume for payments and cash grew by 11.4%. Visa's CyberSource business continues to be a star performer with 1.3B billable transactions, a 25% increase from the 1.045M achieved in Q3 2011. The biggest news for Visa during the quarter was the settlement of the merchant interchange fee litigation. Visa agreed to pay $4.1B and MasterCard had to pay $790M. We are especially pleased that Visa has shown strong revenue growth on a linked-quarter basis, linked quarter revenue has either been stable or growing since Q1 2010.
Despite the strong growth of electronic payments versus traditional cash and check-based payments, Visa estimates that more than 30% of global consumer spending ($10T) remains on cash, checks and other paper based payment mechanisms. In Russia, 80% of its consumer spending is estimated to be cash based. Then again Russia is a special case. Visa is looking to gain market share and customer volumes through its recent agreements with OAO Magnit, which is Russia's largest grocery store chain with over 5,000 locations. Visa cards are now accepted for payment at OAO Magnit and this has resulted in Visa cards being accepted for payment Russia's four largest grocery store chains. Visa also opened regional headquarters in Doha (Qatar) and Nairobi (Kenya). Visa also signed a deal with the largest Indonesian petrol chain Pertamina and Visa cards will be accepted for payment at Pertamina's 4,000 gas stations nationwide.
Visa saw greater growth internationally, as we expected. Visa International posted healthy payment volume gains of 15% on a constant dollar basis in the December quarter, driving approximately 64% of Visa's revenue growth this quarter and now represents 47% of Visa's net revenue. Visa Latin America has experienced 9 consecutive quarters with payment volume growth on a constant dollar basis exceeding 20%. Visa's Asia Pacific and CEMEA regions delivered a strong combined 16% payment volume growth for the 2 regions during the March quarter. This performance was driven by continued execution of Visa's locally tailored growth strategies, which includes increasing penetration and usage of debit and premium credit products, expansion of our acceptance footprint and driving cross-border transactions.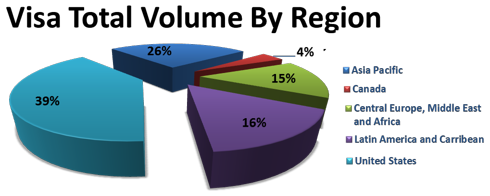 Source: Visa Q3 Earnings Press Release
In addition to settling the legal matters, Visa also announced it repurchased $411M worth of Visa stock net of employee stock issuance. Visa repurchased 4M gross shares under this program and Visa authorized a new $1B, 12 month repurchase program. Subsequent to quarter end, the company deposited $150M in its litigation escrow account which reduced the Class B share conversion ratio to .4206 B shares for each Class A share and reduced the Class A equivalent share count by 1.2 million shares. Visa even grew its revenue faster than American Express (AXP), as well as its EPS. Visa's adjusted net income for the quarter was 75% of American Express's net income. Then again, Visa didn't have to record a $461M credit loss provision like American Express because Visa merely operates a payment network while American Express also serves as the lender to its credit card network.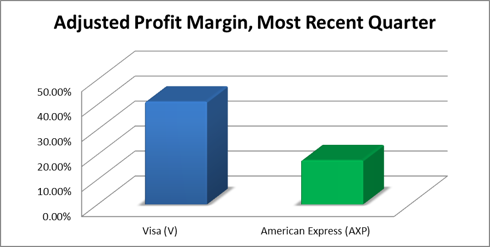 Source: Visa and American Express Most Recent Quarterly Releases
In conclusion, we are pleased with what we are seeing out of Visa. We have also made available our research report on Visa which offers a comprehensive evaluation of the company. We believe that since the litigation settlement is behind it and that the draconian price cuts for interchange fees were mitigated by last June, Visa and MasterCard's leadership can focus directly and exclusively on growing these businesses on behalf of shareholders. We are amazed that these companies have been able to grow and generate profits in spite of having to respond to legal matters. Then again, Visa and MasterCard have a fantastic wide-moat business operating model and that gives the companies significant flexibility.
Disclosure: I am long V.
Additional disclosure: Saibus Research has not received compensation directly or indirectly for expressing the recommendation in this report. Under no circumstances must this report be considered an offer to buy, sell, subscribe for or trade securities or other instruments.