We have identified two 'Dogs of the Dow' that will suffer from weak industry profitability. Declines in revenues and earnings will exert pressure on the dividend yields of these stocks. For both these names, the dividend yields are higher than the respective cash flow yields. Furthermore, both stocks have high payout ratios and very low dividend growths. Any dent in the companies' cash flows will result in investors beginning to doubt the sustainability of their dividends.
AT&T Inc. (NYSE:T), a provider of communication and data services, announced on Friday that it plans to repurchase 300 million shares, without giving a specific timeline. This buyback represents almost 5% of AT&T's outstanding shares (5.8 billion). The company has repurchased almost 144 million shares till June of 2012, which cost the company $4.6 billion. The announcement of further share repurchases has helped boost the stock further up after the earnings beat last week.
Despite the impressive second-quarter results that the company recently posted, if we look at annual results, the company's revenues have been more or less flat over the years. In the financial year ended 2011, AT&T generated revenues of almost $126 billion, which represents a 2% rise from the previous year. However, the same cannot be said about its cost of sales, which grew over 9% in FY2011. Costs have been consistently rising over the years and are much higher than the increase in revenues. Increasing commissions paid on smartphone upgrades as well as the hefty subsidies that the company pays are making its costs inflate, which is reflected in its falling margins. In 2011, the company posted gross margins of 45%, less than the margins of 49% in 2010 and 51% in 2007.
The consistent drop in margins must not be overlooked, despite the recent share repurchase program announced by the company. Similar deterioration can be seen in its operating margins that have been consistently declining. In FY2011, the company posted operating margins of 7%, dropping from 16% in FY2010. In the second quarter, the company comfortably beat earnings estimates, giving a surprise of 10%. However, again looking at the annual financials, the recent quarterly earnings growth fades. In the financial year ended 2011, the company posted net income of almost $4 billion, down 80% from the previous year. Even after removing the effects of special one-off events, the company's income was down 55% in 2011, and has dropped around 8% since FY2007.
In the six months to June 2012, AT&T generated $17.5 billion in operating cash flows, which is an overall improvement from the prior year's six months when the company generated $16.8 billion. However, cash flow from operations have remained more or less flat on an annual basis, showing a very modest growth of only 0.3% since FY2007. AT&T's dividend yield has been dropping over the years, not just because of the stock's upward movement, but also because there has been a lack of growth in dividends. After peaking at 6.86% in 2010, they have since been on a downward trend, and currently the stock yields 4.76%.

Source:Y charts
The company currently pays a quarterly dividend of $0.44 per share, which is a one cent increase YOY that we have become accustomed to seeing with AT&T for a number of years now. In the second quarter, the company paid dividends of $2.6 billion, and continued its 2010 share repurchase program, spending almost $3 billion buying back shares. However, the company's cash situation has worsened, which is evident in its latest results. The company now has $2.15 billion in cash and cash equivalents, 44% less than what it had in June last year.
The company has a high payout ratio, and it is repurchasing shares at a time when the stock is trading at high values, which is surprising keeping in mind the modest revenue growth, contracting margins, as well as the recent deterioration in its cash position. Despite its dividend yield constantly dropping, the company's 2.6% free cash flow yield still falls short of 4.7%. The stock is trading at 49 times its earnings, which is higher than its five-year average of 45x. On a forward basis, the stock is trading at 15 times its earnings, in line with Verizon (NYSE:VZ). AT&T's EV/EBITDA of 8x is higher compared to Sprint Nextel's (NYSE:S) 5.6x.
Verizon Communications Inc.
Verizon , the largest U.S. telecom operator, announced its quarterly results last week. Despite a strong wireless performance, the stock has plunged 2% since the announcement and is currently trading closer to its 52-week high.
The second quarter was a good one for the company's wireless segment. Service revenues and data revenues both grew by 7%, helping boost revenues by over $1 billion. However, Verizon's wireline continues to deteriorate, and in the quarter ended recently, revenues dropped by over 3%. Looking at the overall quarterly results, the company's quarterly revenue growth has been very modest, which has translated into its annual accounts. In FY2011, the company was able to generate almost $111 billion in revenues, up 4% from the previous year. However, its cost of sales increased by 9% offsetting the increase in revenues. Since the financial year ended 2007, the company's costs have increased at a greater rate than revenues, which explains the recent contraction in its gross margins. In 2011, Verizon posted gross margins of 58%, compared to 60% in FY2009. Operating margins are also contracting. In the year ended 2011, the company posted operating margins of 11.6%, down from the previous year.
Its bottom line has contracted as well in the recent years and is following a consistent downward trend since the year ended 2009. Perhaps with a falling bottom line, it will be difficult for the company to provide any meaningful growth in dividends. This lack of growth can be seen in the graph below.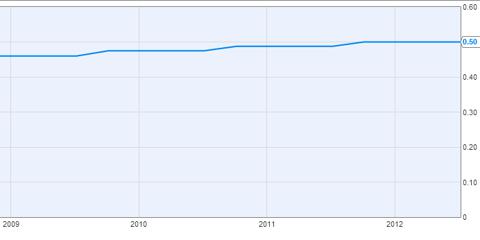 The stock is trading at a 1-year forward P/E of 16x, at a premium to AT&T's 14.5x.
In summary, both telecom carriers have suffered from a slowdown in revenues, and their earnings are on a decline as well. Operating cash flows for both AT&T and Verizon have decreased over the years, led by lower profits, and as mentioned above, a lack of any real growth in dividends has caused their respective yields to drop. As far as their operations are concerned, both telecoms have significant exposure to wireline, unlike their peer Sprint, and that continues to weigh negatively on their results and offset the gains in the wireless segment. We believe both stocks to be currently overvalued at their current valuations.
Disclosure: I have no positions in any stocks mentioned, and no plans to initiate any positions within the next 72 hours.