US Steel (X)'s latest quarter earnings beat expectations as a result of a strong performance exhibited by its Tubular and European segments, with the latter recording profits for the first time since 3Q2010. We continue to reiterate our neutral position in the stock for the near-term, as a result of the prevailing market dynamics of the Steel Industry, and the not-so-good results expected in 3Q2012. Furthermore, recent speculation that China will revive "steel export tax breaks" is not a good signal for the already depressed outlook of the industry. Still, we see a huge upside for those long-term investors in X, who have the patience to wait for a rebound in the Steel Industry, which we expect will happen by the start of next year, or at least after 3Q2012. Our 2013-end target price is $56, while the stock is currently trading between $20 and $30.
Earnings Review
As according to its recent 2Q2012 2%, X reported EPS of 62c per share, relative to a $1.33 gain it posted in 2Q2011. However, adjusting its EPS for a 7c per share redemption premium on its 2013 senior notes, the company posted a 69c gain and beat Wall Street's expectations by a huge margin of 38%. Sales were also 2% low on a YoY basis, but were still able to beat expectations.
| | | | | |
| --- | --- | --- | --- | --- |
| | Actual | Estimate | Surprise | YoY Growth |
| Sales | 5017 | 4998.231 | 0.376% | -2.012% |
| EPS | $0.69 | $0.5 | 38% | -37.27% |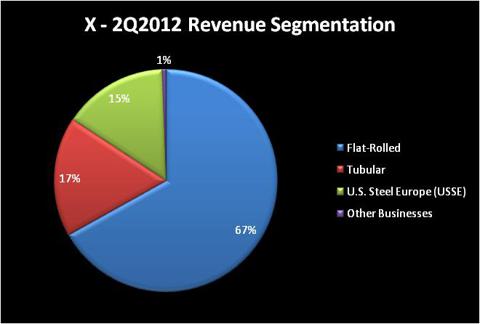 Bullish Factors:
European Division Performance:
U.S. Steel Europe (USSE) 2% a profit of $34 million, relative to an $18 million loss it recorded a year ago. The primary reason for such a turnaround is the divestiture of X's assets in Serbia, who have been making heavy losses lately. The company has forecasted 3Q2012 to also be profitable for its European segment, although the results won't be as great as in 2Q2012, due to persistent economic uncertainty in that market.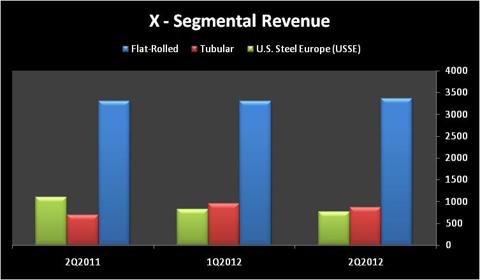 Tubular Segment's Profitability
X's Tubular segment's operating profit increased by more than threefold, to $103 million. Such a performance is 2% to high shipments (an increase of 2% YoY, although a drop of 7% QoQ) and a 9% increase in the average realized price. The company is sales similar results for this segment in 3Q.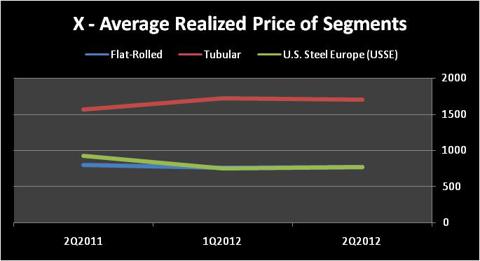 Expected Increase in Steel Demand
The company is "already booking orders into September", which is a healthy sign for improving demand. Plus, the company is expecting firm demand in 3Q, which will lead to an improvement in its fundamentals.
Bearish Factors:
Only Break-Even Results Expected for Major Segment (Flat-Rolled) in Q3
In 2Q2012, the sales for its major Flat-Rolled segment dropped to $177 million, as against $374 million in 2Q2011. This came as a sales of lower shipments despite a slight increase in the average realized price.
The company is expecting its Q3 results for this segment to almost break-even as a result of expected lower average realized prices. However, as end users continue to adjust their drilling plans in Q3 are expected to remain near Q2 levels due to stable end market demand and balanced inventories.
Expected Decline in Shipments and Average Realized Prices for Tubular:
The shipments for the Tubular segment are projected to be low in the upcoming quarter "as end users continue to adjust their drilling plans". In addition, the average realized price will also be impacted as end users continue to adjust their drilling plans as the rate of supply growth has exceeded the rate of demand growth as a result of increasing imports.
Upcoming Catalyst - Labor Agreement Expiry
The company's labor agreement is expiring on September 1, and if it is not successful in reaching a new agreement with its workers, there are chances of a potential strike, which will adversely impact X's short-term earnings. However, the reverse is equally likely if X is able to negotiate successfully.
Valuation
| | | | | |
| --- | --- | --- | --- | --- |
| | X | Steel Dynamics (STLD) | Nucor (NUE) | AK Steel (AKS) |
| Forward P/E (1 year) | 7.61 | 8.74 | 11.79 | 8.26 |
| PEG ratio (5 year expected) | 2.18 | 1.54 | 2.35 | -1.49 |
| Long-term earnings growth rate | 5.00% | 9.61% | 8.00% | 25.75% |
| EV/EBITDA (TTM) | 6.10 | 7.43 | 8.68 | 7.52 |
| Dividend yield | 1.10% | 3.10% | 3.70% | 3.80% |
X is the cheapest of its peers, as its forward P/E ratio of 8x and EV/EBITDA of 6x are the lowest among the lot. However, the stock is not an ideal steel investment for dividend-seekers, as its dividend yield of 1% is the worst among its competitors.
Target Price
In calculating a target price for X, we ignored its EV/EBITDA multiple for FY2010, as it was an outlier among its peers. The multiple for FY2009 was also not valid due to a negative EBITDA. The resulting calculations yield a target price of $56, based on an EBITDA estimate for FY2013.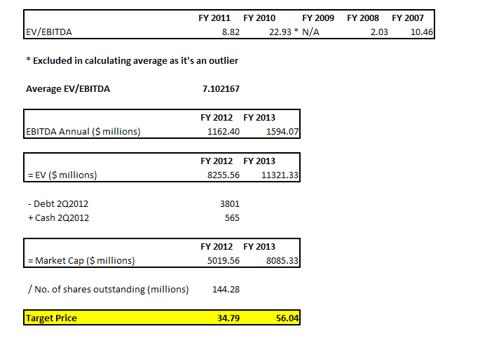 Disclosure: I have no positions in any stocks mentioned, and no plans to initiate any positions within the next 72 hours.