Here I take an analytical examination of the S&P's current situation broken down in terms of Economic Data, Political/Intervention, Q2 Earnings, European, Rest of the World and technical analysis perspectives.
1. Economic Data:
Beige Book: The most recent beige book results highlighted the continuation of US economic growth at an ever decreasing rate. Manufacturing and retail spending was particularly anemic although the housing market report was positive overall. These latest observations taken on their own, whilst concerning, do not seem sufficiently weak to suggest QE3 is imminent.
ISM Report: June's ISM report (07/02) came in below consensus (49.7 vs 52.1) and substantially lower than May's number (63.5). This represented the first time since July 2009 that the ISM reported a figure under 50 and it is nearing levels at which the US has previously slipped into 2001, 2007-2009 recessions (see Graph 1). Most worrying was that new orders fell over 12% (47.8 from 60.1 in May) and prices paid fell over 10% (37 from May's 47.5 number). July's slight rise to 49.8 indicates stagnation persists in US manufacturing activity whilst more ominously prices-paid continues to fall.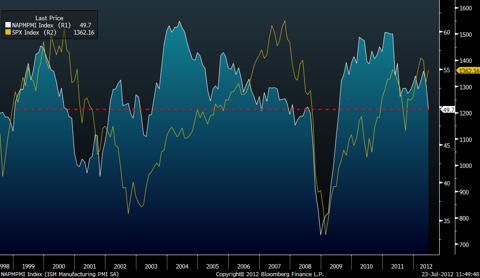 Graph 1: ISM Manufacturing PMI vs SP500
Non-Manufacturing ISM: June's Non-manufacturing ISM report (07/05) pointed to a US services sector that is now growing at its slowest pace in two and a half years (June NMI came in at 52.1 versus 53.7 in May). New orders declined the most (-5.5) whilst business activity fell 3.5%. Service sector employment registered a gain of 1.5% although this number usually lags new orders. As the service sector accounted for 79% of US private sector GDP in 2011 (see Graph 2) we view this slowing as a significant indicator.
Retail Sales: June advance retail sales (07/16) fell -0.5% versus the consensus estimate +0.2%. This marked three months in a row of sales declines. The last time this happened was at the height of the financial crisis of 2008. Weakening consumer demand dovetails with the poor new orders and prices paid numbers we saw In June's non-manufacturing ISM report. It also suggests the growth observed in service sector employment may be transitory.
Employment: June employment figures were a mixed bag with initial jobless claims (07/19) coming higher than expected (365k vs 386k), non-farm payrolls stronger (100k vs est. 80k) whilst the unemployment rate came in inline (8.2%).
Sentiment: The University of Michigan in July dropped to 72.3 from June's 73.2 figure. Consumer confidence has now reached the lowest level this year (Graph 3).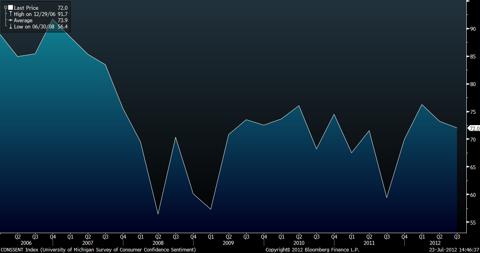 Graph 3: U. of Michigan consumer Confidence Index.
2. Political / Intervention:
We start by covering Bernanke's sound bites:
"THERE IS A `THEORETICAL LIMIT' TO QE", "MONETARY POLICY ISN'T A PANACEA"
Is monetary policy's greatest proponent beginning to question the effectiveness of monetary policy? He clearly recognises the signs of a faltering US economy with the following:
"RECOVERY HAS DECELERATED RECENTLY", "UNEMPLOYMENT IS AN ENORMOUS PROBLEM", "FRUSTRATINGLY SLOW PROGRESS ON JOBLESSNESS", "FISCAL CLIFF WOULD DAMAGE RECOVERY, JOB MARKET"
The last reference to a 'Fiscal Cliff' is one of the few times Bernanke has made explicit suggestion on fiscal policy intervention - in this context to avoid a 'shallow recession' in 2013. Another indication that the FOMC no longer holds monetary policy in such high esteem as a lone tool to lift the labour market.
Many of Bernanke's comments were concerned with unemployment suggesting, at this point in time at least, the Federal Reserve would advocate a government directed course of fiscal stimulus rather more than full-blown QE3. Whilst the majority of press speculation revolves around an imminent QE3 announcement the opportunity to announce a highly popular US jobs stimulus program to the US electorate ahead of November's presidential election will not have been overlooked by the oval office.
BERNANKE REPEATS FED PREPARED TO ACT, DECLINES TO SPECIFY STEPS
The FOMC recognises the increasing number of 'red flags' appearing within US economic data and appears to be laying the ground for a limited form of monetary intervention potentially co-ordinated with a fiscal loosening to support the labour market. The the current data may still not be weak enough to expedite short-term monetary stimulus.
One area of surprise is that Bernanke appears relatively satisfied with short-term inflation estimates.
BERNANKE SAYS INFLATION TO REMAIN NEAR TARGET AS OIL PRICES DROP
The price of crude has gained 14% since the end of June and in the face of the rising geo-political risk in the gulf I expect crude to appreciate in the short to medium term. I do not believe the school of thought that access to the Strait of Hormuz could be at risk but do recognise growing political rhetoric and nuclear/ Israel standoff having a significant impact on crude. US department of Energy inventory data released August 1 showed stockpiles have dropped the most in seven months leading to a subsequent crude oil rally.
BERNANKE SAYS FED ASSESSING WHETHER SLOWDOWN IS TEMPORARY
The FOMC may well be positioning itself to resist demands for QE3 until next year in order to soften any subsequent recession following 'Fiscal Cliff'. Given the recent statements it is easy to foresee significant loosening of fiscal policy ahead of the November presidential elections as a more realistic outcome than full blown QE3 this year. Bulls await Bernanke's latest view on US life at the monetary policy symposium at Jackson Hole in August. Consensus is there will be an announcement to initiate QE3 should July's economic data display further deterioration of the US labour market and consumer behaviour. Markets could well be volatile should this announcement not be forthcoming.
Any significant Federal Reserve policy announcement ahead of the US Presidential elections will inevitably gain some political inference. Commentators have suggested a QE3 announcement in August or September would open the Federal Reserve up to criticism that its attempt to stimulate the economy would aid the re-election of President Obama. Republican presidential candidate Mitt Romney has made it no secret that he would replace Bernanke as head of the Fed and is an opponent of quantitative easing has been quoted as saying :
"quantitative easing did not work, it did not get Americans back to work, it did not get the economy going again".
This adds a further dimension to Bernanke's reasoning. Should he believe Romney is a plausible challenger to Obama's presidency (currently polling 46% to 45.2%) his hand may be forced into announcing QE3 earlier than he would ideally wish. Should Bernanke believe Obama will retain office it is clear that he is signaling the president should announce a fiscal stimulus package that the Fed will follow up in early 2013 if required.
QE1 was announced November 2008 when the S&P500 was trading around 840. QE2 was announced June 2011 with the S&P trading near 1180. US voters may require some convincing that with the SP500 currently trading around 1380 (less than 12% off its all-time high, up 9% year to date, Graph 4) the Federal Reserve needs to turn the printers on one more time. Indeed, any QE3 announcement could cost Obama his presidency and consequently Bernanke's job, something neither will have ignored.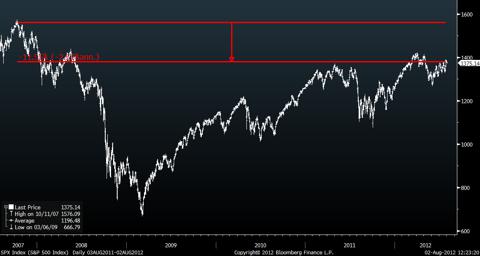 Graph 4: S&P 500 Index 2000-2012
3. Q2 Earnings:
All eyes were on the financials sector as expectation was this was one of the sectors that could lead earnings growth. So far financials results have been lackluster to say the least. Citigroup announced a 12% revenue drop. Goldman Sachs reported an 11% fall in profit and a 14% fall in revenue, whilst Morgan Stanley's revenue slid a worrying 24%. Consumer discretionary has reported particularly poor numbers so far with Nike, McDonald's YUM Brands, Coke and Whirlpool all missing estimates. It remains ambiguous whether US companies are actually performing better or if analyst estimates have been scaled back too far. Poor second quarter earnings were the catalyst for the sell off last year as can be seen in Graph 5.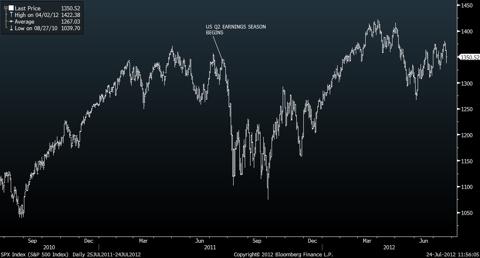 Graph 5: S&P500 2010-2011
4. Europe:
BERNANKE SAYS EUROPE NOT CLOSE TO FINDING LONG-TERM SOLUTION"
Until Germany accepts that a sustained recovery in growth can only come about through the adoption of Eurobonds European governments will be forced to announce further economic and market interventions (Italy and Spain reinstated short selling rules on all stocks this week). France, Belgium, Spain and Italy applied similar short-sale restrictions in August last year only to see the EuroStoxx fall 17% in one month. Such a last ditch attempt has previously failed to remedy the situation for any meaningful length of time and arguably aggravates the situation by signalling to global speculators the lack of confidence regulators have in their own markets.
Speculation over Greece's exit from the Euro and Spain's requirement for a sovereign bailout has lead to the current RoRo environment markets experienced before previous crises. Citigroup last week updated their view on a Greek exit from 50-75% probability to 90% within 18 months. Perhaps the only surprise is that Citigroup genuinely thought Greece may be able to meet its deficit reduction targets at all. Their timeframe also looks needlessly unspecific. Greece's departure, in my view, will come much sooner than 18 months. The IFO research institute this week estimated the cost of a Greek exit to Germany alone would be 82 billion Euros. However a Greek exit will undoubtedly signal a procession of smaller member states leaving Euroland with Germany facing a far larger bill.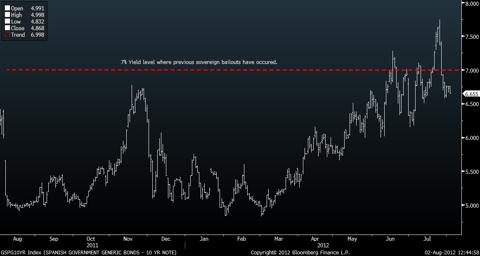 Graph 6: Spanish 10 yr Govt. Debt Yield: 2008-2012
Spain's regional governments are now lining up to request state assistance to avoid bankruptcy which recently pushed up 10 yr yields to a Euro-era high. Spain's 10yr government bond yield rose above 7.5% last week leading many (myself included) to believe a sovereign bailout is now inevitable (Graph 6). Draghi's now infamous "Believe me" statement has provided a small window for the ECB to announce significant measures. Should these fail to materialise Spanish yields will be once again tested by the market.
As long as Spanish Prime Minister Mariano Rajoy continues to insist ECB intervention is not required the market will continue to test Spain's willingness to resist a full-blown sovereign bailout. I believe a Spanish bailout will be announced in the short-term and the market will move its focus on Italy as observed in previous financial crises (Greece, Ireland, Portugal). Germany is unable to support a bailout of both Spain and Italy. As the ESM has not been ratified yet and probably won't be implemented until at last September (should Germany rule it is even legal) the EFSF has only around EUR200bn unearmarked funds at its disposal. European legislation will have to be amended to allow the ECB to print money in an echo of the Federal Reserve's response.
As regards Greece perma-bear Nouriel Roubini may well be fairly accurate on his timing of a Greek exit (and possibly the Iranian conflict):
"I think Greece is not going to exit until November. Things are not going to blow up until after November. Everybody is kicking the can down the road. We are kicking the can down the road on our fiscal issues. China is kicking the can down the road on their own structural issues because of a changing leadership. The Europeans want to avoid pulling the plug on Greece until maybe next year. We are not going to have a war with Iran until after the election...next year is the time where the can becomes too big to kick it down, and it hits a big, thick brick wall, and then we have a global perfect storm."
5. Rest of The World:
The International Monetary Fund recently cut its 2013 global growth forecast (07/16) to 3.9% from 4.1% stating:
"Emerging economies, especially China, Brazil and India have seen a slowdown in growth and 'policymakers should be ready to cope with trade declines and the high volatility of capital flows'.
If we start with the world's second largest economy, Chinese stocks are trading at their lowest level in over three and a half years following a slowdown in manufacturing and exports whilst the property sector has stalled. GDP growth in the second quarter fell 7.6% signifying the lowest fall in three years and the IMF has responded by lowering the country's growth estimate to a thirteen year low of 8%.
The Chinese economy is heavily reliant upon exports to drive growth but as global consumption declines Chinese domestic consumption has been unable to sustain its own manufacturing sector. The PBOC cut its benchmark interest-rate twice in a month recently but, as yet, the Chinese government has resisted the large scale stimulus packages it adopted throughout 2008-09. To grow to a more sustainable consumption-led economy the Chinese Government appears to be acknowledging the importance of reduced external investment and exports in favour of raising domestic consumption levels. China has allowed real-interest rates to appreciate substantially whilst the economy has cooled (bringing the benefit of a weakening Juan).
There is no doubt should it be required to, China has the ability to 'act forcefully' to use the IMF's wording. However, we are unlikely to see any imminent announcement of the much speculated infrastructure program (similar to India's "Trillion Dollar Program") unless the manufacturing sector fails to improve significantly. Whilst China seeks to rectify structural imbalance in its own economy it provides little consolation to market observers looking to China to drive the global economy out of The Great Recession.
Turning briefly to Japan, the world's third largest economy by GDP, again there is little to comfort western investors. Japan's lost double-decade appears as far away from recovery as ever as it faces a vicious cycle of rising yen and deflation.
With an aging population and more people leaving the workforce than entering it Japan is facing the world's worst balance sheet burden of a debt to GDP ratio over 220%. Hedge fund managers (Bass, Einhorn et al.) are predicting an economic implosion at least as large as that of Europe's, inevitably resulting in a default. Japan's public pension fund (the largest in the world) recently announced it has been selling domestic government bonds as the number of people eligible for retirement payments increases.
"Payouts are getting bigger than our insurance revenue, so we need to sell bonds to raise cash". Takahiro itani, President. Government Pension Investment Fund
Cause for concern then and perhaps a good indication that the 'Japanese Default' trade holds some water. However, the JGB is rallying hard as investors to look for "safe-havens" to place their money. Graph 7 shows the 10-year JGB yield is currently trading at 0.734% (9 year low is 0.72%). Global demand for JGB's has pushed the Yen to an 11 year high against the Euro yesterday which may force government intervention to push down the currency. Should the "Japanese Default" scenario play out whilst global investors are overweight JGB's the effects of a Japanese default will be magnified exponentially.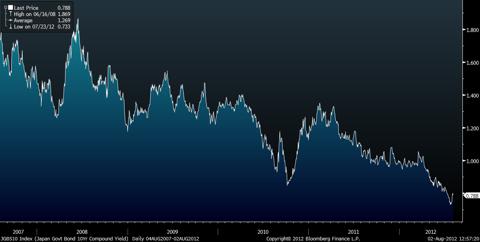 Graph 7: 10 Year JGB Yield.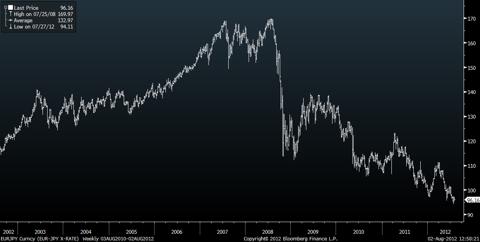 Graph 8: EURJPY Trading at 11 Year low.
I leave the final comment on the current JGB rally to Chikahisa Sumi, the Japanese finance ministry official in charge of government debt:
"Investors have to put money somewhere. It's like when I go to the gym and there's no freshly washed socks, so I take the pair that's relatively clean."
Chikahisa Sumi, Head of Government Debt, Japan Finance Ministry, 07/24.
6. Technicals:
Looking at S&P 500 implied volatility: over the last two years volatility reached a low at the start of Q2. Last year volatility increased in June before subsiding at the start of July before reaching a final peak at the end of September. So far 2012 implied vol. is echoing 2011 (see Graph 9):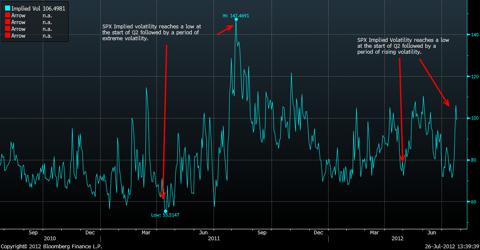 Graph 9: SPX Implied Volatility 2010-2012
The S&P itself also appears to be echoing last year's movement (Graph 10):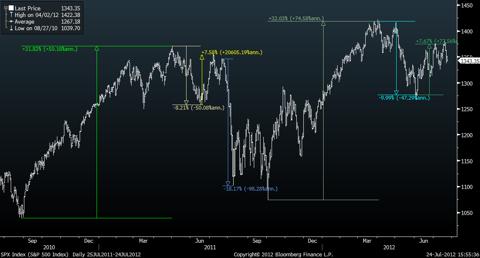 Graph 10: SP500 2010-2012
Finally we look at the Dow Jones Transport Index which is widely used as a leading indicator of US economic activity in the US (Graph 11) which appears to be breaking out to the downside in a similar manner observed on July 21 last year.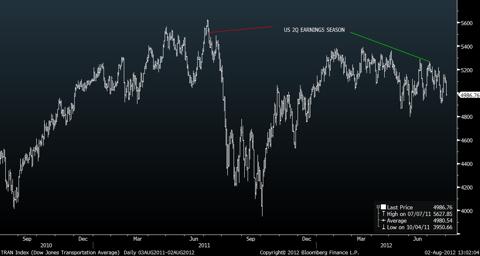 Graph 11: Dow Jones Transportation Index: 2010-2012
Conclusion:
Based upon the observations discussed above it appears clear that the medium term outlook for the S&P500 is negative. Expect monetary and fiscal intervention to provide only short term respite to a deteriorating economic back drop driven lower by declining consumer confidence and market fear. Volatility in August is expected to rise significantly supported by increased trading volumes.
Disclosure: I have no positions in any stocks mentioned, and no plans to initiate any positions within the next 72 hours.