With Arena Pharmaceuticals' (ARNA) Belviq finally approved, Arena will be transitioning from being a cash-starved biotech into an earnings-generating one. Of course many investors must be concerned about the sell-off since approval with a massive 45% drop since Arena hit new highs. What is causing the sell-off and how do you value Belviq's potential given the failures of many weight loss drugs from the past? In this article, I'll present a valuation model that others can adjust with their own assumptions in order to come up with a reasonable value for Belviq revenue over the coming decade. I will also address what I feel has caused the recent retreat in the share price and some important data points investors should consider in their Arena investment decision.
I attribute the recent sell-off of Arena to a very simple process; the transfer of shares from retail investors to institutions. If you look at any biotech over $1B in market capitalization with a drug approved within the last 24 months, the institutional ownership will be somewhere between 60-100%. As of the last full reporting period for Arena, its institutional ownership position was only 25%. In order to get to an institutional ownership more in-line with other biotechs with approved drugs, 100,000,000 shares needs to move from retail owners to institutions. Institutions will use "dark pool" orders and those orders will be filled with high-frequency trading bots. This has resulted in manipulation in the stock price that has no doubt caused many retail investors to capitulate and sell their shares to institutions. I believe by November 2012, you will see the institutional ownership increase from 25% up to above 40% and by February 2013, when year-end statistics are available, an increase up to 75%.
Not until these institutions are done acquiring Arena will there be strength to allow the stock price to rise. Only then will you see upgrades and better valuation models to present the opportunity that is truly in front of Arena investors. There are a couple of upcoming events however that could stop this share price decline. These are namely an EU or ROW (rest of the world) partnership for Belviq, early DEA scheduling for the drug and after that, US-based pricing and sales guidance from Arena's North America partner -- Eisai Pharmaceuticals.
It is important for long-term investors to perform their own due diligence and create their own valuation for Arena. I personally am invested in Arena not for a few dollar swing but for multiples of my investment. The difficult dilemma for valuating Belviq is the uniqueness of the opportunity. The error that all analysts covering Arena have made is comparing the market for previously approved weight loss drugs to predict the market for Belviq. You must look at the market with new lenses and examine how big the opportunity is for a drug that is extremely safe, highly tolerable and very effective for those who will respond to the drug. In the following sections I will discuss Belviq's label, the target patient and finally my valuation model with a number of assumptions.
The Label: Arena's approved label is about as good as investors could have hoped for. Those who have read my past articles on Arena or have studied the responder results recognize the average weight loss for those who respond to Belviq is 11%, not the 3% placebo-adjusted mean weight loss widely quoted by the main stream media. In meta-analysis, over 85% of the people who will respond to Belviq are identified through 5% weight loss by week 12. Belviq's approved label recommends that patients try Belviq for 90 days and if they have not experienced 5% weight loss by then, to discontinue. Given that other benefits of Belviq are included in the label, such as the average HbA1c reduction of .9, there will be many patients who may only have 3% weight loss by week 12 but their HbA1c numbers have improved so much that physicians will continue their patients on Belviq.
Only patients who respond to Belviq will take it long-term but there will likely be millions of patients who will at least try it for 90-days every year, especially once payers will cover the drug. In fact, on Eisai's August 1st earnings call, they stated that a full 1/3 of all insurance companies will cover Belviq at launch date and in my model, I will assume that most insurance will cover it by 2015. Since some patients will only take Belviq for 90-days and a subset will take the drug as a chronic therapy, I will use 2 100-pill bottles of Belviq, enough for a 90-day supply, to base my revenue figures.
Who will take it? A safe drug option for prescribers to allow their patients to try in order to cut 5-10%+ of their weight remains the biggest unmet medical need in the world - up until now. Not only is Belviq the first weight loss option approved in the last 13 years but more importantly; it is the first weight loss drug in the history of pharma that comes with this unique blend of efficacy, safety and tolerability. A weight loss option with very few side effects, improvements to all co-morbidity factors and major improvements to glycemic control is going to be liberally prescribed by physicians. In particular, the 79M pre-diabetics and over 20M Type II diabetics in this country will be widely prescribed Belviq as a preventative treatment for diabetes. Again, there has never been an obesity drug void of major side effects that endocrinologists would readily prescribe to their patients. In a study conducted by Arena a few years ago, 75% of prescriptions for Belviq would go to patients who would have never have been prescribed one of the existing weight loss drugs (phentermine, Meridia or Orlistat.) Furthermore, this study was conducted prior to documented improvements of major HbA1c reductions. Because of the overlap between pre-diabetics and existing type II diabetics, I will use 100M as the initial market-size opportunity for Belviq.
There were 6M prescriptions written for phentermine in 2011, many of whom will combine with Belviq. Furthermore, there were 18M prescriptions written for the FenPhen combination in 1996 - a figure that BelPhen should eventually reach and exceed. When you combine the existing phentermine users with the market to pre-diabetics and diabetics, it is not unrealistic to expect as many as 30M prescriptions annually within this decade. That would be only 8M or so chronic Belviq patients along with a another few million who would continue to try it every year.
Competition: As investors who follow this space know, Vivus' (VVUS) Qsymia was also recently approved for weight loss. I have discussed the reasons why I believe Belviq will be the first choice for physicians for a number of years and Qsymia's approved label underscores why this will in fact be the case. A recent article by Red Acre Investments does an excellent job of breaking down both drug's label.
Physicians will always start with the safest drug therapy first, it is how they are trained, the oath they take and certainly how their liability carriers would address a claim. There is no doubt that Belviq is that safe first choice as evidenced by the labels. Qsymia has a REMS and Belviq does not. It is only available via mail-order, must be titrated, requires pregnancy tests for women of child-bearing age, it raises heart-rate (CV-risk) and requires a physician to go through a 20-min education certification before they can prescribe it. The phentermine and topirimate components are available generically and have been prescribed by some obesity specialists for over a decade, yet it has never taken off like FenPhen did because of its safety profile. I see no reason why a single pill with all of the associated prescribing restrictions will change that. However, the market is large enough for a dozen obesity treatments that could all be blockbusters but Qsymia will never be a first line therapy but rather the drug some will try who prove to be Belviq non-responders. Therefore, the availability of Qsymia will have little, if any, impact on the market for Belviq.
Valuation Model: The following revenue estimates are only for United States-based sales. These figures could at least be doubled as Belviq reaches the rest of the world for distribution. I have made several assumptions in my model including that insurance will cover Belviq by 2015, that BelPhen will take off and that there will eventually be at least 5M who take Belviq as a chronic drug, a conservative number considering the 100M pre-type II and existing type II diabetics. This model only covers the first 10 years of revenue through existing patent protection limits. This will likely be extended by at least an additional 3 years plus other patents that will extend it further such as a single controlled release pill and the various combination therapies that Arena will test with Belviq. It does not account for perpetual revenues past 2023.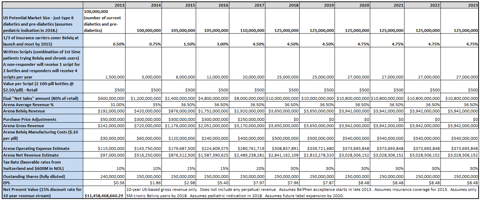 As you can see from the net present value of the revenue stream, Arena should be valued far greater than it is today. Even if you disagree with my numbers and are far more conservative, Belviq is still a very profitable franchise. There is no disputing that the market for a safe, tolerable and effective weight loss drug, particularly for the diabetic population, is a tremendous market opportunity. How Belviq performs in this space is unknown but it is well-positioned by its approved label.
Revenue Recognition: For the first 6 to 12 months from launch, Arena will recognize revenue as Eisai sells product to their distributors. Once there is enough sales history showing inventory turn and product returns, Arena will be able to recognize revenue upon shipment to Eisai. Since Eisai's distribution network will need to be fully stocked prior to the full launch of Belviq, Arena should be able to show significant revenue in Q4 of 2012 in addition to $65M in milestone payments.
Europe and the Rest of the World: By now, Arena has received the 120-day list of questions from the European Medical Agency that discusses any concerns they may have for approving Belviq late this year for marketing across Europe. Once Belviq is approved in Europe, the market size opportunity will grow by over 50%. The obesity crises is growing throughout Asia and particularly in China who already has over 92M Type II diabetics and over 150M pre-diabetics, which recently overtook India's 50M Type II diabetics and 100M pre-diabetics.
Phase III/IV Expansion Opportunities: Arena has commented that they plan several follow-up studies for Belviq that will include new indications and combination therapy. There is no doubt that Belviq will be combined with phentermine by some obesity specialists in practice. The average weight loss with this combination therapy will likely be over 15%, which again will make Qsymia an irrelevant therapy. We may see Arena perform their own follow-on studies for a single pill that combines Belviq with phentermine. We may also see a combination pill to combine Belviq with metformin. This metformin combination pill could become a first line therapy for a large percentage of the 20M type II diabetics in the US. We will also see further studies to expand the indication for treating addictions including smoking cessation.
I have no doubt many institutions are now accumulating Arena stock and are using every trick in the book to keep the stock in check while they do; including dark pools and high-frequency trading bots. They will also leverage friendly journalists and the media to publish articles with half-truths to create fear, uncertainty and doubt among retail investors. After-all, every biotech I know of with a drug approved within the last year or two will have institutional ownership above 60% and many up to 100%. Tens of millions of shares are in the process of transferring from retail to institutions in the coming months. Arena will continue to be under pressure and range-bound until there is news on EU-partnership, early DEA scheduling or some other positive news event. Only once guidance is given, Belviq is marketed and weekly script figures are available will Arena trade on fundamentals and future expectations. However, the retail investors who have the patience, and stomach, to lock away shares for the next year should be greatly rewarded.
Disclosure: I am long ARNA.