What is the best thing in the world? Perhaps it is a stock with upside potential of, say, 300% in two years, while at the same time paying you in excess of 20% just for holding it. Not to mention very low risk in comparison to how much one stands to gain.
I just read in the Wall Street Journal that several big-name small cap mutual funds are now accepting new money for the first time in years. The reason: ridiculously low valuation on many small cap companies. The REITs that I mention below are exactly the type of companies that these mutual fund managers are looking at, and it is also why these institutional investors are looking for more cash.
Let's face it - the credit crisis is pretty much over. Yet, although REITs have bounced off their recent lows, their valuations are not fully reflecting the new market sentiment. Although regional banks have had their earnings clobbered in recent quarters, many REITs have maintained, and even increased, their profits. Yet the market is grouping them all together and applying very similar multiples.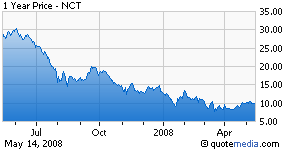 Newcastle Investment Corp. (NCT) is my favorite commercial REIT right now. Although it payed a $0.72 quarterly dividend in 2007, it was cut to $0.25 in the first quarter of 2008 in order to raise liquidity. In addition, they greatly reduced their recourse debt (the debt that subjects NCT to margin call). NCT reported earnings May 12 and they booked a loss of $0.84 per share - but that was mainly due to one-time charges on their subprime portfolio (only 8% of their overall holdings). If you look at their actual performance, they generated a profit of $0.56 per share - better than what analysts predicted ($0.49).
In addition, Newcastle's fair book value is over $16 per share - thats a 60% premium from where the company is trading today. Not to mention the dividend. Sure, Newcastle may pay a 25-cent dividend for the next quarter or two, but it certainly will raise it once management is sure that the credit markets are on solid ground. If NCT raises their dividend back to 2007 levels, the effective yield would be close to 30%. Even if NCT cannot afford those levels and raises it to, say, $0.50 per quarter, the yield is still around 20% - not to mention the pop you will see in the stock price when this is announced. I am certain that it is not a matter of IF Newcastle will raise its dividend, it is a matter of WHEN.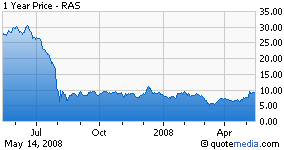 RAIT Financial (NYSE:RAS) is another REIT with huge return potential. Currently, the dividend yield is over 20%. It reported first quarter earnings on May 6 and booked a profit of $0.52, compared to $0.34 a year ago. In addition, Friedman Billings Ramsey analyst Merrill Ross wrote in his research report that the company has proved its dividend is viable. The dividend is currently 46-cents per quarter, all of which is being paid with cash generated from its business. This is important - RAIT is not dipping into reserves to pay its dividend. But wait? I thought that pretty much all CDOs were worthless? Well... I guess not.
A few other names worth taking a look at are Northstar Realty Finance (NRF), Anthracite Capital (AHR), and Crystal River Capital (CRZ). However, in my opinion, none of them represent as good of an opportunity as NCT or RAS.
One last word: never put all your eggs into one basket, no matter how convinced you are in a particular stock - make sure you diversify within and among industries. I love NCT and RAS, but I own other REITs as well (AHR and NRF). It is vital that you don't endanger your financial future by throwing the proverbial Hail Mary. That, my friend, would be simply foolish.
Disclosure: author holds position in NCT, RAS, AHR and NRF