D.R. Horton (NYSE:DHI) reported its third-quarter earnings on Friday, July 27. The homebuilder ranks first in the Morningstar Residential Construction category for U.S. companies by market capitalization at $5.9 billion. Additional information on competitors in Morningstar's Residential Construction industry group can be found in the chart below.
Positive momentum for housing construction starts in the real estate industry is clearly helping to improve profitability for the U.S. homebuilder. Donald Tomnitz, Vice Chairman, President and CEO, reported strong quarterly pre-tax income figures for the company during its July 27 earnings call. Tomnitz stated a combined pre-tax income of $72 million for the company's homebuilding and financial service businesses. The pre-tax income report leads the industry and was the highest for the company since the second quarter of 2007, according to Tomnitz.
The strong gains for DHI follow positive industry reports on U.S. housing starts. The Commerce Department's June 2012 New Residential Construction report stated a monthly increase of 6.9 percent for privately owned housing starts in the U.S. The report also indicated an annual increase of 23.6 percent in residential housing starts.
Forward looking data from Freddie Mac's July 2012 U.S. Economic and Housing Market Outlook (pdf) also shows significant growth predicted to continue in housing starts for 2012 and 2013. The agency estimates the annual rate for housing starts to reach a quarterly average of 780,000 in the fourth quarter of 2012. Further estimates show additional consecutive gains through 2013, ending next year at an annual rate of 980,000.
D.R. Horton's growth in new sales orders is consistent with the industry's demand. The company reported an increase of 25 percent in new sales orders from the third quarter of last year.
The company also reported home price increases were a leading reason for improved revenue in the third quarter. Average closing prices for the company were up 2.5 percent from the previous quarter to $225,000.
The industry's low mortgage borrowing rates also helped to improve loan originations by the company's financial services division, which increased its pre-tax income from $7.7 million in the previous quarter to $13.9 million in the third quarter.
D.R. Horton's stock price closed on July 27 at $18.39, gaining 2.28 percent on the day's announcement. Year-to-date DHI has returned 49.68 percent, outperforming the S&P 500's 11.54 percent but falling behind other industry competitors, including Standard Pacific Corp. which reported a 99.06 percent year-to-date return.
D.R. Horton is a leading provider of residential homes in the U.S. and as growth in the real estate market continues to be focused around housing construction starts, the company's stock appears to provide strong forward looking investment potential.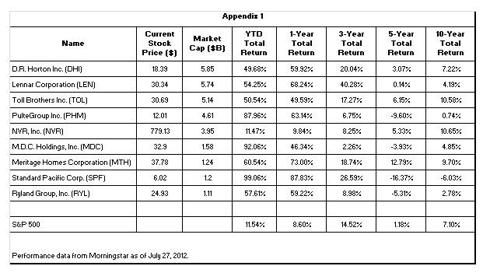 Disclosure: I have no positions in any stocks mentioned, and no plans to initiate any positions within the next 72 hours.