On 01/02/2008, I sold puts on American Capital Strategies (NASDAQ:ACAS) at a strike price of $35 for May 2008 expiration, collecting a premium of $5.50 per contract (all detailed on my portfolio spreadsheet). Those contracts are trading at $4.00 at last check and I can close them out for a gain of 4% (12% annualized) on value at risk.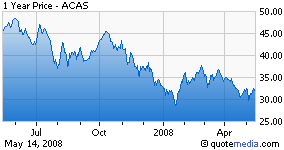 However, after reviewing Q1 2008 results, I am comfortable with adding ACAS to our portfolio at an effective price of $29.56 per share.
In early May, the Wall Street Journal raised the possibility of massive write-downs at ACAS due to implementation of SFAS 157. And American Capital did indeed write down $1B on their balance sheet but it wasn't nearly as bad as it looks.
The company booked $997M in unrealized losses across their portfolio in Q1 08. SFAS 157 accounted for $180M (18%). The biggest culprits were drastic markdowns in the Structured Products portfolio (36%) (things like CLOs, CDOs, CMBS, etc.) and lower comp multiples on the value of their asset management subsidiaries (26%) (ECAS, AmCap LLC). AmCap has moved toward mark-to-market (or as close as they can get, seeing as many of the assets aren't traded). As such, these writedowns should be a one-time occurrence unless the financial markets take another debilitating leg down.
On the upside, management projects $656M of this depreciation will eventually revert into cash flow and principal repayments, with full value realized as assets and securities perform as expected. In the earnings presentation, management used the example of a Commercial Real Estate CDO (CRE CDO), now carried on the books at $11M vs. a cost basis of $220M. CRE CDO has experienced minuscule losses ($460K on $69B of collateral) and is paying $8M every quarter despite its "fair value" of $11M. I'm sure they cherry-picked the most egregious example of this GAAP accounting quirk but it lends credence to management's case that book value is not accurately represented. Backing out the $656M brings NAV around $31 per share vs. $28.16 as shown currently.
Further encouraging signs include $0.77 net operating income [NOI] and $0.94 realized earnings for Q1 08. The NOI number came in at the upper range of guidance. The realized earnings number, at 93% of the dividend, almost covers the payout despite the turbulent financial markets.
Management has provided good visibility on the viability of maintaining its dividend as it started pooling long-term capital gains to cover future dividends. It rolled over $361M of 2007 earnings to pay 2008 dividends (for reference, 2007 dividend payments = $542M). This is important because my whole premise behind investing in ACAS is the sustainable dividend (see my previous valuation report). Temporary paper losses are immaterial if management is able to maintain their historical performance as measured by the dividend payout, without resorting to return of capital payouts or using debt to cover the divvy.
The market has discounted some concerns re ACAS:
Deteriorating economy will impact the private equity portfolio, leading to more company defaults and higher non-accrual ratios.
Credit crunch will impact financial companies.
GAAP accounting standards means writedowns & increased volatility on book value. ACAS as a BDC is required to maintain no more than a 1:1 debt:equity ratio and a fluctuating balance sheet may impair flexibility.
I think these fears are overblown. A recession will lead to higher default rates but also increased opportunities to make good investments with less competition and higher spreads. ACAS has weathered the credit crunch well, with 57% turnover of assets in 2007 showing that liquidity has yet to be a problem.
As for the write-downs, the company admitted that its whole portfolio is considered Level 3. While this is scary stuff for traditional finance companies like the investment banks or insurers, ACAS can lever, at most, 1 to 1. This in itself limits the damage compared to over-leveraged hedge funds or broker-dealers as it is easier for AmCap to avoid forced selling situations due to inherently low leverage.
Ultimately, you have to trust management. CEO Malon Wilkus has built this company from scratch, which is still headquartered in Bethesda, MD, suggesting success hasn't led to Wall Street hubris. Every quarter, management takes great delight in telling analysts and investors how much deal flow they looked at, passed over and got outbid on. This reinforces management's claim that they are growing and expanding scope of operations responsibly without lowering standards or overreaching.
Having followed the company closely for a while now, I get a sense of pride from Wilkus in what his team have built the last 10 years. More importantly, I also sense some defensiveness and a bit of a chip on the shoulder regarding the lack of credit afforded to his company and even public attacks on the company (see here for details). This seems to give it a hard edge in its desire to prove critics wrong. Given that management likes to point out that ACAS is one of the few asset management companies able to raise equity at a premium to book value, the lack of respect argument may lack some teeth but if that's what it takes to keep the hunger alive, so be it.
Finally, while I am bearish on the US dollar and the American economy in the intermediate term, it may be wise not to overload on one side of the bet. ACAS is a nice hedge on my commodities/short US$ positions as it pays a high dividend (>13%) while giving me access to alternative assets. Even if my position regarding the US proves to be correct, I expect the management at AmCap to outperform relative to the US market.
Performance measurements:
Hit Guidance:

Q2 $0.68 - $0.75 NOI, realized earnings > $1.10
Dividends: Q3: $1.05 Q4: $1.10
$500M+ 2008 income & long-term capital gains rolled over for 2009
2008 Long-term capital gains > 2007
$12B assets on balance sheet by YE 2008

Keep past-due & non-accrual loans (currently 8.2%) around or below last downturn's peak (15%).
Click here to see previous reports on ACAS.
I would also recommend reading Seeking Alpha's Q1 2008 conference call transcript.
Disclosure: Long ACAS.