I would like to talk about why investing in mining companies could be a wise decision at this current time. You will see that investing in good mining companies is like investing in raw materials on steroids, not to mention that many times it is the most practical way for an investor to gain exposure to raw materials, as is the case with uranium and rare earth elements.
When we talk about investing in mining companies, we are referring to what ColapsoEconomico.com (the Spanish version of Mac Henry Research) has been purchasing, such as mining in gold, silver, uranium and other rare earth elements.
Once you have studied the fundamentals behind a certain raw material, the way to gain leverage is through companies that produce this raw material, be it oil producers, or mining companies, as in our case (also through companies that invest in the agriculture sector, but this is another topic entirely).
For now, let's concentrate on mining shares. It is no secret that we were recommending the purchase of gold and silver when these were at about $820 and $10.50 per ounce, respectively. These metals have gone up extraordinarily in the last three years, and they will reach much higher prices before the culmination of their upward super cycle.
Many people write to us asking if it would be good to get into the market now that the price has risen. It definitely has risen, and it will go up more before the cycle ends. However, the mining companies have lagged behind with respect to the price of metal. In fact, mining companies producing gold and silver are currently close to reaching those levels seen in 2001 when we measured these metal indicators. It so happens the word "opportunity" can be heard.
The mining shares tend to go up much more aggressively than the price of metal itself and to drop more when metal begins to drop. In fact, mining industries have gone up more than metal, right after the announcement by the Federal Reserve of the injection of money, QE1 and QE2 In November of 2008 and November of 2010 respectively. And, should there be a third time, as the Fed predicts, what then? We are convinced that this cycle in raw materials still has a long run before its finalization, and this means more capitalization for our readers.
Click to enlarge.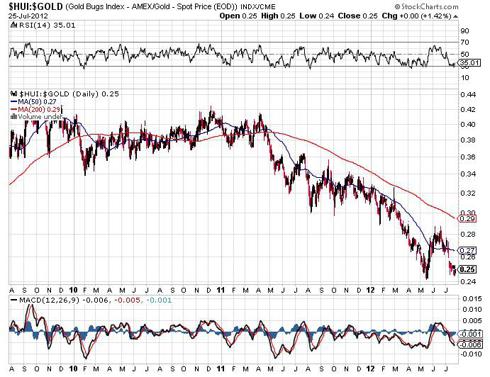 Our portfolio is diversified, but only within 3 sectors:
Certain determined raw materials
Mining companies that benefit from the production of those raw materials
And Infrastructure Companies in emerging markets.
Now, having clarified this, let's discuss why to invest in a mining company - of gold, silver or other metals.
To buy mining stocks means to buy a share of a product, or in this case in one or various mines; before the raw material is exploited in the case of 'explorers' companies, or a share of the production in the case of those mines already producing, either with 'intermediate level producers' or large producers, known as "majors."
But to better understand, let's look at an example. Gold mines get leverage from the price of metal. Let's assume that a mining company can produce an ounce of gold at a cost of $600 and the market price of gold is starting at $1500. The benefit obtained by the company per ounce is $900. An increase of $100 in the price of gold will constitute a 33% increase ($500/$1500), but it will raise the benefits of the company by three times that, or rather, by 100% ($500/$500). Of course, this leverage also works in the inverse case. Let's imagine what the current prices and future prices mean in mining shares, this way we can see how, literally, they will produce money at ridiculously high prices.
As we said before, the mining companies can be divided into three categories: exploratory, medium producers and majors producers. What gives the explorer companies the potential to be extremely profitable is that one can generally purchase a percentage of the anticipated production, because it is gambling on a major discovery of the raw material in the future.
Even if all the explorer companies provide an estimate of the production of a mine, it is impossible to know how much metal will be obtained until it is actually extracted, because production is susceptible to all kinds of factors, be it with management, the mine itself or some natural disaster. As such, to invest in this kind of company is more risky than its counterparts, medium and majors producers. Investing in explorer companies can be extremely profitable, but we only invest a small portion of the portfolio in this kind of purchase, never more than 1% of the total of the portfolio in a single company is our opinion, and this has worked for us.
The Junior Mines or medium and majors producers are less risky, but continue to be more volatile than the metal. For reasons of possible changes in management, natural disasters, etc., it is important to carry out an investigation that is exhaustive. Within a mine itself, weak management can generate problems in production, defective financing can empty the mine and the valuation compared to similar companies can end up altering the value of the investment. Furthermore, there is a long history of some governments nationalizing their local resources and this happening would leave all private proprietors with nothing. Thus, it is good to be very cautious in selecting jurisdictions; places like Canada and Australia could be good for investing.
These hazards are more acute in tumultuous times, like we currently have. For all of these reasons, it is important to pick a company and a location with proven track records of regular production of metals with minimal interference from the government, and never put all the investment in one sole company, even if it is tempting to do so.
The medium producers or the companies that are not yet producing, frequently grow to a proportion of 5 to 10 ten times greater than the price of the raw material. Not just an upward price can make the raw material from the earth more valuable, but this also occurs as a frequent result of junior mining enterprises making discoveries that elevate the intrinsic value of each stock, this is in a dramatic fashion as compared to what would happen if a larger-scale mining enterprise made a discovery of a similar size.
For example, if a large-scale mining company, with 200 million ounces and 200 million stock certificates, discovers a deposit of gold that of one million ounces, in addition to increasing its reserves by 2%, they add 0.005 ounces to each stock certificate.
On the other hand, if an exploratory or medium mining company, with 20 million active stock shares and only 300,000 ounces in reserves, makes the same discovery of one million ounces of gold, the reserves will go up by 233%. As such, in an upward-cycle gold market, we are inclined to go for stocks, but specifically those from exploratory and medium-size mining producers. We like to buy cheap and when the mining shares are much more undervalued than the price of metal, it is completely logical in our view to exchange part of the metal for mining companies, or to make your first purchase if you still have not.
Another important aspect when one is investing in mining shares is the relationship of these with the price of the raw material. For gold mining shares, for example, this relationship is calculated by dividing the price of the general index of large-scale mining enterprises, called the HUI Gold Bugs Index, which groups a set of large-scale mining companies quoted in the stock exchange, divided by the price of gold. The lower the number is, indicates that mining companies have been lagging behind the metal and the higher the number is, means that the mining companies are exceeding the price of the metal.
Currently, we are in one of the lowest points in years (June 2012) - almost at the levels when the upward cycle of the market in gold began. It is almost equivalent to when gold was at $300 per ounce.
For these reasons, we believe that mining companies, despite being totally outside of the radar for investments for many people, will be the stars in the upward cycle for determined raw materials. It's simple logic. Mining companies always attain metal at their proportional increase, as long as the mines are well managed.
Disclaimer: I am not an Investment advisor. I do not have license. This article represent only my opinion of the marketplace and investments. No guarantee that you will do as well if you rely on our information. You must accept all risk, potential earnings, or failure. Where specific income figures are used, attributed to a person or business, those persons or businesses have earned that amount. No guarantee that you will make you well if you rely on our figures. You accept all risks of not meeting revenue targets the same or similar.
Disclosure: I am long FNV, SLW, SVM and selected mining shares not specified in this article.