Auto sales in the U.S. decreased in July as consumer confidence measures showed a weaker outlook on the labor market and U.S. fiscal policy decisions.
July's Thomson Reuters/University of Michigan Consumer Sentiment Index decreased again for a second consecutive month declining to 72.3 from 73.2 in June. According to the survey's Chief Economist, Richard Curtin, "Consumers expect continued economic stagnation since they believe that current economic policies are incapable of solving the problems facing the economy."
The economy's most recent consumer spending reading also showed further downward trending. The Commerce Department's June personal income and spending report stated a decrease in consumer spending of less than 0.1 percent in June which followed a decrease of 0.1 percent in May.
U.S. auto sales, reported by Autodata Corporation, fell in July in line with the downward trend in spending and consumers' more negative outlook on the economy. Total light vehicle sales decreased to 1.15 million in July from 1.29 million in June. However, the month's vehicle sales resulted in an annual increase of 8.9 percent.
General Motors (GM), Ford (F), and Chrysler (FIATY.PK) continued to lead the U.S. sales list. The Detroit automakers posted strong sales despite economic headwinds. GM ranked first in monthly sales for July at 201,237. Ford ranked second on the list at 173,482. Chrysler ranked fourth at 126,089, following Toyota at 164,898.
GM's July total light vehicle sales were 19.1 percent below June and resulted in an annual decline of 6.4 percent. Cadillac was the company's strongest selling product, reporting an annual increase in sales of 21 percent. The automaker's stock price continues to trade at around $19.66. The company's stock has struggled in 2012 returning -2.76 percent compared to the S&P 500's 10.69 percent.
Ford reported July auto sales of 173,482, which resulted in a 16.3 percent decrease from June and an annual change of -3.8 percent. Fuel efficient cars were the company's strongest selling product, led by the Ford Fusion which posted a sales record for the fifth consecutive month. Ford has a current stock price of $9.04. The company's stock return has also struggled in 2012 with a YTD decrease of 13.2 percent.
Chrysler reported July auto sales of 126,089 which resulted in a monthly decrease of 12.9 percent from June but a 12.6 percent annual increase. The Chrysler 200 was the leading seller for the Chrysler brand, increasing sales on an annual basis by 43 percent. Chrysler, which trades under Fiat Group, has a current stock price of $4.93. Year-to-date the stock has gained 7.63 percent.
GM, Ford, and Chrysler continue to lead sales in the U.S. market. However, their stock has underperformed year-to-date and their 1-, 3-, and 5-year returns have also not been impressive. As the economy continues to recover and consumers spend less, investors should cautiously consider equity investment in the auto industry sector.
Additional details on July's auto sales report can be found below in Table 1.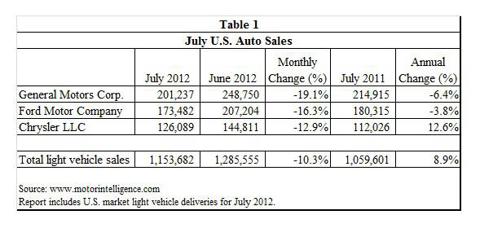 Disclosure: I have no positions in any stocks mentioned, and no plans to initiate any positions within the next 72 hours.