During the financial crisis of 2007-2010, financial institutions were hit particularly hard. One of these firms is Bank of America (NYSE:BAC). From its peak in 2007, Bank of America is down over 86%. This depression in stock price is even more devastating in that even though the market has recovered, Bank of America has not. In the below chart, the value of $1.00 invested at the beginning of 2007 in the S&P 500 and in BAC can be shown.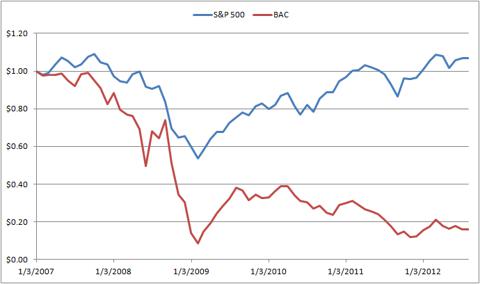 It is very interesting to note that Bank of America was hit much harder than the overall market and since its initial rebound in 2009-2010, the stock has continued to fall and meander sideways. This type of environment is perfect for fundamental research and decision making.
To begin our fundamental analysis, we should start by examining how the firm actually earns its income. This will allow us to find out what is fundamentally wrong with the organization and see if the market agrees with our analysis. Bank of America provides a wide variety of financial services and has many operating segments within the finance industry. Below are a few charts showing the performance of the various segments within Bank of America. Note the trend over the years in the different segments.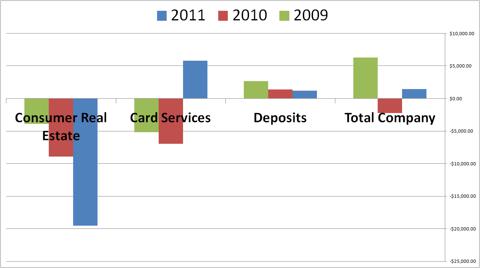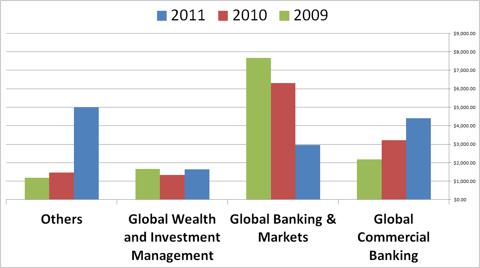 It is very interesting to note that every single segment is profitable except for Consumer Real Estate. This segment lost over $19 billion dollars last year and was the only segment which delivered negative performance. Additionally, this segment has become progressively worse over time. In order for us to determine if Bank of America is recovering or if more pain is incoming, it makes sense for us to examine this operating segment since it is the largest source of loss for the firm.
According to the financial statements of Bank of America, Consumer Real Estate generates its revenue by providing an extensive line of mortgages and loans to consumers globally. Additionally, this operating segment's loss was driven by defaults, decrease in loan funding, decrease in market share, and increase in expenses. Of these losses, it is very interesting to note that the majority of them are caused by one-time events which more than likely will not be repeated in the future. For example, in 2011, Consumer Real Estate impaired $2.6 billion in goodwill, which essentially means that assets which were deemed to be purchased above their book value are now being written down to reflect more accurate prices. Additionally, many of their losses were driven by other one-time events such as defaults. It is my belief that these losses will ease in the future due to the below company-level analysis. The key take away from this research is that the primary driver of Bank of America's underperformance, Consumer Real Estate, may be ending its streak of aggressive losses. Let's file this piece of information away and examine the company further.
Traditional valuation of Bank of America will paint a fairly depressing picture. Investors are not willing to pay very much to own a share of the firm's earnings or its sales. In the below chart, the price-to-book ratio and the price-to-sales ratio are shown.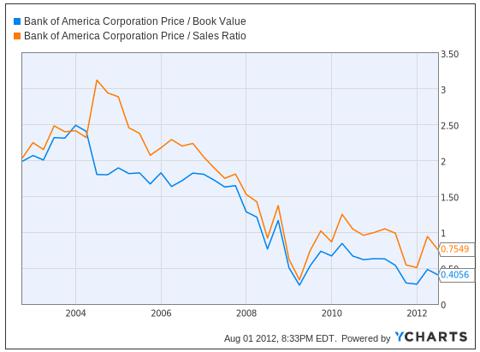 The price-to-book ratio essentially gives us an idea of what investors are willing to pay to own a piece of the company's assets. As can be seen in the above chart, investors have been fleeing ownership of the company's assets for several years. The price-to-sales ratio gives us an idea of what investors are willing to pay to own a share of sales within the organization. This ratio also has been dropping. Traditional fundamental analysis teaches that when these ratios are low, an opportunity to purchase an undervalued company may exist. The idea here is that as the firm becomes stronger, investors will be willing to pay more for the assets or sales of the company. Investors who purchased these things at a lower price will then be able to sell their share to those who are willing to pay a higher price for ownership in the firm. This fundamental analysis tends to provide investment opportunities, however a more complete look at the company can give more insight as to future firm direction.
In order to examine if the firm is recovering from its sell-off, we should see if it is investing in itself. If a firm is choosing to invest in itself, this can be measured by retained earnings. Retained earnings are a portion of net income that a company chooses to reinvest into the company rather than pay out as dividends. This type of analysis gives us an idea of how Bank of America is choosing to spend its earnings.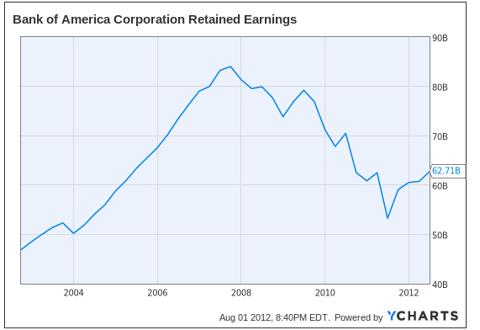 The retained earnings for Bank of America can be seen in the above chart. It is very interesting to note that from the height of the financial crisis until late in 2011, Bank of America did not invest in itself progressively for more than two quarters. However, beginning in the last quarter of 2011 and continuing into 2012, the company has consistently invested more and more capital back into future corporate growth. From a holistic view of the organization, this means that it believes that earnings are better spent preparing for the future rather than rewarding investors through dividends. This is a very powerful signaling instrument in that it shows us where the company believes that its best return will be. As an outsider observing the company, it tends to pay off following the organizational money - the company knows the business much better than we do. With such a large and growing reinvestment into the organization, we must ask: is it working?
Two methods we can use to determine if the reinvestment is working are return on assets and return on equity. Return on assets gives us an idea how well the company generates net income from business assets. Return on equity tells us how well the firm uses shareholder equity to generate a return.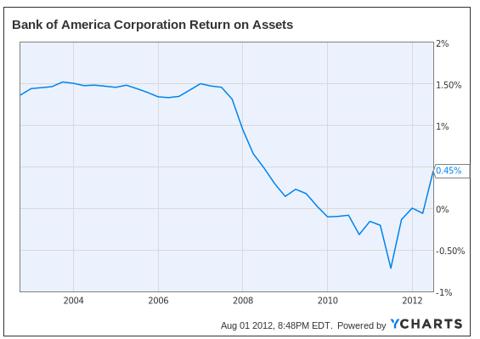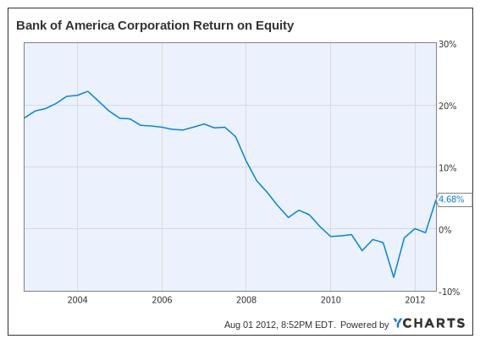 Notice how both return on asset and return on equity have bottomed out since the crisis and are now becoming stronger. While the numbers are still low, they have emerged from negative territory and are now increasing. Additionally, notice how these numbers are increasing with the above chart of retained earnings. Essentially, Bank of America has been investing in itself and this investment has been paying off by a higher return on a company level and an equity holder level. Additionally, as we discussed at the beginning of this report, many of the current losses of the firm are one-time and will more than likely not recur. As can be seen in the previous charts, from a balance sheet perspective, the company has bottomed due to its prudent decision to reinvest into the organization.
In order to test the theory that the organization has bottomed out, I have included the price chart of Bank of America below.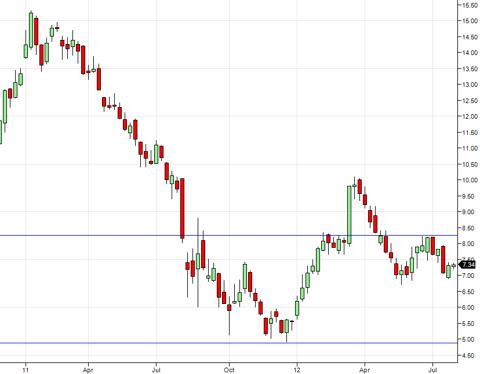 I like to develop my investment ideas fundamentally and execute technically. This said, it is interesting to note that the price chart is almost a mirror image of the fundamentals shown in the charts of retained earnings, return on assets, and return on equity. This correlation gives us an opportunity to draw up a logical investment thesis. If we believe that these fundamental factors have been driving the rise and fall in share price, then we should only invest when the fundamental factors and price trends agree. In other words, if we believe that the market has bottomed out, then we should only invest in the company when price proves that it has bottomed out. This said, I view my entry into Bank of America at $8.25. At this point, price will have proven that a bottom has been formed and overcome recent highs. If price falls below $5.00, then I will view this analysis as incorrectly timed since the market will have reached new lows and in so doing, it has violated the definition of a market bottom. In other words, wait for the most logical entry point before investing.
Disclosure: I have no positions in any stocks mentioned, and no plans to initiate any positions within the next 72 hours.