To begin with, I would like to remind all that I am a private investor - not an analyst, nor a reporter or media professional. Hence, expect me to be short anything that I am bearish on and long on anything that I am bullish on. Very strong investment results are my goals, with the blog being a hobby.
With that being said, I am bearish on the regional banking sector with large concentrations of commercial real estate, consumer finance and 2nd lien residential real estate risk. I screened about 330 S&Ls, regional and small/mid-cap banks and the finalist of this contest was PNC (NYSE:PNC). Below is my (textual) take on PNC. Later, I will post some other banks that I have looked at along with additional info on the state of the industry that emboldens me to hold short positions during this bear rally. I will also be posting updates on the homebuilders.
The banking and financial services sector in the US and across the globe continues to be under the ambit of unrelenting financial market disturbances. With banks and financial services companies continuing to report large charge-offs on loans and mark-to-market losses, no near-term prospect of an inflection point of the current financial markets turbulence is in sight. The recent macro-economic indicators in the United States have also not exhibited any signs of a turnaround from the gloomy state of affairs prevailing since mid-2007.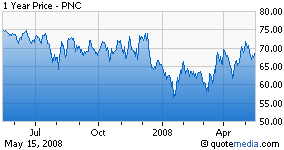 Amid these deteriorating economic conditions, Pennsylvania-based PNC Financial Services has started to face the heat in the form of rising losses from mark-to-market write-downs and loan delinquencies.
We believe that more problems could be in store for PNC considering that a significant 54.2% of its total loans of the bank comprise real estate loans and a significant 20.4% of the total assets are invested in held-for-sale securities.
PNC's lower-than-peer capital ratios and historically low provisioning for loan losses may prove to be a serious concern with an expected increase in provisions and resulting charge-offs, together with mark-to-market losses on held-for-sale securities.
This, coupled with lower loan growth and an expected decline in fee-based income, would drive PNC's adjusted EPS and BVPS to an estimated $1.84 and $40.03, respectively, in 2008, and $1.96 and $38.47 in 2009, versus $3.94 and $44.34 in 2007.
On the upside, we believe that the bank's diversified income stream relative to its peers and its investment in BlackRock (NYSE:BLK), a leading asset management company, underpin PNC's earnings ability in the troubled market conditions.
[For the full 22 page forensic report in html or downloadable pdf, visit my blog.]
Disclosure: Author has a short position in PNC