The U.S. corporate profit after tax for the first quarter of 2012 was the highest since 1947 at $1671 billion. It was also the highest as a percentage of GDP at 10.8%. This article discusses if corporate profits have peaked out and the implications on the equity markets.
The chart below gives the U.S. corporate profit after tax from 1947 to the first quarter of 2012.
Click to enlarge images.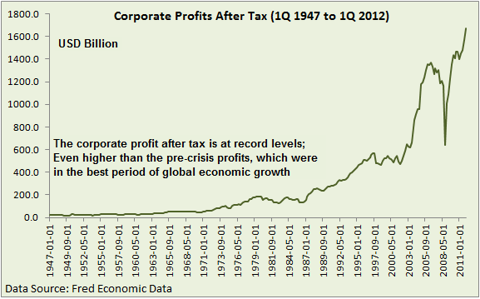 After a sharp decline in profits during the recession of 2009-10, corporate profits have surged to a record high. It is worth noting that the corporate profits are much higher than the period 2005-07, which was a time of significant global boom.
The next chart shows the corporate profit after tax as a percentage of GDP from 1947 to the first quarter of 2012.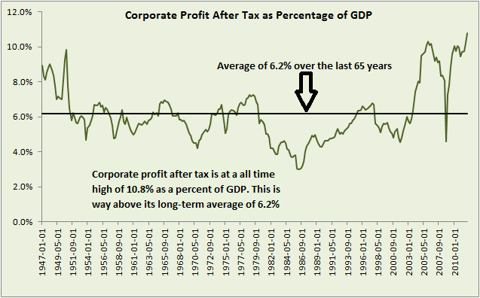 Corporate profit as a percentage of GDP was 10.8% in Q1 2012 (highest since 1947). This is way above the average of 6.2% during the period under discussion (1947 to Q1 2012).
These charts point to one critical question: Are corporate profits sustainable at higher levels or have they peaked out and will start declining?
Answering this question is important for two reasons. First, growth in the U.S. has largely been driven by the private sector. The government sector has been a laggard, as is evident from the chart below.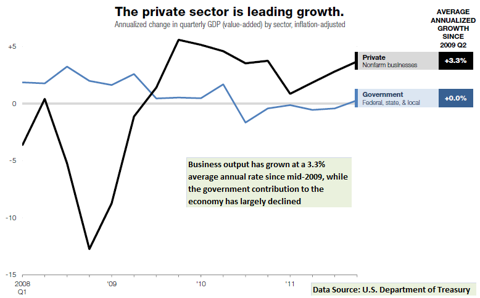 Therefore, if corporate performance were to decline over the long term, GDP growth in the United States will be severely impacted.
The second important reason for this analysis is to understand the probable trend of equity markets in the medium to long term.
The answer to this question can be divided into two parts:
In the short term, I expect corporate profits to decline from the peak.
In the medium to long term, I expect corporate profits to trend much higher.
The short-term expectation is relatively easy to explain amid a global slowdown. Investors have already witnessed some companies missing estimates and others warning on future growth and profit outlook.
I discussed the probability of a global recession in one of my earlier articles. A slowdown over the next few quarters is likely to impact corporate growth. The critical point here is a global slowdown, and not just a slowdown in the U.S.
The U.S. corporate sector has global revenue diversification and a slowdown in the U.S. can be partially offset by focus on high-growth markets. However, a global slowdown would even impact growth and profitability of well-diversified (geographically) companies.
It is difficult to talk about the number of quarters for which corporate profits might witness a decline. However, I am relatively sure that the next three to four quarters would not be very pleasant.
Over the long term, I can say with some conviction that the U.S. corporate sector will do well in terms of growth and profitability. I personally have a liking for the private sector because of its dynamism and innovativeness.
Before discussing the investment strategy, I would like to present another chart to discuss one more aspect of the U.S. corporate sector. The chart below shows the GDP growth and growth in corporate profit for the last 60 years.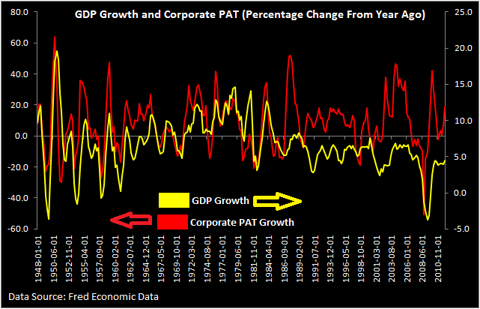 As evident from the chart, GDP growth in the U.S. was moving in tandem with corporate profit growth from 1948 until mid-1980. After this, GDP growth has sublimed while corporate profit growth remains relatively robust. The point I am trying to make here is that the corporate sector has maintained its growth (even in times of weak GDP growth) through innovation and global diversification.
Over the long term, global diversification will be the major revenue and profit driver for U.S. companies. I am bullish on the long-term prospects for emerging Asia and Africa, as discussed in one of my earlier articles.
Therefore, U.S. companies stand to benefit from this growth. I am not suggesting that companies with relatively less global diversification will do poorly. However, robust growth will only come from greater presence of U.S. companies in relatively high growth markets.
Investment Strategy
From an investment perspective, an ideal strategy is to wait for correction in equity markets over the next few months as markets discount a global slowdown and a slowdown in earnings. I will not be surprised to see a 10%-15% correction in the index over the next two to three months.
On correction, investors can consider exposure to quality stocks for the long term. Again, in my opinion, the investment focus should be on global commodity giants and other companies having a globally diversified revenue stream.
I mentioned commodity giants since the commodity bull market is far from over. Furthermore, a slowdown in China and India gives an opportunity to accumulate commodity stocks at attractive valuations.
Discussed below are some specific investment options that I consider to be attractive on a correction:
SPDR S&P 500 ETF (NYSEARCA:SPY): The ETF provides investors with investment results that, before expenses, generally correspond to the price and yield performance of the S&P 500 Index.
The Vanguard Energy ETF (NYSEARCA:VDE): The ETF will give investors exposure to the commodities (energy) sector. The fund has a low expense ratio of 0.19 and had 43% exposure to integrated oil and gas companies, 26.4% exposure to oil and gas exploration and production, and 16.6% exposure to oil and gas equipment and services.
Vanguard Materials ETF (NYSEARCA:VAW): The ETF would fall under the broad category of natural resources and will give investors exposure to industrial commodities, agricultural commodities, chemicals, and gold. The ETF has an expense ratio of 0.19% and an SEC yield of 2.16%. Some of the largest holdings in the ETF include Monsanto (NYSE:MON), Freeport-McMoRan Copper & Gold (NYSE:FCX), and Newmont Mining (NYSE:NEM).
Vanguard Long-Term Corporate Bond ETF (NASDAQ:VCLT): From a debt investing perspective, investors can consider exposure to VCLT, which is a better long-term investment than long-term Treasury bonds (in my opinion). The ETF has exposure to investment grade corporate with a very low expense ratio of 0.14% and a good SEC yield of 4.3%.
Disclosure: I have no positions in any stocks mentioned, and no plans to initiate any positions within the next 72 hours.