Commodity Chart Of The Day
Daily Canadian Dollar
(click image to enlarge)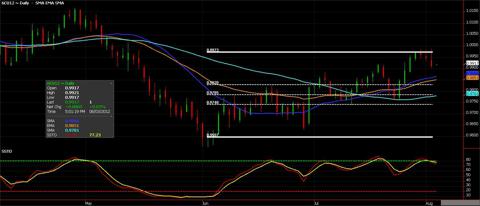 As energies and metals move, so does the Canadian dollar. This is one of the three "Commodity currencies " that are most heavily influenced by flows in the metals and energy commodities.
Being it looks like gold, silver, crude oil and the products are moving lower short term, I would say the same fate is likely in the Loonie.
Prices have ground about 4% higher in the last 60 days, but it appears we are running into stiff resistance just below par in the September futures contract. My suggestion would be to gain bearish exposure with a target of .9750. This could be played with either the purchase of put options or short futures, in my opinion.
Risk Disclaimer: The opinions contained herein are for general information only and not tailored to any specific investor's needs or investment goals. Any opinions expressed in this article are as of the date indicated. Trading futures, options, and Forex involves substantial risk of loss and is not suitable for all investors. Past performance is not necessarily indicative of future results.
Disclosure: I have no positions in any stocks mentioned, and no plans to initiate any positions within the next 72 hours.