Aurora Energy Resources Inc. (OTC:AUEGF) has highly promising uranium deposits in Labrador. However, the big challenge right now is getting approval for a mine from the Labrador Inuit, who recently voted in favor of a three-year moratorium on uranium mining.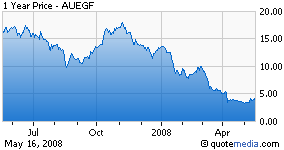 On Thursday, the company took a big step towards gaining that support. It unveiled a community outreach program that provides jobs for local communities, funds community initiatives, and ensures them that mining is safe. This is a very wise move, according to RBC Capital Markets analyst Adam Schatzker.
In a note he wrote:
We believe [Aurora's] outreach efforts may generate goodwill among local stakeholders and should bolster the company's reputation.
Aurora also presented a revised work plan that calls for C$20.1-million in investment in 2008. With C$117-million in cash on the balance sheet and no debt, Mr. Schatzker figures the company will have no trouble carrying out the plan.
He rates the stock an "outperform" with a price target of C$8.00. He considers that a "conservative" price target, even though it is roughly double the current level. He noted:
However, absent any corporate activity, we believe the upside to our target price may take more than 12 months to realize.