Investors should be wondering how LinkedIn (LNKD) has performed better than Facebook (FB) as a stock. To begin with, Facebook trades at about 70 times earnings, while LinkedIn is at 600 times earnings. Facebook is run by a wonder-kid genius while no one knows who runs LinkedIn. Facebook was the most anticipated IPO in quite some time.
If you are thinking on these lines, this article presents a few reasons why LinkedIn has been doing better than Facebook. While things might turn out to be different in the long term, please use this analysis to make your decisions for the short to medium term.
The Professional Feel: LinkedIn is seen more as a serious business by the casual investor, while Facebook is seen as "yet another tool for teens to waste their time." While Facebook does carry some relevant content for the business world, most of it is lost in a sea of irrelevant feeds. LinkedIn, in spite of some spam messages, has much more contents that interest businesses, which generate more serious revenue. No wonder, LinkedIn has a visitor to lead conversion rate that far outweighs Facebook's and Twitter's.
Revenue Streams: The over reliance on ad revenue makes Facebook's business model look flimsy. Ads account for just 28% of LinkedIn's revenue, while it forms 85% of Facebook's revenues. The above link also states the premium subscription revenue grew 82% to reach about $44 million. When your users pay to use your service then you have something special. Wonder what happens if Facebook decides to charge the users for its "premium" contents, whatever that maybe !
Monetization of Numbers: Statistics and numbers sometimes hide more than what they reveal. Companies like Facebook and Netflix (NFLX) talk about user base and subscriber base respectively. But these numbers are in a grey area. How many of Facebook's users actually contribute to the ad revenues ? How many accounts are dormant/duplicates (83 million, says this report) ?
Talking about Netflix, how many of the active subscriptions were the free trial subscriptions, which contribute nothing to the bottom line, though they might lead to a sale at some point in the future. But as written above, LinkedIn has a solid "paying user" base.
Investor Sentiment: When dealing with high-tech stocks, in the short to medium term, fundamentals take the back seat. The current trend is your friend. Facebook has been hit by continuous negative news while LinkedIn is having many more positive reviews. Take a look at the 5 day price chart of Facebook. The stock is on a free fall with no end in sight. To make matters worse, the lock-up expiration is knocking on the doors.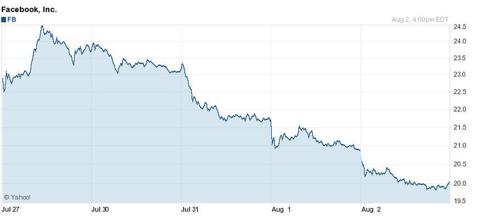 (Source: Finance.yahoo.com)
The CEOs: Lets see how many of the readers know the CEO of LinkedIn. One, two, okay we have about 10 who know his name. (It's Jeff Weiner for the record). On the other hand, Mark Zuckerberg is a household name, at least among investing homes. The hoodie sporting Zuckerberg is currently seen as the symbol of all evils on Wallstreet- right from the IPO fiasco to the monstrous share price drop. Not to mention his absence from public view until the recent earnings call. Some times, not being in the news for wrong reasons is being a good enough leader.
Pleases Wall Street: Amazon.com (AMZN) is a prime example of how a company can stay afloat with insane valuations just because the company remains on the "good side" of the analysts. LinkedIn seems to have already found the knack of pleasing and beating the analysts estimates. It has now beaten analysts estimates for four of the five previous quarters (the most recent quarter met the estimates). Facebook barely managed to meet the estimates in its only public report so far but failed to provide guidance for the next quarter and beyond. That is a strict no-no on Wall street, especially for new firms.

(Source: Finance.yahoo.com)
In a League of Its Own: The adage "Its better to be alone than in bad company" is so true in the investing world. Quite often, we see "related" stocks move up or down in tandem. Zynga (ZNGA), Facebook's "friend" has been going through its own nightmare and this has resulted in a bigger pressure on Facebook. LinkedIn doesn't have a real equal these days, except maybe the forgotten Monster Worldwide (MWW).
Disclosure: I have no positions in any stocks mentioned, and no plans to initiate any positions within the next 72 hours.