In this article, I examine General Electric Company (NYSE:GE) as an equity investment: I have updated the valuations and conducted some financial statement analysis. General Electric may not be a market leader during the quarter; it is overvalued.
That said, a lot of people underestimate the importance of financial statement analysis. Below is one the reasons why equity analysts focus on financial statements.
"In arriving at investment decisions or recommendations, analysts need to evaluate the performance, financial position, and value of the company issuing the securities. Company financial reports, which include financial statements and other data, provide the information necessary to evaluate the company and its securities." - (Institute 5) Institute, CFA. Level I Volume 3 Financial Reporting and Analysis, 6th Edition. Pearson Learning Solutions.
Rating System
Buy - Be long
Neutral - No position
Sell - Be short
The ratings, research and analysis in this article should be considered as starting point for further research.
General Electric: Buy (decrease exposure)
Company v. Industry [TTM]
Return on Assets: 1.99 v. 2.39
Return on Investment: 2.21 v. 4.05
Return on Equity: 10.61 v. 7.43
Based on the management effectiveness ratios, management is ineffective compared to its industry peers.
According to the company's financial statements, total assets decreased 3.2 percent in the second quarter of this year compared to the fourth quarter of 2011. The decline was double the decline in the first quarter. The financial leverage ratio is 5.6, a slight decline from the first quarter. Short-term and long-term borrowing decreased as cash declined and inventory increased.
Total revenue in the second quarter increased 2.5 percent compared to the year-ago quarter. However, revenue from GE Capital declined. Total costs and expenses increased almost 4 percent. Net income attributable to GE common shareowners declined almost 16 percent.
In the first six months of 2012, earnings were high quality. GE had $14.2B of cash in the first six months of the year compared to $15.1B in the first six months of 2011. GE generated $4.6B of cash from investing in 2012, compared with $20.8B in 2011. The company used $28.7B in financing activities which decreased cash during the period by $10.2B.
Investment Securities
General Electric is carrying about $47B in available for sale securities. Most of which is in U.S. corporate debt and matures in 2017 or later.
GECC Selected European Exposures
At June 30, 2012, GE had $87B in financing receivables to consumer and commercial customers in Europe. Also, GE had about $13B in exposure to Italy and Spain.
Legal Proceedings
Currently, there don't appear to be any long-term material legal risks.
Click to enlarge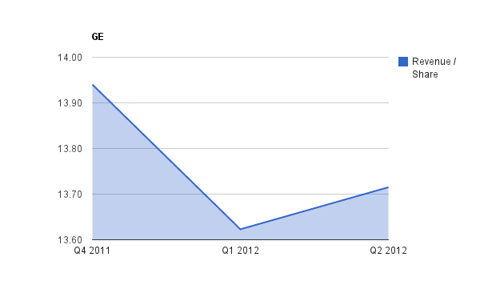 Revenue-share increased in the current quarter.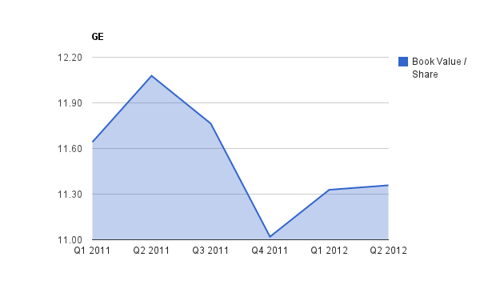 Book value-share increased in recent quarters. The company should trade stronger than previously.
Shares of General Electric are trading above the rising 50-day simple moving average and near a resistance zone.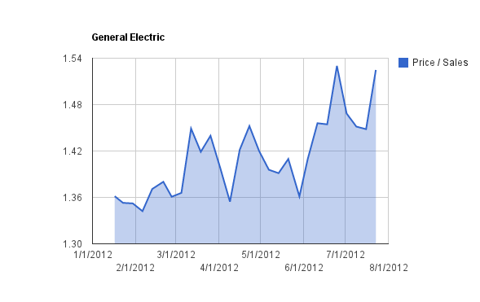 The price-sales valuation metric suggests General Electric is overvalued.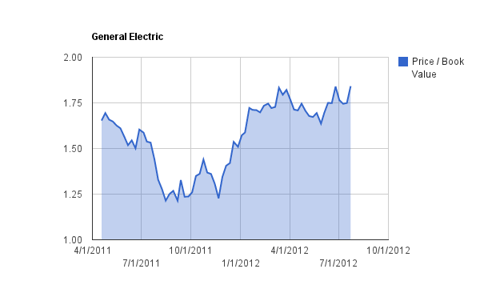 The price-book value valuation metric suggests General Electric is overvalued.
Disclosure: I have no positions in any stocks mentioned, and no plans to initiate any positions within the next 72 hours.