The Israeli Economy

Israel is a representative democracy on the eastern shores of the Mediterranean Sea. It was formed in 1947 following the adoption of a resolution by the United Nations General Assembly. It is a developed country that enjoys the highest standard of living in the Middle East. It also has one of the highest expectancies in the world. Israel is a member of the OECD and has the second-largest number of startup companies in the world (after the United States). The country is quite poor in natural resources and imports most of its commodity requirements including oil, coal, metals and even food. However, that hasn't prevented Israel from being a world leader in software, telecom and semiconductors development.
Israel has the largest number of Nasdaq-listed companies outside of North America. In this article, I introduce a few of these companies. My personal goal is to diversify my portfolio globally - have a large percentage in foreign stocks in addition to U.S.- headquartered companies that get significant portion of sales and profits from abroad.
Dividends as Stock Screen
I firmly believe that dividends are real cash and hard to fake. They are paid out of positive cash flow and while accounting gimmicks (and even fraud) can be used to window dress earnings per share, dividends are typically honest. I use inconsistent dividend history and/or big cuts to exclude stocks. I prefer stocks with increasing dividend amounts in native currency. I do understand that the US dollar amount may vary due to conversion rates but since I don't use dividends as income that does not bother me at all.
I have included a simple chart for each company that shows the dividends distributed in Israeli New Shekels (NIS). I was disappointed to see that even though all Israeli companies have an English website, their Investor Relations section left me wanting for more. Unlike companies from other countries, it was hard to access dividend history and other financial numbers to do quick evaluations. Some companies did make it straightforward to collate dividend history, but for most others I had to sift through previous annual reports in PDF format.
Withholding Tax on Dividends
Israel withholds tax on dividends at the rate of 20% for non-resident investors. An individual investor can file for tax credit on Form 1040 if the shares are held in a regular brokerage account subject to certain limitations. Amounts up to $300 ($600 for joint returns) can be claimed directly on the 1040 but greater amounts or carry-forward/backward requires Form 1116. If the shares are held in a tax deferred account like IRA or 401(k) then there is no mechanism to recover the withholding foreign tax and is lost thereby reducing the effective dividend yield. As always, consult your tax advisor on all tax-related matters since each individual case is different and I am definitely not qualified to advise.
Cellcom Israel (NYSE:CEL)
Cellcom Israel is a leading Israeli mobile telecom provider. It has approximately 3.3 million subscribers and provides landline telephony in addition to cellular phone services. The telecom landscape in Israel is extremely competitive with multiple providers fighting for a very small number of users. Consumers often dump their existing service provider to switch to the cheapest provider, as seen every time a new player enters the market. Cellcom has seen declining revenues in the last couple of years, though now the company is focusing on smartphone and data users to boost profitability. However, EBITDA and free cash flow both declined during the most recently announced results for Q1 2012.
I was unable to extract useful information from the company website. There is general confusion on various financial websites as well. It appears that the current dividend yield is almost 25%, but I could not confirm this. I could not determine the ADR ratio or the stock price in NIS on the Tel Aviv stock exchange and the last dividend distribution in U.S. dollars.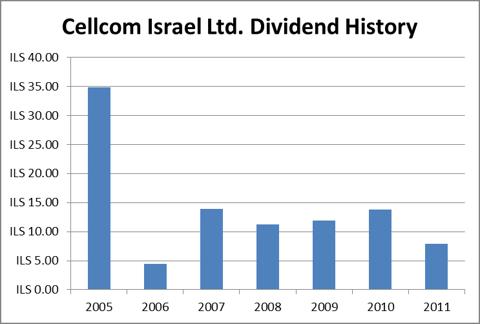 Elbit Systems (NASDAQ:ESLT)
Elbit Systems is an international defense electronics company. It builds products and systems used in the areas of aerospace, land and naval systems, intelligence surveillance and reconnaissance. Elbit also operates in the area of military communication systems, radios and unmanned aircraft systems. Elbit gets most of its revenue and profits from Israel, which continues to be involved in political differences with Palestine and neighboring states. As a result, the company continues to get business from the Israel Defense Forces (IDF). Its Q1 2012 results were reasonable with growth in both revenue and profits.
Unfortunately, the company website is quite poor and not updated or managed properly. Even though the yield is attractive at 4.2%, I will probably not invest in the company that does not take pride in its investors and keeping them well informed. The dividend did grow rapidly from 2004 till 2009, but then declined in 2010.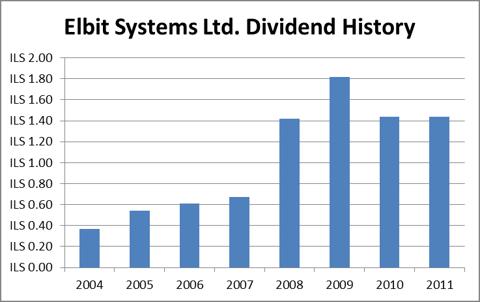 Ituran Location & Control (NASDAQ:ITRN)
Ituran is a leader in vehicle location services that are used by its customers for theft prevention, navigation and assistance. It uses the GPS-based technology that was originally developed by its parent company for pilot use. This is in contrast to other technologies used by its major competitor LoJack (NASDAQ:LOJN). It now provides services in Israel, USA, Brazil, Argentina and recently to China and South Korea as well. Ituran offers a one-touch distress transmitter for vehicles along with a line of GPS systems that can be either free-standing or integrated with the vehicle's built-in display systems. Ituran also provides solutions for real-time fleet management and tracking of equipment and merchandise.
Ituran has been declaring dividend at 100% of its net income, which appears strange. Even though it has no debt, the company doesn't seem to want to retain any earnings for future growth. The current yield is approximately 11.3% based on last year's dividend payment of $1.23.
MIND C.T.I. Ltd. (NASDAQ:MNDO)
MIND CTI is a provider of billing and customer care solutions founded in 1995. Its main customers are telecom service providers. It also provides call accounting, traffic analysis and fraud detection solutions for large corporations. It delivers applications in any business model (license, managed service or completely outsourced billing service). It got into trouble during 2008-2010 since it had invested its assets in collateralized debt obligations (CDOs) issued by Merrill Lynch that eventually had to be all written down.
The latest dividend amount was $0.32 for 2011, but the stock has fallen from $3.5 down to $1.7 right now with very low trading volume.
Teva Pharmaceuticals (NYSE:TEVA)
Teva Pharmaceuticals is a multinational pharmaceutical giant that grew rapidly in the last three decades via organic growth as well as numerous mergers and acquisitions. The company dates its roots back to 1901 though it was formed in its present form in 1976 with the merger of Assia, Zori and Teva. It is now the largest generic drug manufacturer in the world and one of the top-20 pharma companies overall. Teva grew rapidly on the basis of generic drugs through the 1990s and early 2000s, but with slowdown in growth on the horizon made some big acquisitions in the last four years. It acquired Barr Pharma in 2008, Ratiopharm in 2010, Cephalon in 2011 and Taiyo Pharma also in 2011. While Teva gets most of the revenue from generic drugs, it does have a few successful proprietary drugs that contributed to much of the profits in recent years. This includes Copaxone, which is the world's best selling drug for treating multiple-sclerosis, and Azilect, which is used for treating Parkinson's disease. Teva is actively working on treatments for ALS, Crohn's disease, various neurological disorders, autoimmune diseases and cancer. The biggest challenge for Teva is to handle the patent cliff for Copaxone in the next 2-3 years. The margins have been shrinking recently.
The current dividend yield is 2.6% at current market price of $40. I would definitely be interested if the yield reaches 3%.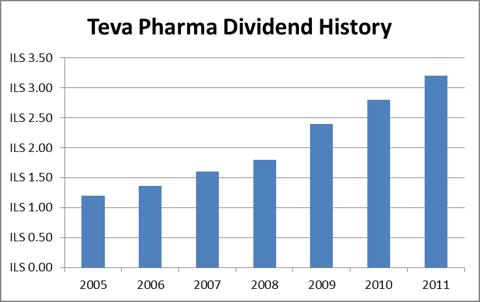 Other Israeli Stocks
I went through more than 20 Israeli stocks that can be bought on the U.S. exchanges. The following stocks did not make it to my short list of stocks for further due diligence and future tracking.
Alon Holdings Blue Square Israel Ltd. (NYSE:BSI) operates supermarkets and retail outlets in Israel. The stock has unrealistic dividend yield right now, but the stock has fallen from a high of $18 in 2007 down to $2 now.
Check Point Software Technologies (NASDAQ:CHKP) is an information technology services company that specializes in security software. It also sells security appliances for the enterprise. The revenue and profits have increased in the last few years, which is very encouraging but it does not pay dividends.
Formula Systems (1985) Ltd. (NASDAQ:FORTY) is an IT consulting firm that provides software services and computer-based solutions for businesses around the world. Even though the dividend is attractive at 4.4%, I just couldn't get past their extremely basic website that offered little financial information for investors.
magicJack VocalTec Communications Ltd. (NASDAQ:CALL) - magicJack VocalTec provides VoIP (voice over Internet protocol) services, including the familiar magicJack-branded local exchange carrier. It has been losing money over essentially flat revenues for last three years and does not pay dividends.
NICE Systems (NASDAQ:NICE) - NICE provides intent-based solutions that help its customers to improve business performance, to reduce financial risk and increase security. Their solutions capture interactions, transactions and video surveillance from multiple sources and apply analysis to figure out the intent of customers and criminals. Revenue, profits have grown and the company has no long-term debt, but still pays no dividends.
Comverse Technology (NASDAQ:CMVT) - Comverse provides software-based products and services to the telecommunication industry for billing, customer management and value-added services like voicemail, SMS, MMS, IP communication etc. It has been losing money for last several years.
CEVA, Inc. (NASDAQ:CEVA) is a fabless semiconductor company that specializes in Digital Signal Processing. It supplies DSP cores and related software for smartphones, gaming consoles and many other applications. Revenue and profits have grown, and the company has no long-term debt but still pays no dividends.
Partner Communications (NASDAQ:PTNR) - It is a telecom service provider that focuses on cellular services in Israel. It has licensed the Orange brand from France Telecom (FTE). It has seen its stock price fall from $22 in 2011 to $3.5 right now. The dividend yield appears to be 20%, but the earnings and dividends in the past few years have been very erratic. There is a remote possibility that the dividend may get suspended as the telecom providers in Israel fight to maintain market share and hurt their cash flow.
EZChip Semiconductor (EZCH) is a fabless semiconductor company that focuses on network processors and communications market like switches, routers, GPON etc. It is getting a lot of competition from Broadcom (BRCM) and has seen its profits decline in last few years.
Sodastream (NASDAQ:SODA) manufactures and markets home beverage carbonation systems as an alternative to carbonated drinks from Coca Cola and Pepsi. It has grown fast in the last couple of years, but is valued quite high right now, and the company pays no dividends.
Concluding Remarks
I did not find any company from Israel which is worthy of investment at current market prices. Teva is the only solid company, but I would like to wait for a better entry price. Are you invested in any stocks from Israel or any other Middle-Eastern country? Looking forward to your views and comments.
Disclosure: I have no positions in any stocks mentioned, and no plans to initiate any positions within the next 72 hours.