Informed opinion almost always advocates the popular course, so you must steel yourself to stand apart. To be a contrarian is to be an outsider – until you're proven right. (David Dreman, Contrarian Investment Strategy, 1979)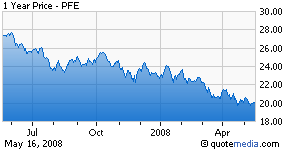 Pfizer (NYSE:PFE) reached a high of $48 a share in June 2000, and now trades at about $20. Twenty-one analysts are following the stock, but only six are recommending purchase. The contrarian investor in me had to take a look.
First, I put Pfizer through the Fast Track™ screen. The stock passed my rule of failing no more than three categories, so I continued to do more research using the Company Stock Risk Profile™ research tool. While Pfizer came through with a Medium Risk rating, having failed 19 of the 50 categories, the stock missed being rated Low Risk by only 2 categories.
Pfizer's Risk Profile highlighted these negatives:
Pfizer is not delivering any growth, as sales have been essentially flat since 2004. Reported earnings have been extremely erratic, impacted by ongoing "purchase accounting adjustments, acquisition related costs, discontinued operations and certain significant items." Adjusted for these items, as management does, earnings are smoother, but still are not growing. First quarter 2008 sales declined 5.0%, and reported and adjusted earnings per share dropped 12.8% and 10.3%, respectively.
Pfizer is being hurt by multiple patent expirations on very successful pharmaceuticals – Zithromax (antibiotic) in November 2005, Zoloft (depression) in August 2006, and Norvasc (hypertension) in March 2007. Lipitor (cholesterol) produced sales of $12.7 billion in 2007, and its patent is up in March 2010. As an example of what could happen to Lipitor's sales, Zoloft's sales went from $3.3 billion in 2005 to $531 million last year. Generics, as well as branded competition, already are eating away at Lipitor's U.S. sales, which fell 8% in 2007 and 18% in this year's first quarter.
I'm not presenting anything new here, as these issues are well known and baked into the stock price. The following positive factors also are there for investors to see, but are being overlooked:
Pfizer has a fortress balance sheet. The company ended the first quarter with cash and cash equivalents and short-term investments of $28.6 billion, which is up from $25.5 billion at year-end 2007 and $22.5 billion a year earlier. Long-term debt as a percentage of total capital is at a low 10.8%. And if that is not enough, net current assets (current assets less current liabilities) are more than 3 times long-term debt.
Pfizer remains a strong cash flow generator. Cash flow from operations was $13.4 billion last year, and after capital expenditures, free cash flow was $11.5 billion. These same numbers in this year's first quarter were $3.3 billion and $2.8 billion, respectively. 2007 free cash flow could drop 25% and still cover the dividend. Management is forecasting operating cash flow of $17 - $18 billion this year, and expects "to continue to generate strong operating cash flow beyond 2008."
Pfizer has 102 medicines in its pipeline – 47 in phase 1, 37 in phase 2 and 16 in phase 3. Two drugs are in registration. Management's goal is to have 15 – 20 submissions in 2010 – 2012. Whether any blockbuster drugs emerge is, of course, uncertain. But investors have no expectations anyway, leaving plenty of room for positive surprises.
Newer drugs already on board are doing well, and posted robust sales in this year's first quarter: Lyrica (fibromyalgia) - $582 million, up 47%, Sutent (cancer) - $190 million, up 86%, Chantix (smoking cessation) - $277 million, up 71%.
Management is streamlining the company. Costs are targeted to drop by $1.5 - $2.0 billion by the end of 2008, as compared to 2006.
Pfizer is a cheap stock. The shares failed only 2 of the 12 Company Stock Risk Profile valuation measures. Pfizer offers a dividend with a juicy 6% yield, which I believe is safe based on the strength of the company's balance sheet and cash generating capability.
Investors with the fortitude to take the road less traveled should consider Pfizer. Whether Pfizer delivers a positive surprise down the road is anyone's guess. But if the company should, the stock would be a rewarding investment indeed. In the mean time, you're getting paid a very attractive dividend and own a stock that I believe has minimal downside risk.
Disclosure: none