Oracle Corporation (NYSE:ORCL), a $22 billion producer of database software and other business software products, has the potential to "climb more than 40%," says the cover story in the May 19, 2008, Barron's magazine.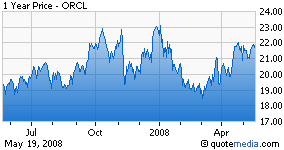 In the options market, ORCL's January 2010 25 (strike) calls indicate that speculators think the $21.68 stock will touch $27.85 before the options expire. Bearish puts buyers think the stock could correct to about $20 before expiration. On the 25 strike price, the calls open interest is 5,096 contracts, compared with 1,019 for the puts, indicating a bullish bias.
Barron's quotes analysts and portfolio managers who believe ORCL is under valued compared with its close competitors because a lot of money managers don't like the company's chief executive officer, Larry Ellison. He's a bit brash and spends more time than they think he should on racing his yacht. Institutions own 59% of ORCL's stock, compared with 45% of the stocks of other companies in its industry and 72% of the stocks in the S&P 500, according to Reuters. It should be noted that Ellison owns about 20% of the stock.
What's taken Barron's and Wall Street so long? For months, I've owned ORCL January 25 (strike price) calls that expire in January 2010 because I think the stock could easily top $30 before the options expire.
This Reuters.com data offers some reasons why:
Securities analysts' believe the company's long-term earnings per share growth rate will be 15% a year.
Earnings per share historic growth rates: One year, 26.8%; three years, 17.2%; five years 15.7%.
Sales have grown 25.15% a year over the last year, 21.01% over the last three years and 13.22% over the last five years.
ORCL's stock is selling for 5.31 times sales compared with 5.36 for its industry, 4.88 for its sector and 2.67 for the S&P 500.
It is selling for 17.24 times cash flow compared with 20.44 for its industry, 20.49 for its sector and 13.95 for the S&P 500.
It is selling for 15.98 times free cash flow, compared with 23.41 for its industry, 25.88 for its sector and 28.89 for the S&P 500.
It is selling for 5.36 times its book value, compared with 6.68 for its industry, 4.88 for its sector and 4.01 for the S&P 500.
Another valuation ratio is the PEG (PE/5-year projected growth rate). Yahoo shows ORCL's PEG is a relatively low 1.17. But five year growth rate projections are even more unreliable than one-week stock price predictions, which no one should believe.
Oracle's very profitable with a 24.2% profit margin, a 13.6% return on assets and a 27.8% return on equity. Investor's Business Daily says ORCL's earnings growth rate is better than that of 91% of publicly-traded companies "based on its short and long-term growth rates." Its relative price strength rating is 81, its industry group relative strength is B, its sales+profit margins+return on equity rating is an A and its accumulation/distribution rating is a C+. The A/D rating means the stock has been experiencing an equal amount of buying and selling over the last 13 weeks, according to IBD.
Reuters Research rates the stock an "outperform." Standard & Poor's gives it five stars out of a possible five and has a target price of $24 on the stock. Sabrient Research calls it a buy. Rochdale Research calls it a hold. Morningstar.com estimates that ORCL's fair value is $22 and gives it three out of a possible five stars. It says consider buying the stock at $16.50 or below and selling at $28.60 or higher. Jaywalk's report on the consensus of securities analysts says that they give ORCL an average rating of 2.21, or a buy, out of a possible 5.
Reuters.com profiles ORCL here. Charts for ORCL and some its close competitors are here. At the moment, ORCL's point and figure chart shows a bearish price objective of $13. It closed Friday at $21.68. Price objectives aren't predictions and should be used as guides along with fundamental analysis of a stock. The Barron's article is here. Paid subscription required.
Full Disclosure. I own ORCL long-term options, or Leaps.