By Sumit Roy
Natural gas prices finally retreated after their huge rally in July. What should traders do now?
Natural gas plunged Thursday after the Energy Information Administration reported that operators injected 28 billion cubic feet into storage last week. That was above analyst estimates that were calling for a build in the low-20s.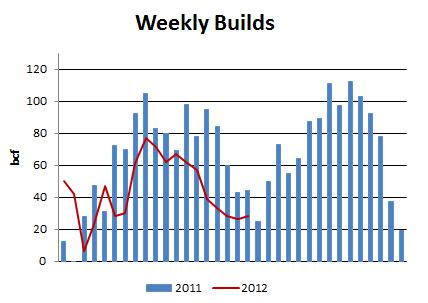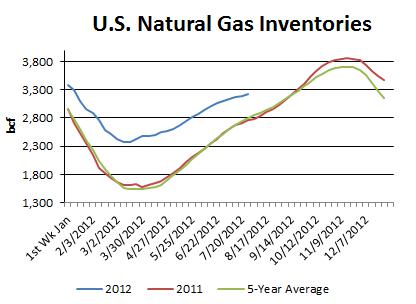 Still, the injection was below last year's 44 bcf build and the five-year average build of 57 bcf.
Moreover, the correction in prices isn't unusual and fits within our August outlook, which called for range-bound price action just above and below $3/mmbtu before moving above $3.50 in September and October.
In the coming weeks, gas could fall further to the technical support area near $2.75, a level at which we would be buyers.
NATURAL GAS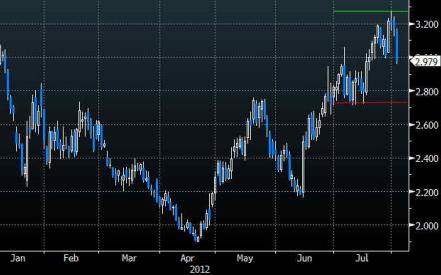 That said, there are risks to our relatively bullish near-term natural gas outlook. The most significant one is a notable reduction in coal-to-gas switching before most of the natural gas inventory surplus is wiped out.
The year-over-year surplus has been declining steadily week after week, and last stood at 459 bcf (calculated using a slightly different methodology than the EIA).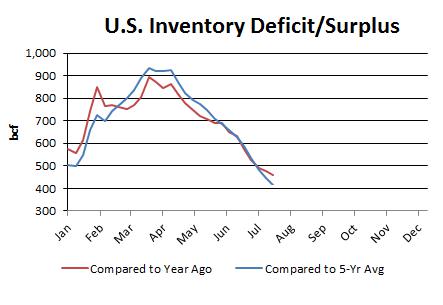 Most of that decline was possible due to an enormous jump in gas demand for electric power at the expense of coal.
The EIA's latest data showed that natural gas demand for electricity generation was up a whopping 7.8 bcf/d, or 42 percent year-over-year, in May.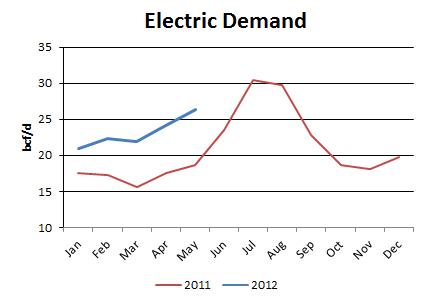 If utilities shift away from gas and back to coal, that could loosen the natural gas market significantly and the decline in the inventory surplus could slow or even reverse.
Whether utilities switch back to coal is largely dependent on the relative prices of coal and gas. But the switch between the fuels doesn't occur at one price point, but rather a spectrum of prices, as each power plant has different economics. Nevertheless, the consensus seems to be that natural gas prices above $3 begin to shift the advantage back to coal. That's why we anticipate that gas will remain range-bound near $3 for August.
After August, we anticipate that the inventory surplus will begin to decline rapidly, which will allow for higher prices despite the threat of reduced demand.
Another downside risk for prices is U.S. output, which has remained extremely resilient despite a continued decline in the rig count to 13-year lows.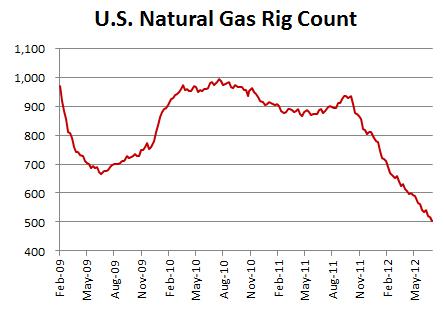 Of course, there is a lag between a reduction in drilling activity and a decline in output. Over the past few years, there's consistently been a backlog of uncompleted wells amid infrastructure constraints and a shortage of materials and services in many of the producing regions.
Perhaps as that backlog dries up, we could begin to see a meaningful impact on output. But the latest data doesn't show it yet. Gross U.S. natural gas production was steady at 72.39 bcf/d in May, according to the latest survey from the EIA. That's only down a mere 350 mmcf/d from January's record level.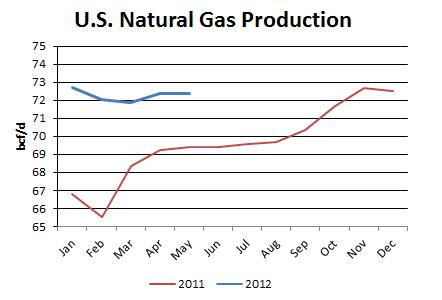 The silver lining is that production has essentially flat-lined for the past seven months in what may be a precursor to a larger decline. However, if output doesn't decline and unexpectedly begins to rise again, that would be undoubtedly bearish for natural gas prices.
Bottom line: Buy natural gas on dips to near $2.75 for anticipated move to $3.50 or higher. Downside risks include reduction in coal-to-gas switching or an unexpected increase in natural gas production.