LinkedIn (LNKD) posted a rock solid Q2 and solidified itself as a best-of-breed company in the social networking industry, perhaps taking the gold medal from Facebook (FB). In this article we'll take a deep dive into LinkedIn's quarter, but the bottom line is that the company has built a fantastic business model with three avenues for revenue growth, customers who are willing to pay for the product, and flawless execution by management. While valuation is extremely rich, it won't matter as long as the company is growing revenue 88% year over year.

Let's take a look at the key metrics: members, unique visitors, and customers.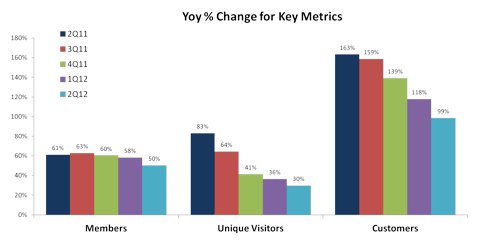 These key metrics illustrate the health of the business as members grew 50% year over year, unique visitors to the website grew 30% year over year, and paying customers grew 99% year over year. The LinkedIn ecosystem is growing nicely and creating a very powerful barrier to entry.
The health of the ecosystem is attracting corporate recruiters to the platform and customers who are willing to pay money to access LinkedIn's database of members and connect with them online. As noted above, customer count increased 99% year over year.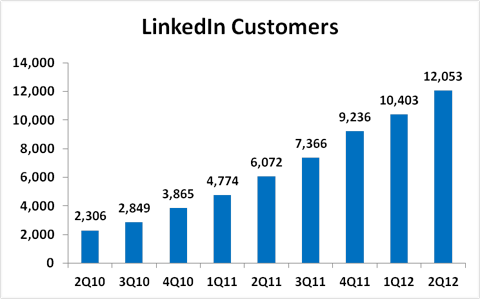 Total revenue of $228 million grew 88% year over year, driven by the health of the ecosystem outlined above as both users and recruiters are finding value on the platform. The following chart is beautiful if you are an investor in LinkedIn.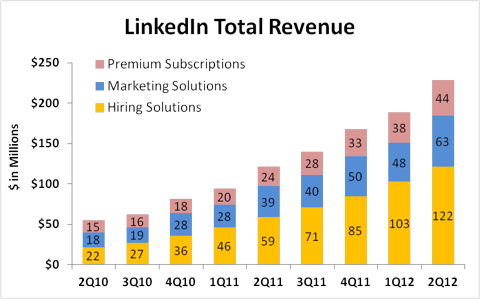 While revenue growth slowed to 88% year over year, this rate was impressive and exceeded Wall Street expectations of +78%. We expect revenue grow to decelerate over the coming quarters, but this is simply a function of tough comparisons and the "law of large numbers" becoming a factor.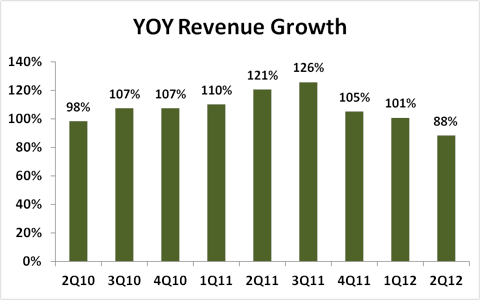 Taking a closer look at all the revenue segments -- premium subscriptions, marketing solutions, and hiring solutions -- demonstrates that performance is robust across the board.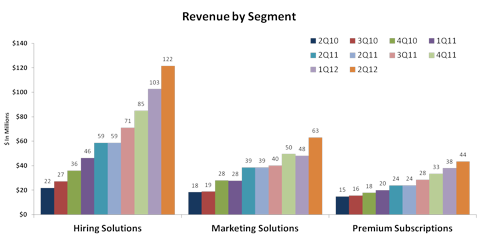 Now that we've assessed the revenue side of the equation, let's explore the company's ability to monetize its member base, which has become a huge focus for investors following Facebook's less-than-stellar financial performance.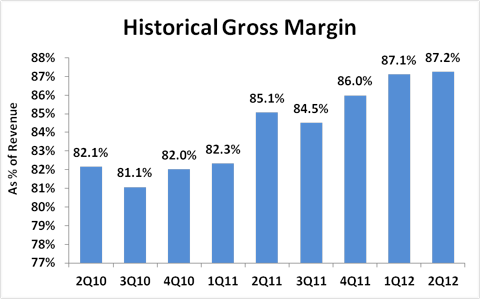 Like most software companies, LinkedIn generates a strong gross margin as the cost of goods is low relative to the value of the software. We expect the company to sustain or slightly improve gross margin as the business scales.
LinkedIn has also begun to demonstrate sustainable adjusted operating margin expansion despite rapid revenue growth. This is the opposite of Amazon (AMZN), which has experienced declining operating margins as the business grows.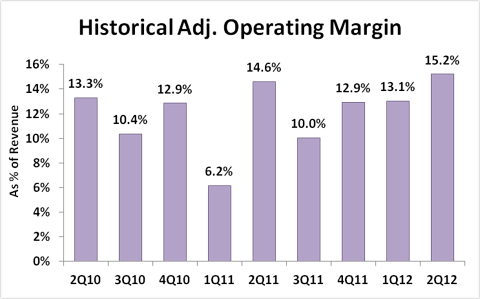 Finally, earnings quality was strong as cash from operations was 260% of net income, implying that the company is not playing accounting games to make the reported numbers look better than reality. (The expectation is that a company's cash from operations is 100% or more of net income.)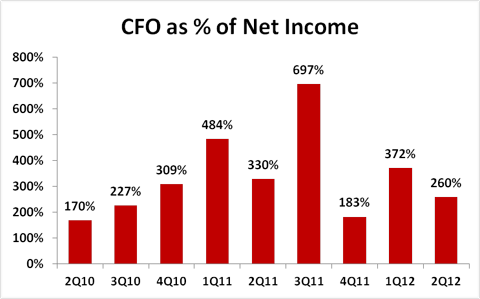 The bottom line is that LinkedIn reported a very solid quarter and the stock will go higher because fundamentals are strong. Yes, valuation is excessive, but investors will ignore this for now.
The risks to the business model would be:
Facebook making inroads into the recruiting segment.
Monster Worldwide developing a more competitive product.
LinkedIn fails to monetize mobile.
Overall, we think LinkedIn is a best-of-breed company and deserves close attention as an investor. We are waiting for a more attractive entry point (lower valuation), but we may have to wait awhile because fundamentals are so strong.
Note: All data was taken from LinkedIn's 10-Q, 10-K, and quarterly press releases.
Disclosure: I have no positions in any stocks mentioned, and no plans to initiate any positions within the next 72 hours.