We have been impressed with the growth registered by Wisdomtree Investments (NASDAQ:WETF) since we purchased shares in it last year. In an era where even blue chip asset management firms are struggling to generate positive organic growth, it is refreshing to see strong organic growth rates from a company that did not even exist in its current form less than seven years ago. Granted, Wisdomtree is operating in the Exchange Traded Fund sector and that is the fastest growing segment of the asset management industry. Still, we are impressed with the fact that Wisdomtree has transformed itself from a publisher of financial magazines into the 7th largest ETF sponsor in the asset management industry.
When Wisdomtree's joined the NASDAQ from the OTC markets, the company took WETF as its ticker. We think that is appropriate since it is the only pure play ETF sponsor in the asset management business that is publicly traded. While Wisdomtree's $15B in ETF AUM won't lead it to be confused with BlackRock's (NYSE:BLK) iShares ($482B) or State Street's (NYSE:STT) SPDRs business ($291B), we are pleased with its organic growth.
Click to enlarge:


Source: ETF Industry Association Asset Rankings
Wisdomtree is unique amongst asset managers in that it is the only manager that shows its updated AUM figures as well as its net organic growth directly on its Investor Relations Website. We believe that this was due to its previous history as an Over-The-Counter Pink Sheets stock. By highlighting this information in a fresh and up-to-date manner, Wisdomtree enabled its investors to see how the company was performing rather than waiting for quarterly results. Not only has Wisdomtree rapidly grown its total cumulative assets under management, it has also grown its net organic fund flows and its market share of ETF fund flows.
Click to enlarge: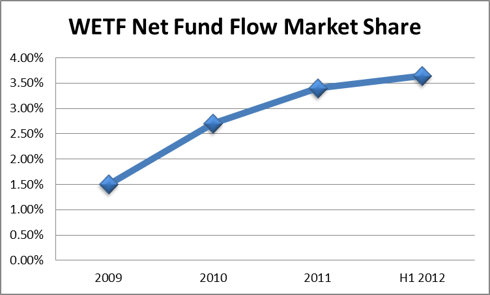 Source: Wisdomtree 2011 Annual Report and ETF Industry Association Fund Flow Rankings
Despite the fact that Wisdomtree primarily manages international equity-related ETFs and despite the fact that it had to deal with the macroeconomic headwinds and volatility impacting the global equity markets, Wisdomtree still saw $338M of positive net fund flows into its ETF products. We were pleasantly surprised that its international ETFs generated positive net fund flows while its domestic equity and fixed income products saw negative net fund flows. While that is a below average performance for Wisdomtree with regards to attracting assets, we can determine it still generated about 2.15% organic growth for its assets during the quarter on a linked-quarter basis. On a year-over-year basis, total AUM increased by 16% versus the prior year period. The company has gathered $2.6B in positive net new fund flows during the first half of the year and its average ETF advisory fee was 54bp. While this is higher than typical ETFs offered by larger competitors such as BlackRock's iShares family and SSgA's SPDRs family, Wisdomtree focuses on active ETFs and fundamentally weighted benchmarks rather than standard benchmarks like the S&P 500 or the Barclays U.S. Aggregate. We like the product positioning of the company since it offers a more dynamic alternative to traditional ETFs and at a lower cost than typical active mutual funds.
Click to enlarge: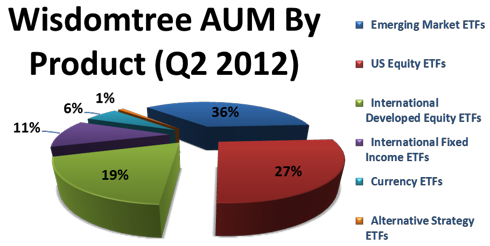 Source: Wisdomtree Q2 2012 Earnings Release
Wisdomtree generated revenue growth of 22% on a year-over-year basis and 6.4% on a linked quarter basis, due to increased average daily AUM balances. Operating expenses saw a sharp increase of 26.4% on a year-over-year basis. However, this was due to shareholder proxy expenses and litigation with Research Affiliates LLC with regard to alleged patent infringements. A portion of the litigation expenses are to be reimbursed by Wisdomtree's insurance vendor and the company recognized $1M in reimbursements during the quarter. On a recurring based, expenses only increased by 8.5% year-over-year and declined by 30bp on a linked-quarter basis. This enabled the company to generate a nearly 300% increase in its pro forma adjusted operating income versus the prior year's comparable quarter. The company generated $8.4M of free cash flows year-to-date versus $3.6M in the prior year period. As the company is a young start-up, we are pleased that it has no bonded indebtedness and it has a very liquid balance sheet. Of its $59.4M in total assets, $49M (82.4%) is cash and investments.
In conclusion, we are pleased with the performance of Wisdomtree Investments and we expect continued growth from the company. Despite the bulk of its ETF AUMs investing in equity securities in general and international equities in particular, we were impressed with the level of net new business generated by the company during the most recent fiscal quarter. While Wisdomtree has still written its deferred tax assets down to $0 through its use of a valuation allowance, we can see that the company has now begun to generate consistent profitability and we expect the company to be able to use those DTAs instead of having the DTAs expire worthless. Because the substantial majority of the deferred tax assets do not begin to expire until 2018, we believe that the company will be able to generate enough net income during this time period in order to utilize the benefits of these DTAs. If Wisdomtree is successful in utilizing the DTAs, it will save $49M in taxes by doing so. That is significant when we consider that Wisdomtree only has $59.4M in total assets.
Wisdomtree was founded by Jonathan Steinberg, aka Mr. Maria Bartiromo. Steinberg is also the son of well-known financier Saul Steinberg. We also like the fact that Wisdomtree's Chairman is former hedge fund legend Michael Steinhardt and has well known Wharton Finance Professor Jeremy Siegel as its Senior Investment Strategy Advisor.
Disclosure: I am long WETF, STT, BLK.
Additional disclosure: Saibus Research has not received compensation directly or indirectly for expressing the recommendation in this report. Under no circumstances must this report be considered an offer to buy, sell, subscribe for or trade securities or other instruments.